Yes, Donald Trump Really Could Be The Republican Nominee For President
5 years
Yes, really, honestly, truly, Donald Trump could win the Republican nomination. In fact, some betting agencies now have him as the "odds-on favorite" meaning that if you bet on Trump to win the GOP nomination, and he wins, then you will actually lose money.
Donald Trump has been ahead in the national polls since last July. Except for a period of about two weeks, there has been a significant amount of space between Trump and his nearest competitor during that entire time.
For most of that period of time Ben Carson was a dominating second place, but he has now fallen to fourth and continues to drop. Scott Walker had a brief surge in August, but he quickly caved and is now out of the race. Following a good debate appearance, in September, Carly Fiorina jumped from nowhere to third place -- most recent polling has her in dead last place now. Marco Rubio's campaign has had its ups and downs but has never appeared like it has had traction. The only candidate besides Trump who has gained ground since last fall is Ted Cruz, currently polling at number two and the only candidate besides Carson who has been in second place since Trump took his lead last summer. 
Going by national polls alone, there's only one word for Trump's performance over the last six months -- dominant. 
For that entire time, some pundits have warned that Trump's numbers only reflect those who are being polled who have already chosen a candidate. The traditional thinking is that Trump's people have already declared -- they are, after all, a pretty fired-up bunch. Support for other candidates may be softer, with voters choices more fluid. Since Trump has never polled above 50%, pundits pointed out that the majority of polled voters are not expressing their support for Trump. 
Since most voters are still undecided, even a week before the Iowa caucus, and since Trump's supporters are vocal, the theory goes that last-minute deciders will break overwhelmingly for more traditional candidates. 
The polls, then, are misleading, and when election time nears then Trump will lose ground.
I have never subscribed to this theory. I've always felt that Trump's lead was significant, though until a month or so ago I was far from confident that Trump would win the nomination. I am now highly confident that the pundits have been wrong all along and Trump will have a very strong showing at the polls. The voters decide who wins elections, not the pollsters, and nothing is set in stone (until it is), but with the election in Iowa less than one week away, Trump's opponents have much to fear. 
Before we analyse the latest national polls, we should point out the raw numbers. RealClearPolitics, which uses a formula to weight and average different polls, has Trump opening up a commanding lead: 
Not only is Trump not losing ground, he's gaining it and all other candidates, except maybe Ted Cruz, are losing ground. 
National polls, however, don't tell us much. The American primary system is complex, but is state-by-state, meaning that the polling inside individual states is more important than the national polls.
The problem, though, is that Trump is ahead in every early-voting state.
At the moment, all eyes are on the February 1 Iowa Caucus, the first state to vote. The caucus system is not like an open election -- voters get together and discuss who their choice is. This means that the polls do not indicate who will come out on top of this horse-trading process. What they do show, however, is a jump in support for Trump, and a total lack of enthusiasm for any candidate besides Donald Trump and Ted Cruz. 
Ted Cruz, an evangelical Christian, has long been favored to win in Iowa. But today Trump picked up a crucial endorsement -- from Liberty University president Reverend Jerry Falwell Jr.. 
Trump is posting a dominant lead in many other states, and Ted Cruz's Christian fundamentalism and firebrand politics don't sit well with many voters and GOP leaders, certainly not in a state like New Hampshire, where the second primary is being held just 8 days after Iowa.  A sound defeat in Iowa could jeopardize Trump's momentum elsewhere, but a win in Iowa could have the opposite effect. 
Digging behind Trump's numbers in Iowa, we see that he is gaining ground in every subgroup.  Washington Post explains:
Cruz is still over-performing with conservatives and tea partiers (meaning that his support among those groups is 11 and seven points higher than his overall support), but Trump gained 11 and 17 points with those groups over the past two weeks. Cruz's support among the groups fell.

So what's going on? This is the same polling firm and the same methodology. But the voter pool is slightly different.

But that's risky for him. As we've noted, self-reporting of whether people will get to the polls is not always accurate and tends to depend on past voting behavior more than anything. In the new Fox poll, Trump gets 34 percent of Iowans, but 43 percent of those who will be going to caucus for the first time. Perhaps they will. But people who haven't voted before are a lot less likely to vote than people who vote all the time, for perhaps obvious reasons. 

Two weeks ago, the percentage of respondents saying they would "definitely" go out and caucus on Feb. 1 was 59 percent. In this new poll, that dropped to 54 percent, meaning a 10-point swing toward those who would say they will "probably" go to the caucus. Two weeks ago, Trump trailed Cruz by six points among those who would probably vote. Now he leads with that group by 15 — more than his overall lead against Cruz.
Ordinarily we'd be skeptical of these numbers, as The Washington Post points out, but the reality is that the graphic below shows that Trump's support is wide and widening:
Washington Post
Poll: Donald Trump gained 15 points on Ted Cruz in Iowa in two weeks
Earlier this month, Fox News released a poll showing Ted Cruz leading Donald Trump by four points. The two had a sizable lead over everyone else in the state, and the poll was confirming what others were showing: Cruz had an advantage. On Sunday, Fox released another Iowa poll, with substantially different results.
View full page →
A new poll from CNN shows Trump opening up a wide lead nationally as well, topping 40% for the first time. CNN's numbers also show a strong "enthusiasm gap" between Trump and other candidates:
Trump's supporters are more likely than those backing other candidates to say that they've definitely made up their mind (70% of Trump's supporters say they are locked in compared with 40% who back other candidates). 

And the prospect of a Trump candidacy generates more enthusiasm overall (40% of Republican voters say they would be enthusiastic about a Trump nomination) than the possibility of Cruz (25% enthusiastic) or Rubio (18% enthusiastic) at the head of the ticket.

Trump's dominance continues when voters assess which of the GOP candidates would best handle top issues.

Trump holds his widest advantage on handling the economy: 60% of GOP voters say Trump would best handle it, a 48-point lead over Ted Cruz. Likewise, Trump has a 55% to 16% edge on handling illegal immigration.

His margin is smaller, though still significant, on handling foreign policy. Republican voters in the poll rated terrorism their most important issue in considering a candidate for president: 49% called it "extremely important," outpacing the share calling the economy, government spending or illegal immigration as central to their vote.
This last point is important -- right now it's the economy, not foreign policy, making headlines. And as we've pointed out in the past, Trump has gained ground in the wake of previous terrorist attacks, most notably the attacks in Paris, so it's not clear that external news factors could weaken Trump's support.
CNN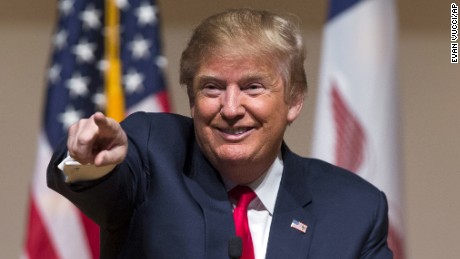 Poll: Donald Trump dominates GOP field, hits 41% - CNNPolitics.com
And more than two-thirds of Republicans say he's the candidate most likely to capture their party's presidential nomination. Trump has topped the 40% mark for the first time in CNN/ORC polling, standing at 41%. That more than doubles the support of his nearest competitor, Texas Sen.
View full page →
Even fivethirtyeight.com, which has been highly skeptical of Trump's chances from the start, is warming to the idea that Trump could win. According to their "Polls-plus-forecast" analysis, which combines poll numbers (which Trump is winning) to their own subjective analysis of the race (wherein Trump is losing) Trump has a 42% chance of winning in Iowa to Ted Cruz's 49%. Trump has a 30%+ lead in New Hampshire and South Carolina, the next two primary elections. 
Then there are the Las Vegas polls -- the odds of Trump winning the nomination, according to leading bet-making websites, are now one-sided. On some websites Trump is now the "odds-on" favorite, meaning that he is so heavily favored that if you bet on Trump to win and he wins you'd lose money. 
-- James Miller