Russia This Week: September 22-28
Ruble Falls To Record Low After Prosecutors Confirm Lawsuit to Nationalize Bashneft
Today the Russian ruble has hit an all-time low. Weakened by international tensions and sanctions over the crisis in Ukraine, the ruble was already on a path of decline, but news that Russian prosecutors are seeking to nationalize Bashneft, the company obtained by the Russian conglomerate Sistema (headed by Vladimir Yevtushenkov) has sent Russian markets into a tumble.
Business Week reports:
The currency weakened 1.6 percent to 39.0930 versus the dollar at 6:52 p.m. in Moscow, bringing this week's drop to 1.7 percent. OAO Bashneft, controlled by billionaire Vladimir Evtushenkov's Sistema, retreated 5.1 percent. Sistema tumbled 21 percent. OAO Gazprom rebounded after Russia and Ukraine struck a preliminary gas-price agreement that's poised to enable supply through the winter.

The Moscow arbitration court froze Sistema and Sistema-Invest's shares in Bashneft in connection with alleged violations during the state's sale of its stake in the producer. Evtushenkov was put under house arrest Sept. 16 on money-laundering charges in a case that's being compared with the 2003 arrest of Mikhail Khodorkovsky, which preceded the dismantling of his Yukos oil company.
Russian state-owned ITAR-TASS explains that prosecutors today have confirmed their lawsuit to reclaim Bashneft property:
"Since mentioned property entities were managed in violation of state property privatisation procedure, breaching the will of the Russian Federation and for protection of state interests the Prosecutor General's Office had filed a lawsuit in the Moscow Court of Arbitration to claim property from illegal possession and to take injunctive measures to arrest joint stock oil company Bashneft's stock," Gridneva said.

Meanwhile, the Moscow City Court has left AFK Sistema CEO Vladimir Yevtushenkov, who is named as a defendant in the Bashneft fraud case, under house arrest until November 16. So, the court has turned down a lawyer's request to release him on a 300 million rouble ($7.9 million) bail. Other figurants were named in a massive fraud case. They are Deputy Chairman of AFK Sistema Board of Directors Alexander Goncharuk and Senior Vice-President Sergei Drozdov. They escaped from justice, the detective said. Drozdov and Goncharuk are staying abroad - on vacations and for a recuperation course, the lawyers said.
In a separate article, Business Week says that the house arrest of Yevtushenkov sends an even more chilling message to the investment community than the arrest of Mikhail Khodorkovsky ten years ago:

From the perspective of Russia's business community, though, the Evtushenkov case looks a lot scarier. No one was surprised by the arrest of Khodorkovsky, who had ignored repeated Kremlin warnings that oligarchs should stay out of politics. But Evtushenkov, head of London-listed investment company AFK Sistema (SSA:LI), was careful to play by the Kremlin's rules as he amassed an estimated $7 billion fortune. "You have to keep business and politics separate," he told the magazine Forbes Russia in a 2010 interview.

His arrest leaves business people and investors struggling to understand what Putin is up to now. "Is this an anti-oligarch campaign by the Kremlin, or a forced consolidation of assets in the face of crisis?" the news website business-gazeta.ru asked in a headline today...

So why was he arrested? The leading theory is that the Kremlin acted at the behest of Igor Sechin, head of state-controlled oil company Rosneft, who wants to take over Bashneft to shore up Rosneft's falling oil output. Rosneft took over the assets of Khodorkovsky's former Yukos oil group after the Kremlin confiscated it.

The Micex is down 0.13% today, but has essentially nose-dived since prosecutors first announced the house arrest of Yevtushenkov and the investigation into Sistema, erasing gains made earlier in September.
What is Yevtushenkov's Relationship to Support for Russian-Backed Separatists in Ukraine?
According to an article by Ukrainian publication The Insider about the Ukrainian and Russian businessmen involved in financing the separatist cause in Donbass, Vladimir Yevtushenkov, head of Sistema currently under house arrest in a money-laundering probe, and Konstantin Malofeyev, a wealthy businessman devoted to Russian Orthodox causes in Russia, are part of a web of support for the Russian-backed separatists in southeastern Ukraine.
We already knew of allegations that Malofeyev bankrolled Col. Igor Strelkov and Aleksandr Boroday, the Muscovites who formerly ran the Russian- backed separatists. Boroday was called the "prime minister" and Strelkov commander of the "militia" and formerly held the post of defense minister of in the self-proclaimed "Donetsk People's Republic." Both were removed from their posts when the desire for more "indigenous" leadership became paramount and Donbass-born leaders Aleksandr Zakharchenko and Vladimir Kononov replaced them.
Malofeyev's role in Ukraine became public during the forcible annexation of Crimea; as we reported, blogger Oleg Kashin found that Malofeyev made no secret of his support of the self-appointed regime of Sergei Aksyonov, leader of the Russian-occupied "Autonomous Crimean Republic."
Recently Strelkov and Malofeyev were spotted together with Aleksandr Dugin and Sergei Rudov, ultranationalists who support the separatist cause in Ukraine, at the Russian Orthodox monastery in Valaam.
But how do Yevtushenkov and Malofeyev tie together? The business relationship of Yevtushenkov and Malofeyev is a matter of public record covered in the official Russian media. Yevtushenkov is a shareholder of NVision Group, a systems integrator which is Russia's third most profitable IT business, along with Marshall Capital, owned by Konstantin Malofeyev.

Malofeyev acquired 25% of NVision's stock from its founders in October 2013. Then in January 2014, Sistema signed an agreement to buy 38.75% of Nvision Group's stake from CJSC RegionKapital, part of Malofeyev's Marshall Capital.

The deal involved a payment of $37.5 million and $45 million in shares, which enabled Malofeyev to become a minority shareholder in Sistema.

The question is how their common business dealings have actually resulted in cash payments to separatist leaders; most Russian and Ukrainian journalists have only speculated about this but have not found the receipts.
RBC.ru has gone further than any other Russian news media to try to follow the trail from Malofeyev to the DPR.
RBC.ru published an expose 8 September on Malofeyev's dealings with the separatists. They published documents showing an agreement between Malofeyev and Boroday, the former "prime minister" of the self-declared "People's Republic of Donetsk". Malofeyev and Boroday had a prior relationship as Kashin explained, as Boroday, who ran a public relations firm in Moscow, did work for Marshall Capital.

All of the aid is supplied under the rubric of "humanitarian aid" through Malofeyev's philanthropic organizations. RBC reports (translation by The Interpreter):


The Malofeyev Fund has an official agreement with the DPR authorities. On 17 June, Zurab Chavchavadze, general director of the Fund, and then-premier of the DPR Aleksandr Boroday concluded an agreement on cooperation. According to the document (which RBK obtained), the parties agreed to "joint organization of collection of humanitarian aid on the territory of the Russian Federation and its charitable transfer to the public living in the districts seized by the humanitarian catastrophe."

"This organization has proposed to take upon itself a certain activity in providing humanitarian aid, and I signed the agreement," Boroday explained to RBK.


Pavel Gubarev, the former DPR "people's governor," had arranged contributions to the DPR fighters through his wife's charity -- and as we have reported on our Ukrainian Liveblog, openly advertised on the VKontakte group called "Novorossiya Militia Dispatches" that this "humanitarian aid" includes uniforms, bullet-proof vests, night vision goggles, and small weapons. Says RBC (translation by The Interpreter):


The Malofeyev Fund cooperated with the so-called humanitarian battalion of "Novorossiya." According to the Novorossiya Information Agency, it reports directly to the DPR's former minister of defense, Igor Strelkov, and the activity is directed by the ex-minister of foreign affairs, Yekaterina Gubareva -- the wife of the former "people's governor" of the region Pavel Gubarev. Gubareva's assistant confirmed for RBK that the "battalion" cooperates with the Saint Vasily the Great Fund, but sent us for commentary to the "commander of the battalion," Irina Dubogrey.

According to Dubogrey, the "battalion" collects aid at its warehouses in Rostov-on-Don, and then sends the cargo to Donbass -- including uniforms and supplies. The cargo is delivered to the warehouse of the DPR government for civlians and to the DPR Defense Ministry warehouse for the militia. During the summer, the DPR sent 576 tons. "We had a one-time cooperation with the St. Vasily the Great Fund on medical equipment," said Dubogrey, but noted that mainly she works with other funds.



The press office of Malofeyev's fund denies that he has any contact with leaders of the non-recognized republics, and said he was well acquainted only with Boroday. He also says he only assists refugees, and only on Russian territory; apparently by giving indirectly through another foundation which does deliver to Ukraine, he has plausible deniability there. Yet he was photographed with Strelkov in Valaam.
It's not clear now that Strelkov, Boroday and Gubarev are all out of the DPR as such -- although they continue to speak in its support -- how and through whom the money is getting to the current leadership.
How does Yevtushenkov then relate to the DPR?

Some Ukrainian analysts such as Vitaliy Portnikov have been working the theme that Yevtushenkov's arrest is somehow related to events in Ukraine, and the purported desire of President Vladimir Putin to throw under the bus now anyone associated with financing the separatists.

Portnikov says that Yevtushenkov's cronies from the era of former Moscow Mayor Yuri Luzhkov are still in power and close to Putin even after the demise of Luzhkov. He thinks the desire of Igor Sechin to get Bashneft isn't really the issue but the war in Ukraine is. Even under that scenario, the two themes are not unrelated as the Western sanctions over Russia's aggression in Ukraine may have created the pressure on Sechin to shore up his businesses.

Like Yuliya Latynina, Portnikov cites Yevtushenkov's relationship to desposed former president Viktor Yanukovych; "it is precisely Yevtushenkov and not Putin who made Yanukovych attractive offers which he could not refuse" when the Kremlin was trying to bargain with Yanukovych to get him to stop the European Association Agreement. Says Portnikov (translation by The Interpreter):

It is Yevtushenkov who arranged in Kiev the web of business and ideological interests which continue to work fine under various covers to this day.

The web is graphically illustrated in an organizational chart provided by The Insider showing connections between separatist leaders and various Russian and Ukrainian oligarchs and tycoons. On the chart, Malofeyev is connected to Strelkov and Boroday in the lower left corner through Marshall Capital, and to Yevtosheknov in the lower left corner through NVision Group -- but then there is only a line saying "friends" with Yanukovych without more explication.
The "friendship" has been documented by Yanukovych Leaks, which showed that Yevtushenkov was a member of Yanukovych's exclusive hunting club.
But so far, there is only the logic of cronyism to suggest that Yevtushenkov has translated his friendship with Yanukovych -- whose full dimensions we don't know -- and his business relationship with Malofeyev into a pipeline for "Novorossiya." Partly, the theorizing is based on the notion that Malofeyev alone is not sufficiently high-powered and connected to pull this off on his own.

As Portnikov
said last week
about Yevtushenkov's arrest:
However Malofeyev is no oligarch, and moreover, businessmen at that level are never independent figures, especially in contacts with the government. The oligarch is Yevtushenkov. Furthermore, it is Yevtusheknov with his friendly ties to the Yanukovych family who could become a unique bridge between Malofeyev and the former Ukrainian president, and also secure the financing and loyalty to Moscow of Donetsk security and government agencies. In this scenario, operational funding was required from Malofeyev more than the role of inspirer of the project.  In fact, I would not call Yevtushenkov the real inspirer. The name of the real inspirer is also known -- it is Vladimir Putin.

For the theory of "Putin throwing the separatists and their bankrollers under the bus" to play out, we will have to see if something happens to Malofeyev -- who has so far been untouched -- and for that matter, see how Yevtushenkov's case goes.
Prosecutor Demands Return of Bashneft Shares to State; Yevtushenkov To Remain Under House Arrest
Moscow's Arbitrage Court has upheld the freezing of shares of Bashneft which belonged to Sistema and Sistema-Invest, Novaya Gazeta reported today September 26, citing a notice on the Prosecutor General's web site.
The Prosecutor General had requested the freeze "to protect the interests of the government" in connection with an investigation of money-laundering charges against Vladimir Yevtushenkov, the head of Sistema. It is seeking the return of the shares in "unlawful alien possession" to the state, says the notice.
In July, Moscow's Basmanny Court had frozen the shares when a probe was opened.

The Prosecutor General has claimed violations of the law on privatization when Bashneft, which previously belonged to the Republic of Bashkortostan, a subject of the Russian Federation, was sold back in 2003.

Sistema shares dropped 10% on opening this morning.
Translation: Shares of AFK Sistema have dropped 10% in the first 10 minutes.  It's a looong way to closing time on Friday.
Yevtushenkov remains under house arrest, and press reports that he was released proved premature, as ultimately Yevtushenkov himself told reporters that he had not been notified of a reprieve. Yesterday, Moscow  City Court upheld the ruling to keep Yevtushenkov under house arrest pending trial.

A number of Russian business people have complained about Yevtushenkov's arrest, and the Russian Union of Industrialists and Entrepreneurs have criticized law-enforcers. Aleksei Ulyukayev, Russian minister of economic development, said the arrest would have a negative impact on the Russian economy.

In a recent interview with Izvestiya, Vladislav Ignatov, a former auditor of the Accounts Chamber said that a probe he had begun in 2003 into Bashneft's purchase was halted at the time, although he found that Yevtushenkov, former Bashneft chief Ural Rakhimov, son of Bashkortostan leader Murtaza Rakhimov and Levon Ayrapetyan were charged with embezzlement of shares and money-laundering. He believes Yevtushenkov should return Bashneft to the state. Rakhimov Jr. fled Russia in the mean time, and Aryapetyan was arrested July 17.

Ignatov claims that Rakhimov Sr. defied a decree of then-president Boris Yeltsin and transferred shares of Bashkir TEK, which was then federal property, into the ownership of the Republic of Bashkortostan, and then created a pricing structure for some insiders to get discounts on the shares.

"We intervened when there was a transfer of the Bashneft shares to seven corporations controlled by Ural Rakhimov," said Ignatov. Rakhimov put his son into the business, and the corporations were led variously by his body guard, secretary, and others in his close circle. He also failed to pay taxes.

Asked why the government did not gain any proceeds from the sale of oil assets, Ignatov replied, "after the third billion, everything loses a sense of reality." When Rakhimov fled, the case was suspended.

Says Ignatov (translation by The Interpreter)


"I told the media before the purchase of Bashneft by AFK Sistema that this asset was stolen, a case was opened and not halted. That is, it was not closed, but suspended. The story could be opened at any moment anew. The company was stolen. You bought a stolen company, it was re-painted on the market, but that doesn't change the essence of it. This was a public warning in the media, but nobody paid any attention."


But in an editorial yesterday September 26, Vedomosti said (translation by The Interpreter)


Many are now trying to ascribe what is happening with Yevtushenkov to the ancient, almost disintegrating skeleton in the closet of Bashneft's privatization. But you don't have to buy a privatized company in order to take a beating, as Yevteny Chichvarkin will tell you. It's just that the pie is diminishing and the appetites are growing. It is possible that the question of which is better --- to part with your shares at a cheap price or lose your freedom -- will arise for many businessmen.
(Chichyarkin is a Russian businessman who sold all his shares in Evroset to Aleksandr Mamut, left the company, and moved to London in 2008. In 2009 he was accused of extortion by Russian investigators but then the case was closed in 2011--The Interpreter.)

Vedomosti characterized Yevtushenkov as "a loyal oligarch" who "didn't indulge in any excesses" but whose political stock fell when others rose with the war in Ukraine.
Yuliya Latynina has written on Ekho Moskvy that Yevtushenkov may have gotten himself into trouble for his involvement in Ukrainian affairs:

Mr. Yevtushenkov, as far as I know, was one of the close friends of Yanukovych and a co-owner with him of the Kedr hunting farm which played the role of the Ozera Co-op in Ukraine. And then as far as I understand, he was one of the intermediaries who put Yanukovych, after his flight, together with the people who organized all that in Ukraine. It would be better to ask the details from Donetsk governor [Sergiy] Taruta, who back in the very beginning of the Donetsk story cited to me, to my surprise, the name of Yevtushenkov.

Apparently Yevtushenkov tried to mediate in the Ukrainian story. Because he felt at his back the threatening breath of [Igor] Sechin, who wanted to take Bashneft away from him, and frantically sought some kind of trump cards.

Latynina is referencing a popular theory in Moscow that Igor Sechin, head of Rosneft and a close associate of Putin's who is under Western sanctions, has put his eye on Bashneft because he has suffered losses this year and the company is an attractive producer, although this is disputed by some.
The direction the court case is taking indicates that first, Bashneft may be returned to the federal government before it is possibly re-sold -- and the government may not stop at just the return of shares.

As Ignatov said,
In this situation, it is not enough to return Bashneft to the state. If you bought something stolen and received dividends, that means you should return them, too.


Shares of Sistema, which had plunged 37% at the news of Yevtushenkov's arrest on 16 September dropped 10% more when the Russian stock market opened this morning and have rallied slightly.
Bashneft shares
also dropped about 6%
.
 Bashneft shares

Russians Polled Find Putin 'Most Moral' Figure; But Some Find Navalny, Khakamada, Sakharov
An article in the Moscow Times today was widely retweeted -- "Putin Seen by Russians as Highest Moral Authority" -- because far and away, Putin got the highest percentage of mentions (36%) than any other public figure.
The article was basically a translation of a RIA Novosti piece which was widely replicated throughout the Russian state media.
What's interesting, however, is to dig deeper and look back at the original poll and see some figures not mentioned by either Moscow Times or the Russian state media -- opposition leader Aleksei Navalny (6%), Andrei Sakharov (2%), and Joseph Stalin (1%).
This might not seem so significant, but remember, in this question, people were asked to name the figures themselves, not asked to give their opinion on a pre-set list. That's why you get a very long tail.
First, people were asked if there were moral authorities among the people in their close circle. While some people write off Russians as cynical nihilists due to the battering of their history, 56% said "yes." This broke down then into age groups: people in the 18-30 age group said they had the most faith in such figures (69%) and those who lived through the worst periods of the Soviet era (60+ in age) said "no" (53%).

Then it was those in the 18-30 group said they often sought advice from these moral authorities (39%). When asked if they saw the people they worked with as moral authorities, now the numbers went down -- 41% said they didn't.
Then 60% of those polled said they saw public figures as moral authorities. And they were asked to name them -- which is how they got this long tale of names:
Given the outsized impact of state television in Russia, where independent TV has dwindled to just TV Rain, which has been dropped by a lot of cable operators under pressure, and given that Internet penetration is still only just over 61%, it's understandable that the figure  most shown on TV -- Putin -- will get the highest mentions, and that skaters or athletes or singers would also get high marks.
But Navalny isn't on television, except in negative attacks, and Sakharov is nearly forgotten by the media. So that means, somehow, people get this information from the Internet or word-of-mouth.

Given how often we see posters of Stalin in street demonstrations (whose participants are not a definitive sample of the population in any event) or hear of pro-Stalin sentiments, in this poll at least, Stalin did very poorly -- as bad as the Chechen strongman Ramzan Kadyrov or the former popular Soviet TV personality Vladimir Pozner, who emigrated to Paris over the rise of ultranationalism in Russia -- and is now mentioned less.
And that's also another interesting phenomenon -- for all we hear of Col. Igor Strelkov, hero of "Novorossiya," or Aleksandr Dugin, the extremist Eurasianist ideologue, or Aleksandr Prokhorov, the editor of the ultranationalist newspaper Zavtra [Tomorrow]. If they were mentioned even by a few people, they are not included in the pollster's findings. Instead, Vladimir Zhirinovsky -- a fixture of state media talk shows -- is the only one of this ultranationalist type mentioned.
Asked if there were more or less such moral authorities than there were in the 1970s and 1980s, 30% said more, 40% said less, 11% said the same, 20% said they couldn't say. And perhaps that's why 77% of those polled said they're rather rely on themselves than on moral authorities when they had to make difficult choices.

It's interesting to compare these findings to a similar poll done in August and published in September -- after it became widely known that Russia had invaded Ukraine and Russian soldiers had died there.

The question is a bit different "Which politician do you trust the most?"

All of these numbers were down somewhat from the previous week, but higher than 31 August in some cases.


Russian Environmentalist Vitishko Loses Appeal of Prison Term
Translation: The court in Krasnodar has decided not to change the measures of restraint for ecologist Yevgeny Vitishko, he will remain in the colony.
Link: A week of support for Vitishko has begun.

Vitishko is currently serving his term in a labor colony in Tambov Region for allegedly refusing to make regular parole visits.
His lawyers will attempt to appeal this sentence again.

In 2011, members of the Environmental Watch on North Caucasus staged a "picnic action" on the grounds of land rented by Krasnodar Territory Aleksandr Tkachev in the village of Dzhubga. The ecologists were protesting the fact that a forest that was in Russia's "Red Book" of preserved lands had been fenced in by the governor.
Graffiti was painted on the fence including "Sanya is a Thief," using the nick-name for "Aleksandr," "This is Our Forest" and others. Vitishko and another activist Suren Gazaryan were sentenced to three years for "damage to the fence." Gazaryan was forced to emigrate to Estonia.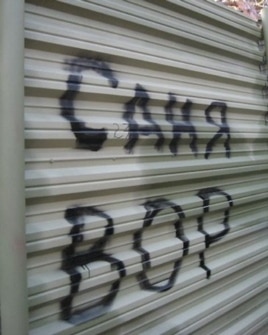 "Sanya is a Thief."

His Twitter account is continuing to be run by supporters.


Translation: See the post "Court keeps Ecoprisoner Yevgeny Vitishko under arrest. This is a huge loss for nature.
Supporters of Vitishko told Svoboda that he has had a difficult time in the colony, as he has defended his rights and then suffered a backlash. For example, when he was beaten by his fellow inmates in the punishment call, he publicized this fact and wrote appeals, and then became ostracized by the other prisoners.

Meanwhile, Gov. Tkachev's fenced-in territory including what should be preserved forest has grown, and a pool, water park and soccer field allegedly for his personal use are being built.

Activists say the lengthy prison sentence was instigated by Gov. Tkachev in retaliation for the criticism of misuse of public lands.

His lawyer Marina Dubrovina is both appealing the enforcement of the sentence as well as contesting various violations of due process in his treatment.

Tkachev has responded to the charges of bloggers by claiming that the area is rented, but not for his personal use, but as a vacation facility for the workers of Agrokompleks, a company where he worked. As for the lengthy sentence, he justified it as a deterrent; as he told bloggers in 2012 (translated by The Intrerpreter):


"He didn't [just] do the graffiti -- they don't give three years for graffiti. But how had things gotten out of hand? He broke the fence there, filmed himself in a video and disseminated it on YouTube. Today, let's say, he breaks Tkachev's fence, but tomorrow, it could be Petrov or Ivanov, is that normal, really? And then all kinds of Mussy Pussies get into the cathedral and dance. But that's outrageous!"

Yevgeniya Chirkova, a prominent Moscow-based environmentalist, wrote on her blog that she had visited Vitishko at the Tambov colony, and he had been hopeful then that he might be released and continue his work (translation by The Interpreter):


"I wish the court would be over faster, there is so much I have to do when I am released. We have a new problem - Rosneft is planning to drill for oil in the Black Sea. We have to organize a campaign against this idiotic project."


But unfortunately his plans were dashed. Says Chirikova:


"And I understand why. Because people like Zhenya [Yevgeny] are dangerous for the current Russian regime. After all, essentially all the activity of our government is aimed at turning natural resources into money. And people like Zhenya get in the way terribly. And then natural resources are exhausted as the years go by."

Supporters have started a petition on Vitishko's behalf.