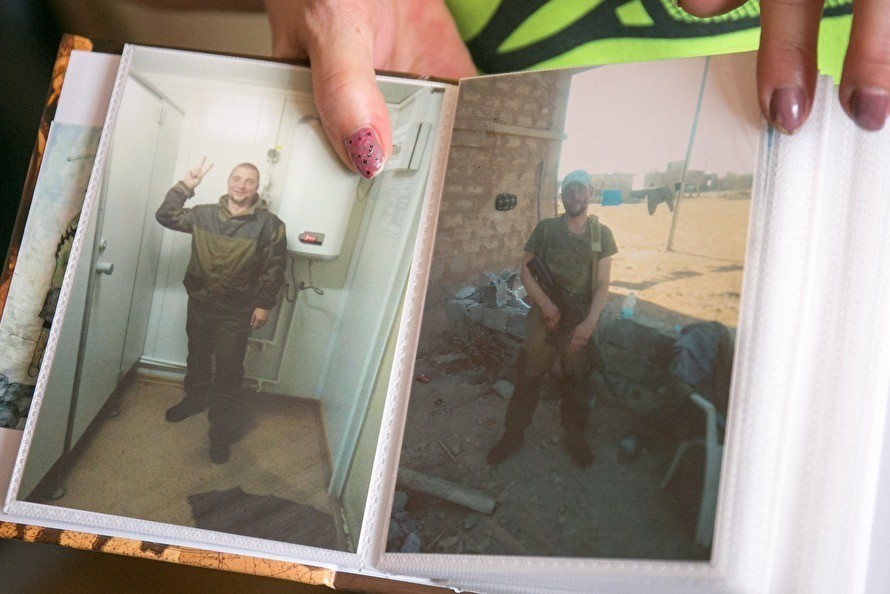 Russian Journalist Who Wrote About Wagner Mercenaries Dies Under Suspicious Circumstances
Photos of Stanislav Matveyeva, a Urals fighter killed in Syria, held by his widow. Photo by Znak
Maksim Borodin, who wrote about the Wagner mercenaries died after a fall from a fifth-story window, Lenta.ru reports.
Borodin, a journalist for the online news site
Novy Den
 [New Day] in the Urals city of Yekaterinburg was brought to a local hospital after falling from the fifth floor on April 12, and did not regain consciousness before dying today, April 15,
Novy Den reported.
In March, Borodin published material referencing his own sources about the transport of the bodies of Wagner fighters Stanislav Matveyev and Igor Kosoturov to the town of Asbest in the Urals. In an article he co-authored with another journalist, there were said to be at least 30 residents of Sverdlovsk Region in the Urals fighting in Syria.
In February, there were reports of as many as 200 Wagner fighters killed in battle with US soldiers in Syria. Only about a dozen of these deaths have been confirmed to date, but recently
CIA director Mike Pompeo said
that "a few hundred" Russians were killed in Syria in this clash.
Polina Rumyantseva, editor-in-chief of
Novy Den
, said Borodin's death may not be an accident or suicide. "In order to understand what happened, we have to obtain access to the apartment, we're working on that. If there is the slightest indication of foul play, we'll inform everyone,"
MBK Media quoted her as saying.
A colleague found Borodin on the ground apparently from a fall from his fifth-floor apartment and called an ambulance. While originally doctors were reportedly optimistic about his recovery, colleagues later urged media to report that he was in critical condition.
Valery Gorelykh, press secretary of the Sverdlovsk Region Interior Ministry (the police) said it was "unlikely that this story is of a criminal nature," Ura.ru reported.
He said the door to Borodin's apartment was found to be locked from the inside with a latch, which indicated that there were likely no intruders. Police had to break into the apartment. The keys to the apartment were found inside. No suicide note was discovered.
Borodin was previously attacked in the fall of 2017 when he gave an interview to TV Rain about the controversial film Matilda about Tsar Nicholas' Polish mistress, Ura.ru reported. He and a colleague were hit over the head with a metal pipe by unknown assailants.