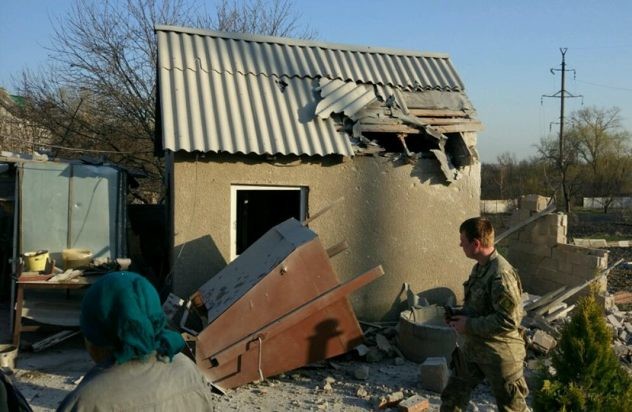 Family Killed in Land Mine Explosion; Homes in Avdeyevka Damaged in Attack by Russia-Backed Forces
Shed in Avdeyevka damaged April 11 by Russia-backed shelling. 
The four civilians declared missing yesterday, April 10 were found dead by their vehicle, which had run over a land mine.
According to a report from the Ukrainian National Police on their web site, on the line of contact near the village of Peschanoye in the Stanitsa-Lugansky Region, the family of four died in the explosion. The parents were both age 57, and their son and his common-law wife were both age 38. The remains of their Chevrolet Niva was found near the Seversky Donets River.
The private sector of "old" Avdeyevka was shelled overnight April 10-11, causing damage to a number of homes and a shed on Lermontova and Levanevskogo Streets., Liga.net reported, citing Pavlo Zhebrivskiy. 
Home damaged April in Avdeyevka
-- Catherine A. Fitzpatrick