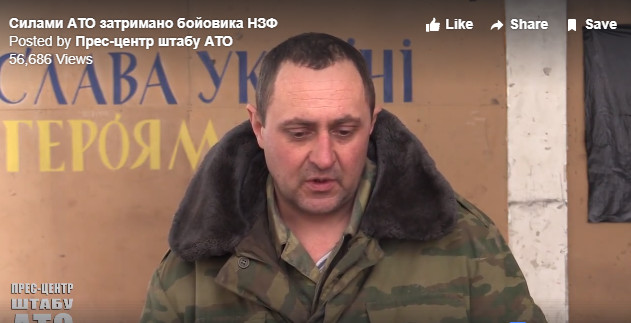 One Ukrainian Soldier Killed from Mine, One Wounded; Mogherini Calls for Total Access for OSCE Monitors
Igor Soloid, fighter detained by Ukrainian forces. Screen grab from Ukrainian military video 
Donetsk residents have not had Vodafone mobile service for the last two months,
Liga.net reported
.
There were five attacks on Ukrainian positions. One Ukrainian soldier was wounded.
In an interview with Unian
, on the eve of her visit to Kiev March 11-12, Federica Mogherini, High Representative of the European Union for Foreign Affairs and Security Policy urged that the OSCE monitors be given total access in the Donbass.
She also reaffirmed the EU's commitment to Ukraine's sovereignty and non-recognition of Russia's annexation of Crimea, and said nothing had changed on the position regarding Russia as the Minsk agreement had not been fulfilled.
In a video made by the Ukrainian military, the detainee, whose name was reported as Igor Soloid,  said there were Russian instructors for the forces of the self-declared "Donetsk People's Republic." He said that men joined the forces because there were no jobs, industry was halted, and they had to support their families. His statement may have been coerced as he was taken prisoner.
-- Catherine A. Fitzpatrick