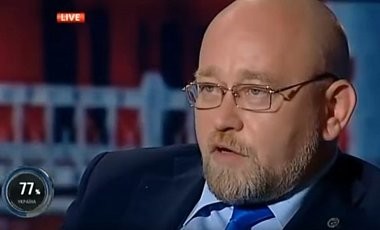 POW Negotiator Vladimir Ruban Arrested with Weapons; One Ukrainian Soldier Wounded in Battle
Vladimir Ruban 
Vladimir Ruban, head of the Officer Corps Center to Release POWs was arrested at the Mayorsk checkpoint and arms in his vehicle were seized, Liga.net reported, citing Heorgiy Tuka, deputy minister of issues of the occupied territories.
Prosecutor General Yuriy Lutsennko said Ruban would not be released, and the detention was not "accidental," in a comment on Facebook.
A video was uploaded allegedly showing the weapons in Ruban's possession. 
Two Ukrainian soldiers were arrested for "hooliganism" and use of firearms near Slavyansk,
Liga.net reported.
The International Committee of the Red Cross sent in 220 tons of humanitarian aid to Donetsk Region,
Liga.net reported
.
One Ukrainian soldier was wounded in the previous reporting period, and there were three attacks with heavy machine guns near Troitskoye and Luganskoye.
-- Catherine A. Fitzpatrick