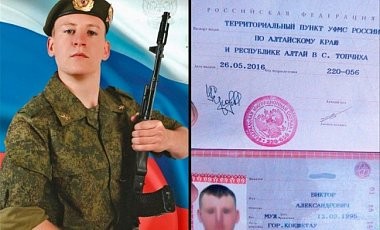 OSCE Monitors Report Damaged Homes in Pikuzy, Schastye; Patrol Falls Under Fire
Russian soldier Viktor Ageyev 
Russia-backed forces fired on Luganskoye, Liga.net reported. There were no casualties reported.
Mariupol News reported that OSCE had recorded damage from shelling in Pikuzy (Kominternovo). 
The monitors also came under fire, 24todaynet.ua reported.
Translation: OSCE patrol fell under fire in Donbass.
There was an explosion at the Novotroitskoye-Dokuchayevsk water main, the Ukrainian Ministry for Temporarily Occupied Territories and Internally Displaced Persons reported on Twitter.
Svetlana Ageyeva, the mother of Russian soldier Viktor Ageyev, appealed to Presidents Vladimir Putin and President Donald Trump for the release of her son, Novaya Gazeta reported.
Ukrainian forces captured Ageyev, a Russian contract soldier from Altai Territory on June 28, 2017 in Lugansk Region. He was found guilty by a Ukrainian court of participation in a terrorist organization and unlawful handling of weapons and sentenced to 10 years of imprisonment. He has not been included in POW lists.
-- Catherine A. Fitzpatrick