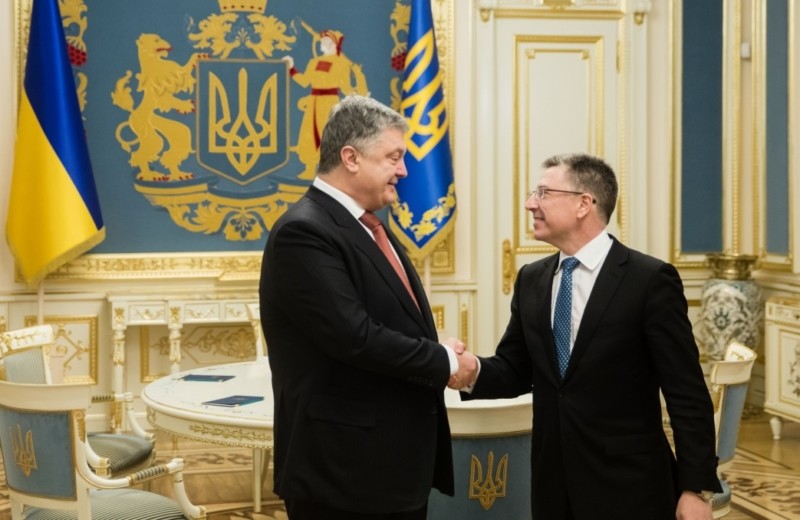 Russia-Backed Militants Block Access for OSCE Monitors Near Mariupol; Volker Says 'People's Republics' Should be 'Liquidated'
Ukrainian President Petro Poroshenko meets US representative Kurt Volker on January 23 in Kiev. Photo by Kyiv Post 
Russia-backed forces made seven attacks using a 120-mm mortar, an armed tank and BMP and small arms. No casualties were reported.
Russia-backed militants did not allow an OSCE monitoring patrol access to the village of Patriotichnoye about 35 kilometers from Mariupol,
Liga.net reported.
In a speech in Washington, DC, US special representative on Ukraine Kurt Volker said Russia was not abiding by the Minsk accord, the Kyiv Post reported, also citing LB.ua:
"A peacekeeping proposal can work – and ensure the safety of all residents of eastern Ukraine – but Russia has to choose peace … Ukraine has demonstrated the political will to implement Minsk. The issue is there has not been action from the other side," Volker said on Twitter, citing his presentation at the Washington, D.C.-based Hudson Institute think tank.

According to the Kyiv-based news portal LB.ua, during the panel discussion at the Institute, Volker said the self-proclaimed pro-Russia Donetsk and Luhansk People's Republics (DPR/LPR) must be scrapped.

"The DPR and the LPR, which were created by Russia in order to mask their role and perpetuate the conflict must be liquidated," LB.ua quoted Volker as saying.
In response, Alexei Pushkov, head of the Russian Federation Council's commission on information policy, said that the two "republics" were part of the Minsk agreement.
--Catherine A. Fitzpatrick