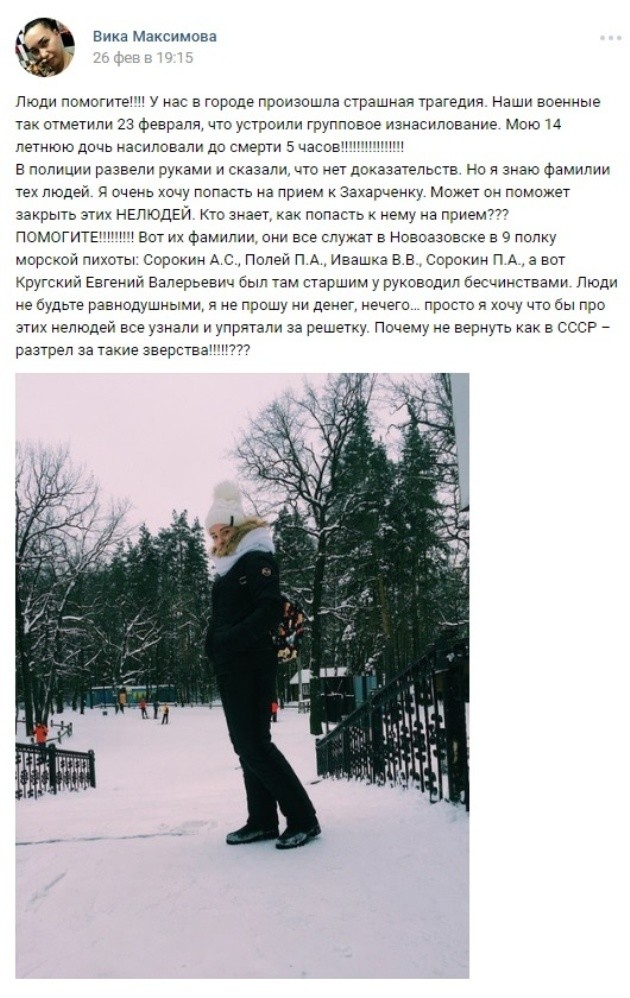 One Ukrainian Soldier Killed; Reports of Rape and Murder of Teenage Girl, Mother by DNR Soldiers
A post on VKontakte by Viktoria Maximova about the disappearance of her daughter, who was later found raped and murdered. 
A Ukrainian soldier, age 34, was killed today near Avdeyevka, and two soldiers were wounded and were in satisfactory conditions, Liga.net reported, citing the Ukrainian Defense Ministry.
On the Lugansk line, there were three attacks, including nar Troitskoy at the Svetlodarsk Bulge with 120-mm mortars.
There was also shooting from small arms near Stanitsa Luganskaya.
On the Donetsk line, there were five attacks; for five hours without ceaing, militans fired from 82-mm and 120-mm mortars, grenade-launchers and firearms.
The Donetsk Filtration Station was closed down.
Viktoria Maximova, the mother of a 14-year-old girl living in occupied Enakievo, reported February 26 that her daughter was raped and murdered by Russia-backed militants celebrating Fatherland Defenders Day February 23, Liga.net reported, citing social media and noting that
they were unable to confirm the report.
Maximova published the names of the suspects on VKontakte and asked for help in getting a meeting with Aleksandr Zakharchenko, the self-declared leader of the so-called "Donetsk People's Republic" (DNR) She said she was being threatened by the DNR soldiers, and then she herself was subsequently found dead and decapitated.
Liga.net noted that at first the DAN-Info published a story that the headless corpse of a woman had been found, then removed the story.
Later in the evening 82-mm mortars and an armed BMP were fired near Bogdanovka.
Among 111 persons detained during a protest outside the Verkhovna Rada or parliament, 15 had ID as participants in combat.
-- Catherine A. Fitzpatrick