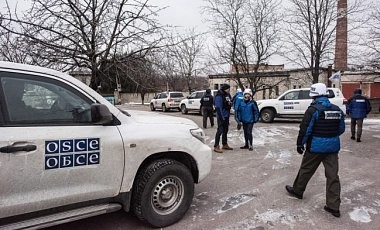 Russia-Backed Forces Attack Troitskoye, Avdeyevka; One Ukrainian Soldier Killed, Two Wounded
Photo via Liga.net 
There were six attacks today, Liga.net reported, citing the ATO [Anti-Terrorist Operation].
One Ukrainian soldier was killed, two were wounded, Liga.net reported.
On the Lugansk line, 120-mm mortars were used to attack Ukrainian positions at Troitskoye.
On the Donetsk line, mortar-launchers, grenade-launchers and small arms were fired in the suburbs of Avdeyevka.
Water service was restored after repair of a power station serving the pump station for three filtration stations, Pavlo Zhebrivskiy, head of the Donetsk region administration
reported on his Facebook page
, according
to Liga.net
.
OSCE monitors reported a vehicle spotted February 28 with the label "Cargo 200," the Russian military term for the bodies of soldiers killed in battle, Liga.net reported.
-- Catherine A. Fitzpatrick