Day 1470: February 27, 2018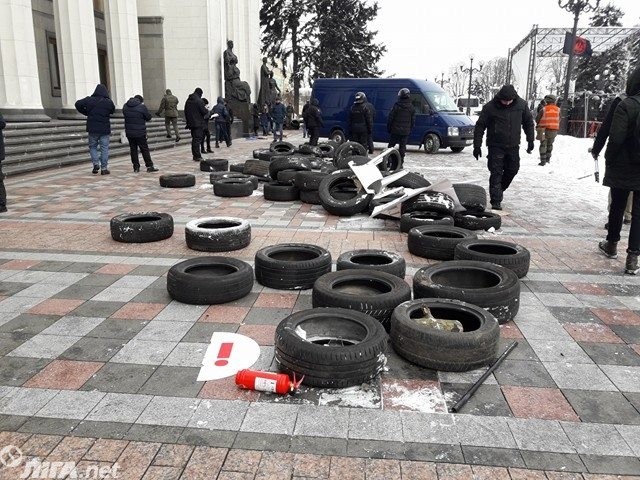 Protesters Clash with Police; 9 Detained, 14 Officers Injured; 1 Ukrainian Soldier Wounded on Front Line
Tires and demonstrators at the Ukrainian parliament. Photo by Liga net 
Tires piled up outside the parliament, protesters clashing with police, violence and blood on the streets -- a replay of Maidan, possibly in reverse?
Police detain protester. Photo by Unian
Not quite, as this small group of protesters began trying to burn tires immediately, were stopped by police, then began hurling objects at them. Most of the time, the original Maidan protesters of 2013-2014 had not used violence of that nature, and only rarely when they themselves were attacked.
"These are vile people who provoked the conflict, who brainwashed people on the street as well. They don't understand a simple thing: that broken guys are behind that vileness an baseness...Colleagues, we need to return to ourselves not just political views and the wish to "be exposed" but ordinary human qualities. The qualities of decency and responsibility. You won't come to power like that. In that way, you can only destroy the state. We will not allow that." 
Eyewitnesses said protesters threw smoke bombs and plastic bottles at police, and one Molotov cocktail. There were also reports of some improvised explosive that detonated. Anton Gerashchenko, an MP from the Popular Front said two national guardsmen were among those injured.
The Kiev police press service said police had various degrees of injuries -- broken jaws, noses, and collarbones as well as numerous bruises. That sounds like a level of violence not typical of even extreme Kiev demonstrators. Police have opened a criminal case on charges of theat or assault of law-enforcers.
Vice speaker of parliament Irina Gerashchenko said she had reports that MPs were among those who attacked police.
Protesters had also set up a tent encampment near the parliament building from which demonstrators had been seen emerging, brandishing sticks, Unian reported.
The Ukrainian authorities are still dependent on aid from the International Monetary Fund, and the US government can still provide invaluable support for democratic change if it links further assistance to passing the law on the creation of an anti-corruption court and changing the electoral law, which is key to clearing politics from conflict of interest issues. These are the slogans that kicked off October's protests, which brought together anti-corruption activists, parties such as Democratic Alliance and Saakashvili's Movement of New Forces, as well as the nationalist Svoboda and conservative Samopomich parties.
In the evening, militants fired 82-mm and 120-mm mortars on Luganskoye; the extent of damages is not yet known
There were no attacks on the Donetsk line, but 7 attacks in the previous period. One Ukrainian soldier wounded.