Day 1423: January 21, 2017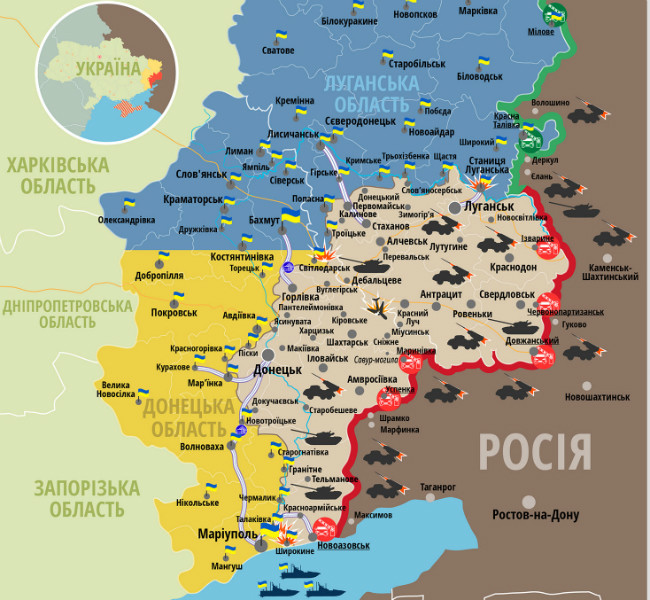 1 Civilian Killed, 1 Injured in Shelling of Bus at Olenovka Checkpoint
ATO Map January 21, 2018
According to operational information, the bus with civilians was shelled by fighters of NVF ORDO [the illegal armed formations of certain regions of Donetsk Region]. According to local residents, who were at that time crossing the line of contact through the [Olenevka--ed] checkpoint, as a result of these actions, one civilian was killed and another sustain injuries.
A statement on the Ukrainian Border Service web site
confirmed
the civilian casualties.
The ATO said "propagandistic media disseminated false information" that Ukrainian soldiers were to blame for the shelling.
The ATO told the OSCE Special Monitoring Mission that these reports were an effort at "discreditation of the Ukrainian army on the eve of the firist of Alexander Hug, first deputy head of the OSCE SMM to Donetsk and Lugansk regions."
Meanwhile,
Ukrainska Pravda reported
, citing 112 Ukraina that Oleg Slobodyan, aide to the chair of the State Border Service, said: "information available from citizens who crossed the line of contact is insufficient to create a full picture of what happened."
"But citizens report that at the village of Olenevka (Olenivka) in temporarily non-controlled territory, as the result of shelling from small arms or as a result of shrapnel damage from the explosion of an unknown explosive device, at least two passengers of the minibus were injured. Apparently one of these citizens was killed, and the second sustained injuries."
The incident is similar, although on a much smaller scale, of the shelling of the civilian bus in Volnovakha in 2015, which also led to debates about whether Grad missiles hit the bus, or hit the ground near the bus, setting off mines that had been placed by the roadside.
A year ago (January 23, 2017), the SBU
detained
a Russian citizen at this same checkpoint, saying that he was engaged in reconnaissance, and the area
has been a site
of civilian and military injuries in the past.
-- Catherine A. Fitzpatrick