Day 1394: December 13, 2017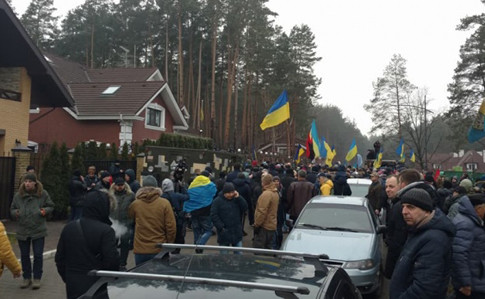 1 Ukrainian Soldier Killed, 1 Wounded, with Attacks More Severe on Lugansk Line
Automaidan activists protesting in front of the home of Yuriy Lutsenko. Photo via Liga.net 
Today the Lugansk line was "hottest of all," the ATO [Anti-Terrorist Operation] reported, according to Ukrainska Pravda.
In the previous reporting period, there were no casualties reported.
In its report for December 13, the ATO said one Ukrainian soldier was killed and one was wounded and there were 30 violations of the cease fire.
Russia-backed militants fired 82-mm and 120-mm mortars on Ukrainian positions in Popasnyaya, Kryakovka, Novoaleksandrovka and Luganskoye. In some areas, shelling continued for two hours.
At dawn, shelling continued in Popasnaya and Luganskoye; 152-artiller was used on the approaches to Vrubovka. 
Zolotoye, Lozovoye and Krymskoye were attacked with grenade-launchers and small arms.
On the Donetsk line, militants fired mortars banned by the Minsk agreement at Vodyanoye and Maryinka. There was also light infanty weapons fired on Pavlopo and Starogrnatovka.
In more then half the incidents, Ukrainian forces retired fire.
On the Lugansk line, grenade-launchers were fired at Stanitsa Luganskaya and Luganskoye.
On the Donetsk line, Avdeyevka was attacked; 82-mm mortars, grenade-launchers and machine guns were used. A sniper was also active.
Infantry weapons were fired on Kamenka, Peski, and the Butovka mine. Ukrainian forces returned fire in about half the instances.
On the Maritime line, Granitnoye was attacked.
In the evening, militants fired on Avdeyevka and the Donetsk Filtration Center. One shell landed in the dispatcher's office, frightening a woman who work there. One private home was also shelled.
http://news.liga.net/news/incident/14870302-boeviki_obstrelyali_avdeevku_i_donetskuyu_filtrovalnuyu_stantsiyu.htm
There were also late reports of destruction of homes on the night of December 12-morning of December 13:
The Ukrainian side of the Joint Centre for Control and Coordination reported 
"deadly danger for civilians" at checkpoints where Russia-backed forces are trying to "disorganize" work. These include Maryinka, Novotroitskoye and Gnutovo, which were forced to stay open to finish processing citizens and trucks that wished to cross. This occurred because Russia-backed separatists allowed both vehicles and civilians into the "grey zone" 10 minutes before the checkpoint was to close.
The OSCE Special Monitoring Mission issued a "spot report"today for an incident yesterday, December 12, in which monitors were fired on less than 500 meters from its forward patrol in Popasnaya (Popasna). While the SMM doesn't not make a judgement about those responsible for the firing, from the description it seems possible that the outgoing fire was from Ukrainian forces in response to Russia-backed shelling:
On 13 December at 00:05, while at its forward patrol base on the northern edge of government-controlled Popasna (69km west of Luhansk), the SMM heard ten explosions assessed as outgoing artillery fire 200-500m west to west-north-west, and smelt propellant. SMM staff (consisting of five monitoring officers, a paramedic and a language assistant) at the forward patrol base immediately entered the base's basement shelter. At 00:36, one of the monitoring officers left the shelter to assess the security situation and heard three explosions assessed as outgoing artillery fire and saw three muzzle flashes 200-500m west to west-north-west. A representative of the military-civil administration in Popasna then told the SMM by telephone about heavy shelling occurring near Popasna and recommended it to remain in the shelter. The Mission noted that shelling ceased at 01:20 and then resumed from 01:45 until 02:20. Between 00:05 and 02:20, the SMM, while in the shelter, heard approximately 60 undetermined explosions at an undetermined distance and direction.

At 03:40, the SMM heard eight explosions assessed as outgoing artillery fire 200-500m west to west-north-west. At about 04:35, the SMM heard five explosions assessed as outgoing artillery fire 200m-500m west to west-north-west and, at 06:00, it heard three explosions assessed as outgoing artillery fire at an undetermined distance and direction.

At around 10:30 on 13 December the SMM left the forward patrol base and subsequently reached Sievierodonetsk safely. The SMM has since returned to its forward patrol base in Popasna.

The SMM informed the Joint Centre for Control and Co-ordination and asked it to follow up on the incident.
Other news:
o A new UN report on the Donbass: