Day 1387: December 6, 2017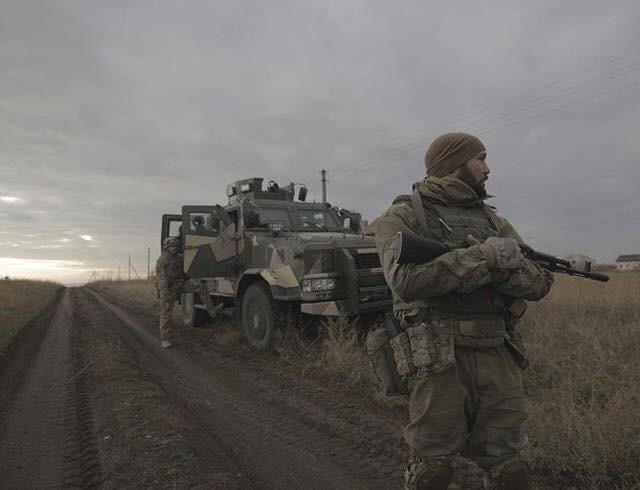 On UAF Day, No Casualties on the Front Line; Saakashvili Supporters Clash with Police; 14 Police, 2 Protesters Injured
Ukrainian soldier. Photo via Liga.net
Today is Ukrainian Armed Forces Day. No casualties were reported. Liga.net has a photo essay of some of its best pictures.
The Ukrainian government is
paying bonuses
to all those serving in the ATO -- those on the first line, 5,000 hryvnia (US $184); those on the second line, 3,000 hryvnia (US $110). President Petro Poroshenko also signed a law to provide housing for soldier and their families and measures have been taken to improve rehabilitation facilities.
In its evening dispatch, the ATO
reported
that there were 11 cease-fire violations.
On the Lugansk line, there was one attack with a 120-mm mortars on the approaches to Novoluganskoye.
On the Maritime line, militants used infantry weapons and 120-mm mortar-launchers near Shirokino and also a tank.
Mortars were also fired on Starognatovka and Vodyanoye. Grenade-launchers were fired on Gnutovo and an armed BMP attacked Bogdanovka.
On the Donetsk line, Avdeyevka was attacked with light infantry weapons.
The Ukrainian Military has
claimed
that the Russia-backed forces used white phosphorus munitions near the village of Novoselovka (Novoselivka) which are banned under the Minsk agreement.
In Kiev today, police
clashed with supporters
of former Odessa governor Mikheil Saakashvili. At least 14 policemen and 2 demonstrators were injured.
The Prosecutor General issued a warning for Saakashvili to turn himself in, but he has ignored it.
Larisa Sarhan, a spokeswoman for the prosecutor-general, said on December 6 that Saakashvili now faced three criminal charges -- attempting to commit a crime, involvement in premeditated criminal activity by a group of persons, and providing assistance to a criminal organization and concealing their criminal activities.
-- Catherine A. Fitzpatrick