Day 1376: November 24, 2017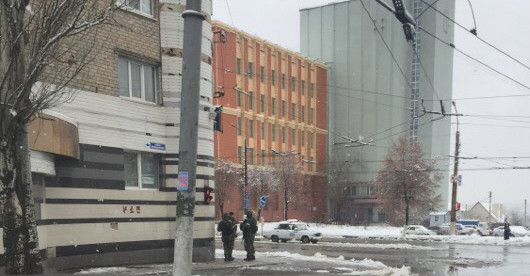 Pasechnik Made Acting Head of 'Lugansk People's Republic'; 3 Ukrainian Soldiers WIA
Armed men in Lugansk on November 22, 2017. Photo by OSCE SMM 
Last week, armed people and military vehicles appeared in Lugansk amid reports that Leonid Plotnitsky had been overthrown by Igor Korent, an LNR rival. Plotnitsky has now fled to Moscow and issued a statement that he was resigning "for health reasons".
According to InfoResist
, Russia-backed forces attacked 12 times, the ATO [Anto-Terrorist Operation] reported. Two Ukrainian soldiers were wounded and one was concussed.
On the Lugansk line, militants fired 120-mm mortars on Ukrainian positions at Troitskoye and fired on Katerinovka, Novoaleksandrovka and Lobachev in the evening. A BMP and heavy machine guns were used to attack the suburbs of Popasnaya. Small arms were fired near Luganskoye.
On the Donetsk line, Pavlopo fell under mortar fire and grenade launchers and light infantry weapons were fired on the approaches to Avdeyevka and Kamyanka.
Ukrainian forces returned fire 9 times.
-- Catherine A. Fitzpatrick