Day 1368: November 16, 2017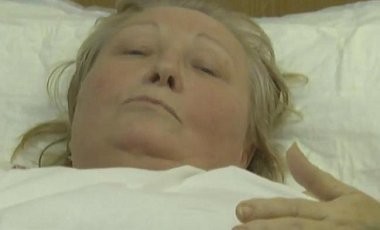 Civilian Woman Injured by Ukrainian Soldiers' Gunfire Tells Story
Lyubov Stekhina, civilian woman injured by gunfire from Ukrainian soldiers. Screen grab from video via Liga.net
There were 16 ceasefire violations in the previous reporting period and 9 today, with no casualties, the ATO [Anti-Terrorist Operation[ reported.
After speaking with President Vladimir Putin yesterday, Igor Plotnitsky, self-styled leader of the self-declared "Lugansk People's Republic" gave orders to prepare the exchange of POWs with Ukraine.
"We believe that the involvement of the head of the Russian Orthodox Church Kirill and joint efforts of all world confessions will enable to rapid return home of each of the hostages."
She said without any explanation, two uniformed Ukrainian soldiers broke into her home and began opening fire.
"They seemed to shoot at the wall. But apparently [the bullet] hit the door and ricocheted on me...On the whole, the soldiers are always friendly. They always green everyone. They are very nice people. But as they say, there isn't a family that doesn't have its black sheep."
The soldiers have been arrested and the incident is being investigated by military police.
Stekhina, age 64, is in stable condition, say doctors although her injures are severe. She is expected to live. 
The Ukrainian military says
that the Russia-backed separatists are shelling areas and making it appear as if the firing comes from Ukrainian positions, in connection with travel to the front line by Alexander Hug, first deputy head of the OSCE Special Monitoring Mission.
-- Catherine A. Fitzpatrick