Day 1366: November 15, 2017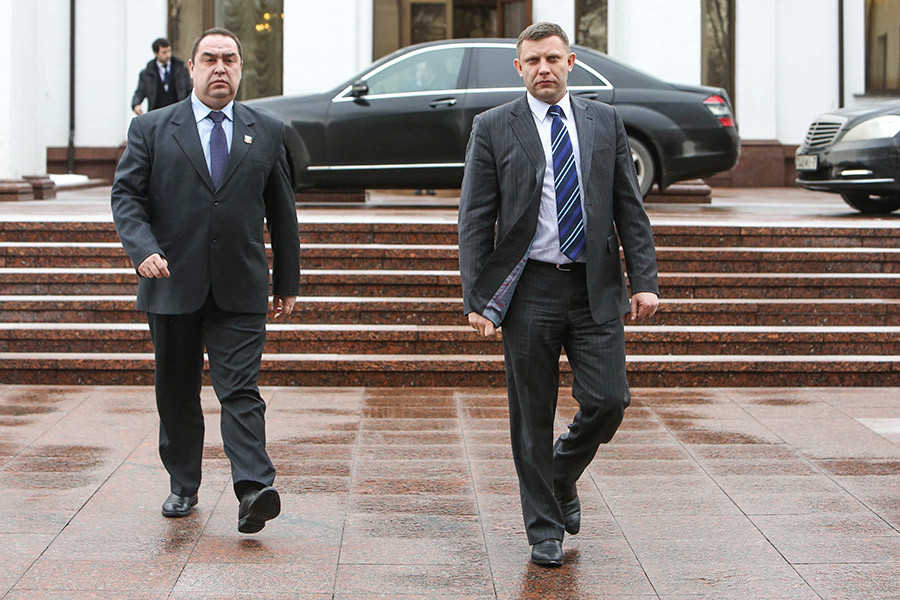 Putin Speaks with Separatist Leaders for First Time Re: POW Exchange; Kiev Wary, Gerashchenko Accuses Separatists of 'Blackmail'
Igor Plotnitsky (L) and Aleksandr Zakharchenko (R). Photo by Oksana Manchuk/BelTA/TASS
For the first time in more than three years of war, President Vladimir Putin spoke directly by telephone to the two leaders of the self-declared "People's Republics" of Donetsk and Lugansk, RBC reported.
Putin spoke with Aleksandr Zakharchenko and Igor Polotnitsky, self-styled leaders of the so-called "Donetsk People's Republic" (DNR) and "Lugansk People's Republic" (LNR), respectively, about the issue of the exchange of prisoners of war under the latest Minsk ceasefire agreement signed in 2015.
Viktor Medvedchuk, a Ukrainian oligarch, former head of the Ukrainian presidential administration under Leonid Kuchma, and head of the pro-Russian political organization Ukrainian Choice proposed to Putin to personally intervene to ensure a widescale exchange of POWs before the New Year's holiday.
Medvedchuk was named special representative of Ukraine on humanitarian issues in the Trilateral Contact group to resolve the conflict in the Donbass.
Putin met privately in August 2017 with Medvedchuk - -- who is godfather of his daughter -- to discuss the Minsk agreements and again November 15 during Putin's visit to New Jerusalem Monastery in Istra, Moscow Region.
Medvedchuk said Ukraine was prepared to release 300 people and was expecting the separatists to release more than 70.
Putin told Medvedchuk (translation by The Interpreter)
"I will do everything that depends on me, I will speak with the leadership of both the Donetsk Republic and Lugansk republic. I hope that what you propose will be implemented, and as soon as possible." 
Kremlin spokesman Dmitry Peskov said the DNR/LNR leaders "on the whole supported this initiative" but it still had to be worked out with Ukraine.
By that she meant that persons who did not fall under the Minsk accords, such as the Berkut soldiers who were suspected of killing demonstrators on Maidan Square, would not be eligible for the exchange.
She said that the OSCE had "neutrally" supported the DNR/LNR proposal to link the release of POWs to a halt to the trial of those accused of shooting on Maidan.
Gerashchenko also noted that the separatists had failed to release teenagers from Yasinovataya whom they had been holding for 15 months and whom they had long promised to release.
She also noted that the separatists were clocking the Zolotoye checkpoint in Lugansk Region, although they had promised to remove the blockade in October. After the latest talks, they said the checkpoint would open up only after heavy armor had been removed from Stanitsa Luganskaya -- a town they shell daily, she noted. 
On the front line, Sergei Shakun, head of Popasnyaya District Regional Administration said Ukrainian soldiers wounded a 64-year-old woman who resided in the area.
The chief physician of Dnepropetrovsk Regional Hospital said the woman was brought for treatment of a gunshot wound that occurred November 13 when Ukrainian soldiers came into the woman's home and shot her, causing extensive stomach, leg and buttock wounds.
The ATO said they had detained soldiers responsible for injuring a civilian but had no further details.
-- Catherine A. Fitzpatrick