Day 1360: November 8, 2017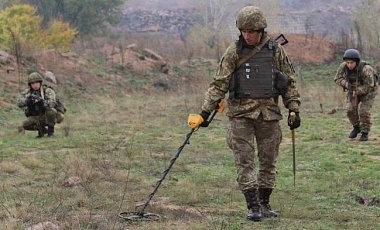 3 Ukrainian Soldiers Killed, 3 Wounded in Last 2 Days
In the previous reporting period, two Ukrainian soldiers were killed, one was wounded and one was concussed. On November 10, one Ukrainian soldier was killed and one was wounded,
the ATO [Anti-Terrorist Operation] reported.
Militants fired 82-mm mortars 16 times on the Donetsk line, and fired from a BMP near Zaytsevo.
On the Lugansk line, they fired from 120-mm mortars near Krymskoye, and twice near Tryokhizbeka.
On the Maritime line, they fired anti-tank grenades near Novotroitskoye and from an armed BMP near Vodyanoye.
Ukrainian forces returned fire six times.
More than 1,000 soldiers and civilians have suffered injuries from mines.
The Ukrainian government reports that since 2014, 161 civilians, including 23 children have suffered mine injuries; of these 50 died, including 4 children. From the start of 2017, 29 people have been wounded in mine explosions, including 5 children.
According to the Ukrainian Defense Ministry, about 7,000 square kilometers of territory in the Donetsk and Lugansk Regions which were returned under control of the Ukrainian government are littered with mines and explosive devices. Only about 25 hectares of farm land, 70 hectars of water, 1,152 km of automobile roads and 712 km of railroads have been cleared. 
There is no mine map in Ukraine nor formal state program to remove mines because no law has been passed, although a draft one has been prepared and was evaluated positively by OSCE experts.
A boy wounded in a mine explosion November 5 in Donetsk remains in critical condition. Another boy was killed in the incident and a third was also critically wounded,
Liga.net reported.