Day 1330: October 9, 2017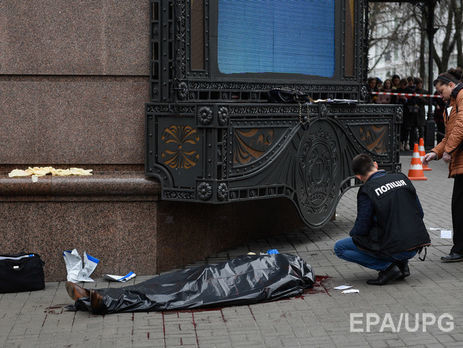 Ukrainian Prosecutor Lutsenko Says Russian MP's Murder Contracted by FSB-Controlled Mafia Kingpin
Body of Russian MP Denis Voronenkov, assassinated in March 2017 in Kiev. Photo by EPA 
Ukrainian Prosecutor General Yuriy Lutsenko announced to day that the case of the murder of Russian State Duma deputy Denis Voronenkov has been sent to court. 
Lutsenko said the hit man was the Ukrainian citizen Pavel Parshov, and the contractor of the murder was Vladimir Tyurin, former husband of Voronenkov's wife, opera signer Mariya Maksakova.
Tyurin is described as a "
thief-in-law
," or mafia kingpin, and was said to contract the murder under the direction of Russian intelligence, the Federal Security Service (FSB). He is said to remain in Russia.
"The actual contractor of the murder, according to information from the Ukrainian Defense Ministry's Main Directorate of Intelligence, confirmed by the investigation of the Kiev prosecutor's office, was Vladimir Anatolyevich Tyurin, a criminal authority under the control of the FSB and a citizen of the Russian Federation."
Voronenko was shot dead om the street on March 23 while on his way to meet Ilya Ponomaryev, another former Russian MP who lives in exile in Ukraine. Voronenkov fled to Ukraine with his wife in 2015, fearing persecution for his expose of FSB corruption.
In its evening dispatch, the ATO [Anti-Terrorist Operation] reported that Russia-backed militants pounded Ukrainian positions near Krasnogorovka with heavy machine guns. One Ukrainian soldier was wounded.
Talakovka was also attacked, and there a Ukrainian soldier suffered a concussion. About 16:00, militants fired 82-mm mortars near Shirokino. Avdeyevka and Nevelskoye were also hit with machine guns.
Anti-tank grenade-launchers were used on the Lugansk line at Novoaleksandrovka.
-- Catherine A. Fitzpatrick 
Donate to this author to keep news and translations coming!