Day 1319: September 28, 2017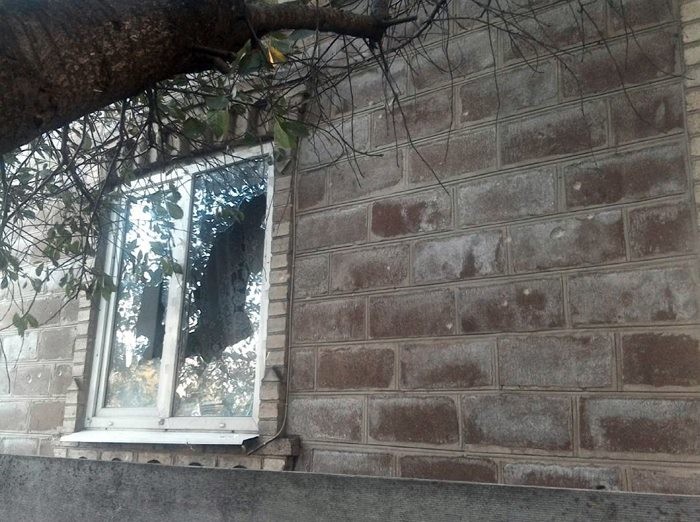 2 Ukrainian Border Guards Killed in Mine Explosion; Military Prosecutor Finds 'No Saboteurs' at Ammo Depot
Photo of home damaged near the front line by ATO. 
Militants fired 20 mortars of 82-mm caliber as well as heavy machine guns on Ukrainian positions near Maryinka. Two civilians homes were struck with the 82-mm mortars.
Grenade-launchers and small arms were fired on the approaches to Avdeyevka and heavy machine guns were used near Peski.
Krymskoye also fell under fire for 40 minutes.
Two Ukrainian border guards were killed at about 17:00 when they tripped a mine near the Stanitsa Luganskaya checkpoint, Ukrainska Pravda reported, citing the Ukrainian Border Service.
In other news:
- The group Na vysote ("Aloft") published drone footage of the efforts to put out the fires at the Kalinko ammunition depot, Ukrainska Pravda reported.
A fire occurred at the depot on September 26, in which two people were injured and four homes destroyed. More than 30,000 people were forced to evacuate. 
Fires were extinguished at seven more homes and firemen responded to 38 reports of explosions on September 28.
Authorities said early in the morning that while there were some isolated explosions, they had nearly ceased later in the day. But ammunition was still burning, Ukrainska Pravda reported.
Schools were closed and air flights, passenger traffic as well as public ground transport have been suspended since the accident.
Prime Minister Volodymyr Groysman announced that sappers had cleared the area and people could return to their homes.
Ukrainian Defense Minister Stepan Poltorak said there were about 83,000 tons of ammunition in Kalinovka, and 68,000 tons among these were combat-ready.
Verkhovna Rada Speaker Andriy Parubiy is "nearly certain" that the explosion is "sabotage".
"I'm convinced that this is the planned work of an aggressive, including inside our country," he said, referencing Russia (translation by The Interpreter).
But "this does not remove responsibility from those who did not provide the necessary safety, the necessary guarding of the warehouses of Ukrainian ammunition," he added.
Military Prosecutor Anatoliy Matios said investigators so far had not spotted "any sabotage groups which could have set the ammunition depots in Kalinovka" on fire. He said reports of such groups on Facebook had not been confirmed. 
He said investigators are probing whether safety precautions were maintained and also whether personnel at the site were negligent. 
At another unnamed depot at a military base, at a warehouse where long-range missile rounds are kept, two senior officers were discovered to be totally intoxicated, Matios reported. They have been discharged from service.
There have also been reports that the fire alarms weren't working at the site
-- Catherine A. Fitzpatrick 
Donate to this author to keep news and translations coming!