Day 1303: September 12, 2017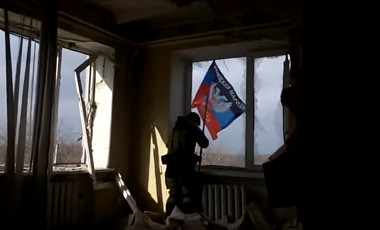 2 Ukrainian Soldiers Wounded in Action; Russian Helicopter Violates Ukrainian Air Space
Russia-backed separatist with the flag of the self-proclaimed "Donetsk People's Republic". Screen grab of video via Liga.net 
Militants significantly stepped up their attacks on Ukrainian positions, the ATO said, using mortar attacks. While the Donetsk line was relatively calm, 82-mm and 120-mm mortars, machine guns and grenades were fired near Avdeyevka. In the evening, militants began firing 82-mm and 120-mm mortar-launchers, grenade-launchers, a BMP and small arms on Peski; 82-mm mortars were also fired near Kamenka.
On the Maritime line, there was only fighting around Shirokino and Vodyanoye with grenade-launchers and heavy machine guns.
On the Lugansk line, only Krymskoye was attacked with grenade-launchers and heavy machine guns.
The Ukrainian army believes Russia-backed forces are using staged shelling to make it appear as if the Ukrainian side is violating the ceasefire. Specifically, changing positions of shelling in Vasilyevka in Donetsk Region was cited,
Liga.net reported.
In other news:
o The Ukrainian Security Service said it has completed the investigations in the cases of 132 officials arrested from the self-declared "Donetsk and Lugansk People's Republic.
The separatists are charged with crimes against Ukrainian national security; 36 of them are "high officials" including "ministers, deputy ministers, bank directors and heads of administrations as well as commanders of military and militarized divisions". The defendants are charged variously with "creating a terrorist group or organization" or "financing of terrorism".
o A Russian helicopter from occupied Crimea violated Ukrainian airspace in Kherson Region.