Day 1286: August 26, 2017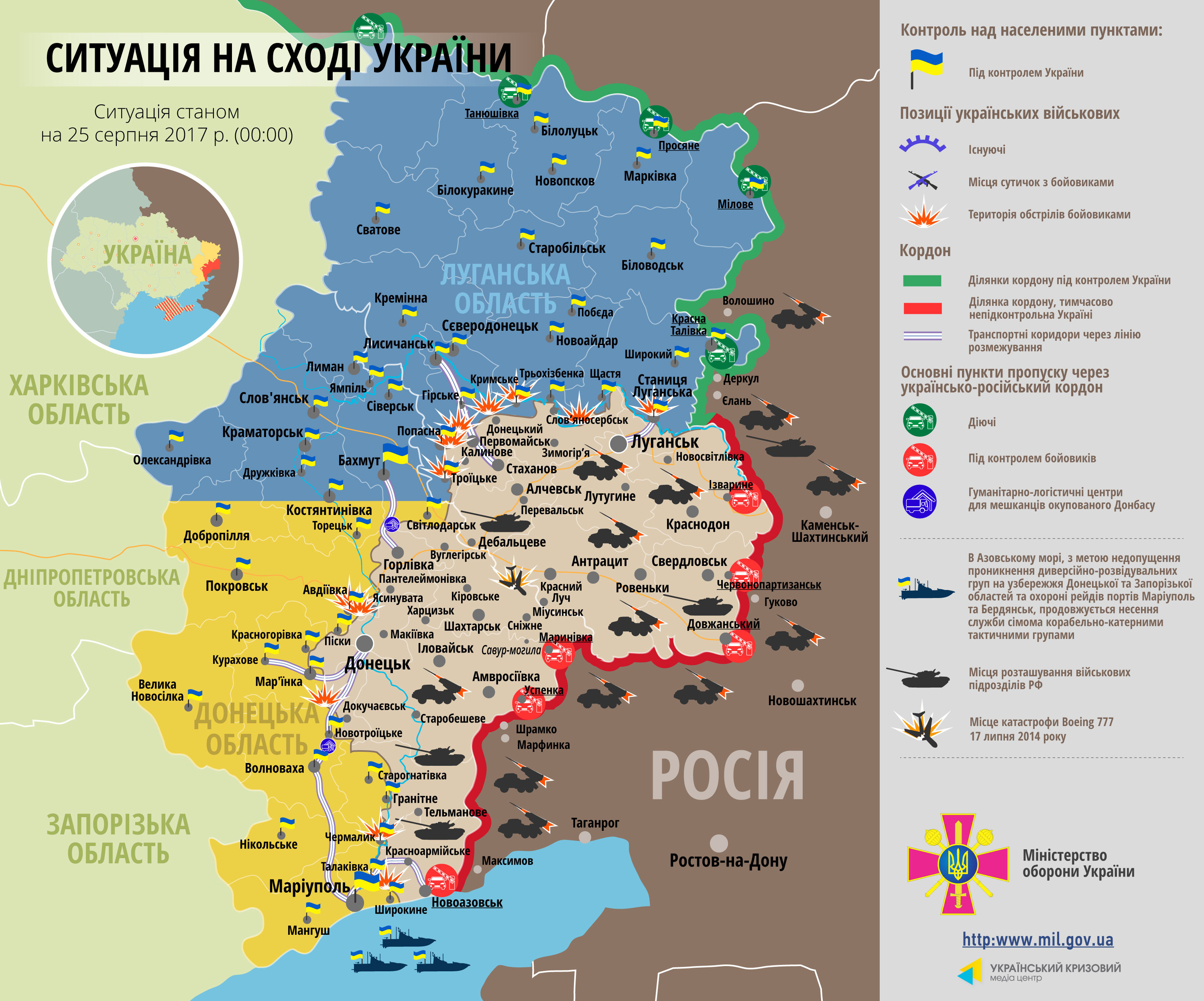 Fighting Reduced Under 'School Ceasefire'; Two Ukrainian Soldiers Wounded in Battle
Fighting was reduced after the declaration of a "school ceasefire" August 25 to enable families to prepare for the start of the school year on September 1.
There were sporadic firings of small arms and grenade launchers near Vodyanoye, Pavlopol, Starognatovka, Shirokino and Talakovka on the Maritime line.
On the Donetsk line, the Avdeyevka industrial zone was attacked.
Ukrainian forces did not return fire.
The ATO reported
that in the previous reporting period, two Ukrainian soldiers were wounded in a battle at the Avdeyevka industrial zone.
There were a total of 18 attacks. Militants also attacked the Butovka mine and Ukrainian positions in Talakovka, Gnutovo, Pavlopol, Lebedinskoye, Chiorkino and Chermalyk on the Maritime line.
There was only one instance of firing near Malinovoye on the Lugansk line.
Medical staff at a hospital in government-controlled Volnovakha (53km south of Donetsk) told the SMM that two women – a 60-year-old from Donetsk and a 56-year-old from "DPR"‑controlled Khartsyzk (26km east of Donetsk) – were injured by an explosive device near a Ukrainian Armed Forces checkpoint north of government-controlled Berezove (31km south-west of Donetsk). According to the medical staff, the women were travelling to government-controlled areas by bus and entered a wooded area near the checkpoint, when the 56-year-old triggered the explosive device, resulting in shrapnel injuries to her legs, torso, arms and head. They said the other woman was some 20m away at the time and sustained shrapnel injuries to her left calf. The medical staff said the women were given first aid on the scene by military personnel and transported by ambulance to the hospital and that both were in satisfactory condition.
 -- Catherine A. Fitzpatrick
Donate to this author to keep news and translations coming!