Day 1285: August 25, 2017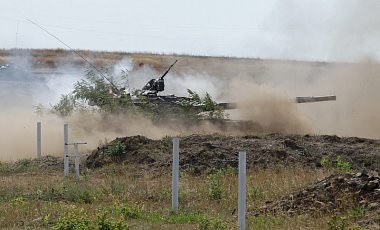 Latest Ceasefire Begins; 1 Ukrainian Soldier Killed; 3 Civilians Injured in Kiev Explosion
Ukrainian war front. Photo by EPA 
Despite yet another ceasefire agreed to begin at midnight August 25 for the start of the school year, fighting continued in the Donbass.
One Ukrainian soldier was killed in battle, Anatoliy Stelmakh, speaker for the ATO [Anti-Terrorist Operation] said on TV 112,
Liga.net reported.
Russia-backed forces fired on Ukrainian positions in Talakovka and Zaytsevo.
Yesterday, August 24 there was an explosion on Hrushevsky Street in the government district in Kiev, wounding three people who had come to Kiev to celebrate Ukrainian Independence Day.
Today Liga.net reported that they were identified as the wife and mother-in-law of Valery Chibineyev, a soldier in the ATO who had received the Hero of Ukraine award, as well as his friend, an officer of the 79th Brigade. All three have all been taken to the hospital and listed in satisfactory condition.
Authorities believe that the explosive was the work of saboteurs. Sergei Knyazev, head of the National Police, said no suspects had been arrested, but thanks to the work of journalists, they had videotapes of the suspects from which they can be identified.