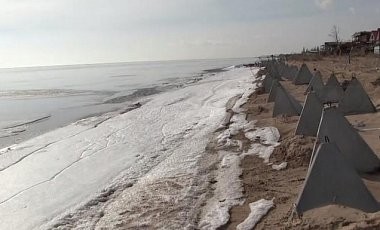 5 Ukrainian Soldiers Wounded, 2 Concussed Even As Fighting Lessens
Tank traps along the shore near Shirokino on the Azov Sea. Photo by ATO. 
Four Ukrainian soldiers were wounded in the previous reporting period, Liga.net reported, citing a briefing today by Col. Andriy Lysenko, spokesman on ATO [Anti-Terrorist Operation] issues for the Defense Ministry.
On the Lugansk line, Novoaleksandrovka was attacked as well as Novotoshkovskoye with light weapons and mortar-launchers. Katerinovka was attacked for an hour.
On the Donetsk line, militants fired on Mayorsk; Avdeyevka was quieter than usual but at night Russia-backed forces shelled the town for 20 minutes. The Butovka Mine was also struck. Heavy weapons were not used.
On the Mariupol line, Maryinka was struck with small arms. Dokuchayevsk was quite. Militans used mortar-launchers to fire on Pavlopol and Gnutovo and then Lebedinskoye and Shirokoye with small arms. 
Militants blocked the OSCE monitors from the town of Verkhneshirokovskoye (formerly Oktyabr) which is 29 km to the northeast of Mariupol.
In its evening dispatch
, the ATO said the activity of Russia-backed fighters was quieter than in recent weeks. But they commented [translation by The Interpreter]:



"It is worth adding that for several days in a row, there has been a deceptive daytime quiet but after 18:00, it ends and the enemy substantially activates armed provocations. In its turn,t he ATO forces are prepared not only to hold the defense of positions but to the enemy a rapid and appropriate response."
During the day, shelling was minimal but at night, militants fired on Popasnaya and Novoaleksandrovka on the Lugansk line. Grenade-launchers and small arms were used to attack Novotoshkovskoye.
-- Catherine A. Fitzpatrick 
Note: The Interpreter has lost its funding!
Donate to this author to keep news and translations coming.