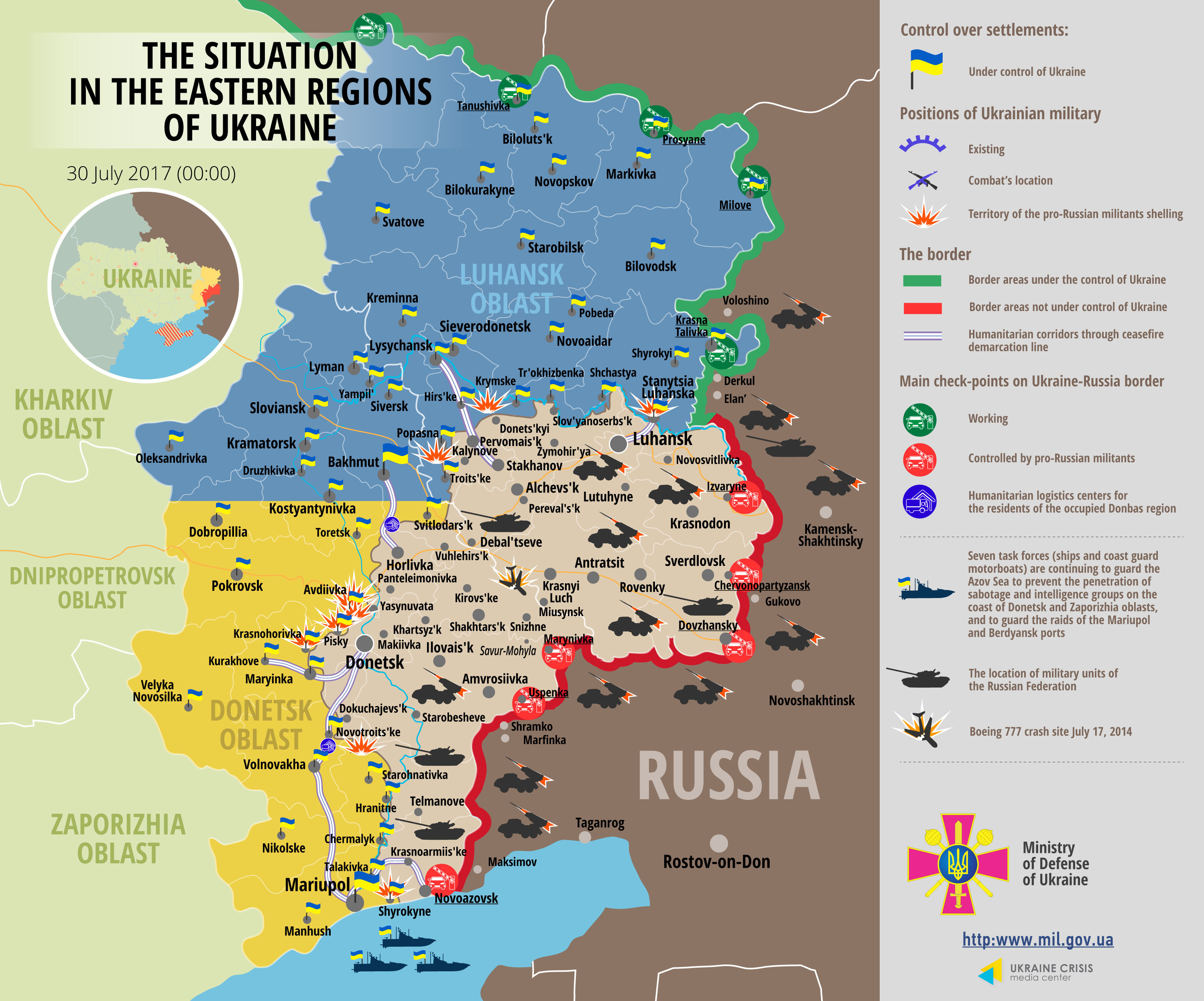 Heaviest Fighting Near Avdeyevka, Donetsk Sector
The Ukrainian military reported on Sunday morning that one of their soldiers had been killed and another seven were wounded in fighting in the Donbass region. Unian.info reports that the heaviest fighting took place in the Donetsk sector:
"Most of the violations were recorded in the Donetsk sector in the evening and at night. The enemy used grenade launchers, mortars, large-caliber machine guns and an anti-aircraft weapon to attack ATO forces near the town of Avdiyivka and the village of Kamyanka three times. Grenade launchers and small arms were used to fire on the village of Pisky and the Butivka coal mine. Ukrainian troops densely fired back in response to each attack, persistently compelling the attackers to observe the ceasefire," the ATO HQ said.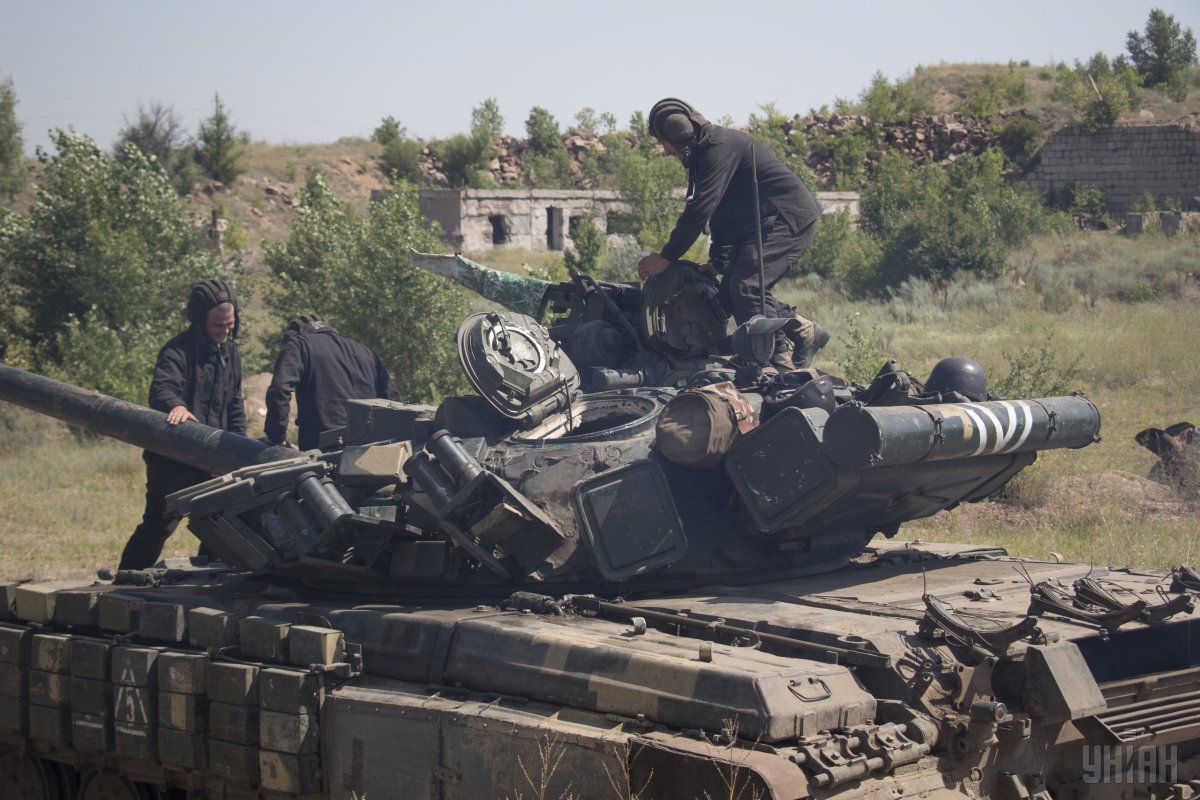 ATO HQ update: One Ukrainian soldier killed, seven wounded amid 14 attacks in Donbas in past day
Russia's hybrid military forces violated the ceasefire in Donbas, eastern Ukraine, 14 times in the past day as of 06:00 local time on July 30, as a result of which one Ukrainian soldier was killed in action and another seven were wounded, according to the press center of the Anti-Terrorist Operation (ATO) Headquarters.
View full page →
Despite the heavy casualties there were relatively few ceasefire violations -- only 14 across the entire front, though some of the fighting was very heavy. 
Russian-Backed Militant Release Disabled Women Held In Lugansk
The Russian-backed fighters have released  Ludmila Surzhenko, a hearing-impaired female civilian who was detained for three weeks in Lugansk. Surzhenko was initially detained after returning to her home in territory occupied by Russian-backed fighters with humanitarian aid she received in government-controlled territory.
The group Human Rights In Ukraine reports that Surzhenko was tortured, and that many other civilians are also being detained by the Russian-backed fighters:
Iryna Herashchenko, MP and Ukraine's humanitarian envoy at the Minsk negotiations, expressed anger that, yet again, the militants had denied any knowledge of Surzhenko's whereabouts at the last meeting in Minsk.  She says that the torture methods used against her will "be the subject of a hard-hitting discussion during the next Minsk humanitarian group skype conference on hostages.

Herashchenko says that she will be demanding that the OSCE Coordinator organizes a group visit of Ukrainians held hostage on occupied territory.  Some of them have been held for years without either the OSCE's Special Monitoring Mission or other international organizations being allowed to see them.  She asserts that all international organizations have access to Ukrainian prisons. 

She notes that the torture methods in Surzhenko's case were for the first four days and then they probably kept holding her until the physical signs of torture faded.  Herashchenko is not alone in fearing that this is the reason why the militants make it so hard to see the over 132 POW and civilian hostages whom they are holding.  

Khpg
Russia-backed Luhansk militants used torture methods against disabled woman hostage - Human Rights in Ukraine
Ludmila Surzhenko is, thankfully, safely on unoccupied Ukrainian territory, but she will need time to recover from the physical and psychological effects of the nearly three weeks she was held prisoner by militants from the self-proclaimed 'Luhansk people's republic' -
View full page →
Murder Suspect Released By Russian Authorities In Occupied Crimea
Surzhenko was not the only prisoner of note released this weekend.
Unian.info reports that Vadim Pogodin, the infamous commander of the Russian-backed Kerch Battalion, was released from his prison in Simferopol, in Russian-occupied Crimea. Pogodin has been accused of torturing and killing a 16 year-old boy in Kramatorsk in 2014.
"Russian occupier Vadim Pogodin from the Kerch Battalion who shot dead Ukrainian schoolboy Stepan Chubenko in the east of Ukraine in June 2014 (five bullets to the head, with all teeth knocked out before that) has returned home today. He was freed from a detention center in Simferopol [in Russian-occupied Crimea]. His two other accomplices also avoided the punishment. One has been released, the other is at large," pro-Ukrainian journalist from Moscow Alexander Tverskoy wrote on Facebook on Saturday, July 29.

"Stepan was detained for a [Ukrainian yellow and] blue ribbon on his backpack. Before the murder, the looters took off his sneakers. [They] wrapped [him] in duct tape and shot almost at point blank," he added.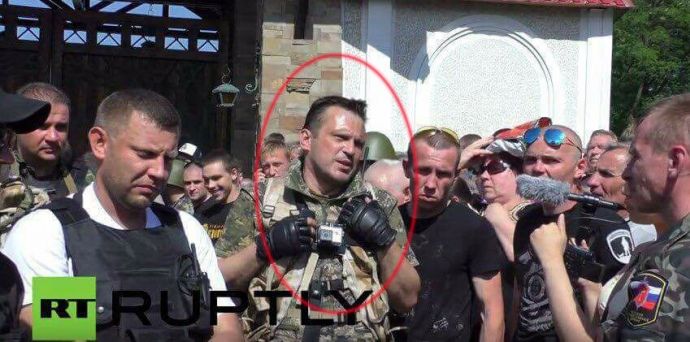 Russia frees Donbas militant who killed teenager in occupied Kramatorsk in 2014
Russian law enforcement agencies in occupied Crimea have freed Vadim Pogodin, 46, a militant who fought for the self-proclaimed Donetsk People's Republic ("DPR") as commander of the Kerch Battalion under the nom de guerre "Kerch" and is accused of torturing and murdering a 16-year-old Ukrainian in Kramatorsk, eastern Ukraine, in 2014, when the town was occupied.
View full page →
-- James Miller