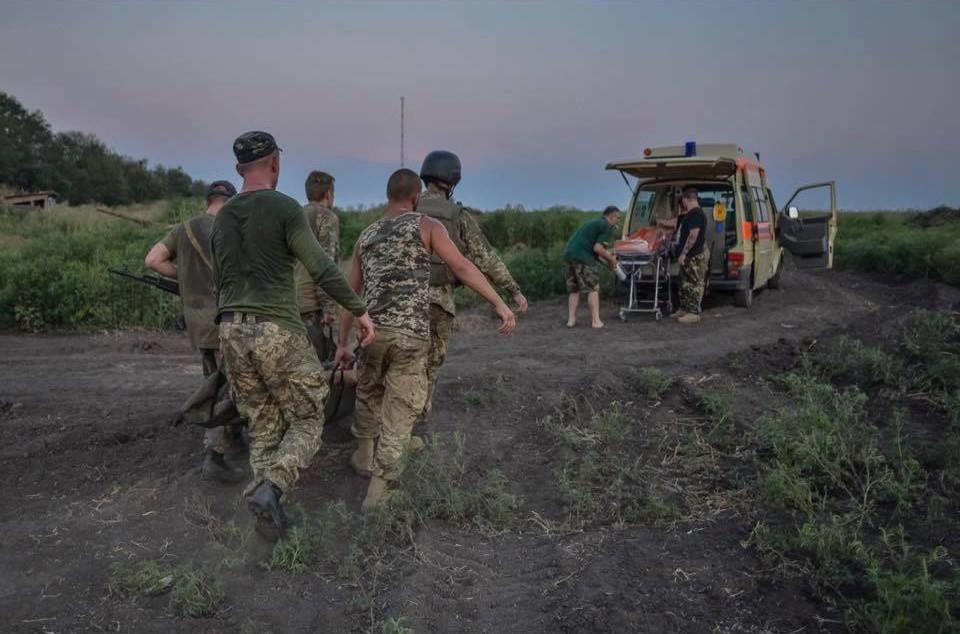 1 Ukrainian Soldier Killed, 6 Wounded in Last 2 Days; Fighting Resumes; Battle at Maryinka
Ukrainian soldiers taking a wounded soldier to an ambulance earlier this month at the front line. Photo by ATO 
"This morning militants pounded our stronghold near Maryinka on the Mariupol line with grenade-launchers and firearms.As a result of the shelling, one of our soldiers was wounded."
Militants also opened fire on Talakovka from an armed BMP and attacked Gnutovo with mortar-launchers.
Mortars were also fired at Novotoshkovskoye on the Lugansk line, and on the Donetsk line, Kaminka was attacked with grenade-launchers, mortar-launchers and heavy machine guns.
Earlier in 
its morning dispatch, t
he ATO reported 1 Ukrainian soldier killed and 5 wounded in the previous reporting period, bringing the total for the last two days to 1 killed and 6 wounded.
The high number of casualties after a lull of a few days and no or fewer KIA or WIA indicated fighting had surged again. The ATO said "practically all along the line of contact" the Russia-backed fighters were violating the ceasefire.
On the Lugansk line, they fired on Popasnaya with 82-mm and 120-mm mortars and on Troitskoye with an armed BMP.
On the Mariupol line, ATO positions in Pavlopol and Vodyanoye were attacked with mortar fire and Talakovka was twice hit with grenade-launchers and small arms.
Avdeyevka on the Donetsk line came under fire from mortar-launchers, grenade-launchers and heavy machine guns for an hour and a half at night.
Once again, the Ukrainian military reported a high number of casualties among the Russia-backed separatists, saying 7 were killed and 8 wounded in the last 24 hours They said it was because they returned fire.
The information was not corroborated by separatist news services but the commanders of the self-declared "Donetsk People's Republic" do not always admit the number of casualties.
Catherine A. Fitzpatrick