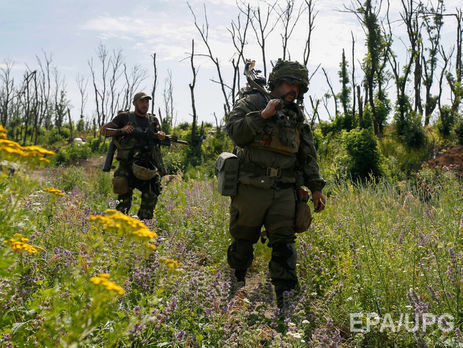 3 Ukrainian Soldiers Wounded; US Envoy Says Russia Has More Tanks in Ukraine than Europe Possesses
As we reported yesterday,
the new US envoy to Ukraine, Kurt Volker, a former U.S. ambassador to NATO and aide to Senator John McCain, has been outspoken on the war in Ukraine, blaming Russia for aggression.
 In his interview with BBC, Volker said:
"Defensive weapons, ones that would allow Ukraine to defend itself, and to take out tanks for example, would actually help, 




I'm not again predicting where we go on this. That's a matter for further discussion and decision. But I think that argument that it would be provocative to Russia or emboldening of Ukraine is just getting it backwards"
Volker said there were more Russian tanks in Ukraine now than tanks in the possession of all Western European nations taken together.



"First, Russia is already in Ukraine with all its heavy armor. Now there are more Russian tanks there than are in all the countries of Western Europe, taken together. This is a very, very large military continent. And even larger contingent is concentrated on Russian territory at the borders of Ukraine. Russia has full right to do that, its their territory, they can deploy there as many military as they want. So that decision in no way 'provokes' Russia to do something which they have not yet done. And it in no way changes the balance of forces."
While the US Congress approved sending arms to Ukraine, President Barack Obama did not approve of the measure.
Volker added:
"If we make such a decision, that will give Ukraine the opportunity to defend itself in the event if Russia takes further steps on Ukrainian territory. Russia says that it is 'not doing' anything of this kind and does not intend to do it. If that is so, the delivery of defense weapons will not bring anyone any risk."
Kremlin spokesman Dmitry Peskov response: 
"Any actions provoking tension on the line of contact in the Donbass will put off further settlement of the conflict in the east of Ukraine".
Overnight Russia-backed forces opened fire on the town of Katerinovka in Lugansk Region with grenade-launchers and firearms
, Gordonua.com reported,
citing the ATO morning dispatch.
The Ukrainian forces returned fire and forced them to withdraw,
the ATO said.
There were 27 attacks during the previous reporting period. Militants also fired on Novozvanovka and Stanitsa Luganskaya, and a group attempted to approach Ukrainian positions near Tryokhizvenka and were repelled.
On the Mariupol line, militants pounded Lebedinsky, Krasnogorovka, Novotroitskoye and Shirokino with grenade-launchers. Two Ukrainian soldiers were wounded near Bogdanovka.
Militants switched to 82-mm and 120-mm mortars in an attack on Krasnogorovka after 23:00.
On the Donetsk line, Ukrainian positions near Avdeyevka and the Butovka Mine were struck with mortar-launchers and grenade-launchers; militants also fired on Svetlodarsk with grenade-launchers, wounding another Ukrainian soldier, bringing the total for the last 2 days to 3 wounded.
The ATO said there were reports that the separatists also soffered losses of fighters and armor.
He said Ukrainian forces fired artillery ranging from 82-mm and 120-mm to 122-mm and 152-mm along the Mariupol line as well as on the Gorlovka line, and violated the ceasefire 42 times.
-- Catherine A. Fitzpatrick