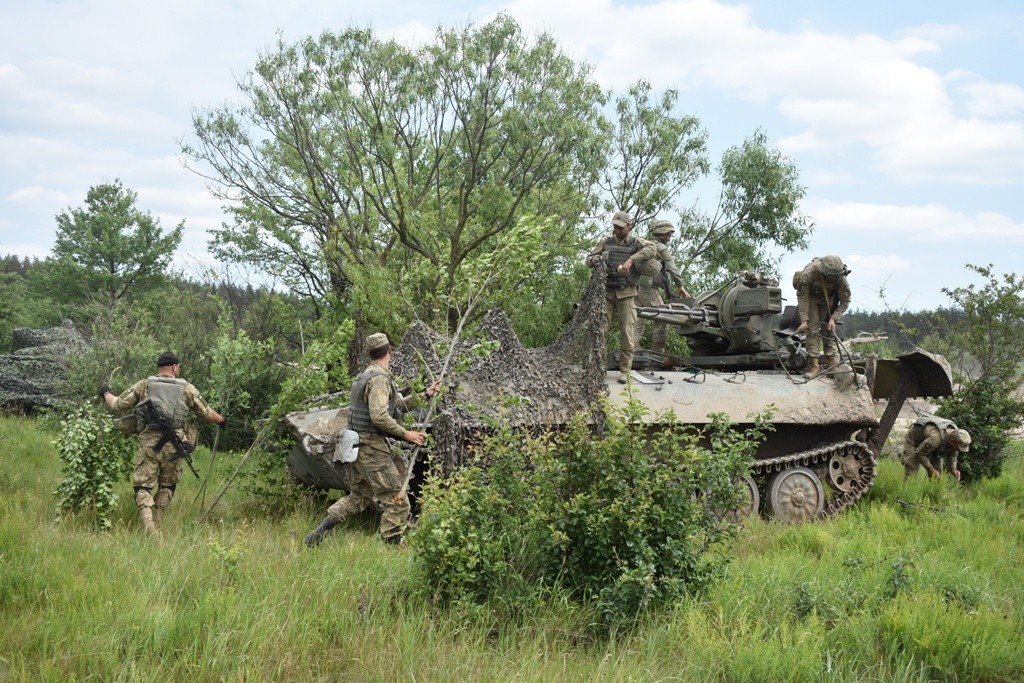 1 Ukrainian Soldier Wounded; 1 Civilian; 71 Attacks; Poroshenko Bids Farewell to 'Unwashed Russia'
Ukrainian soldiers at tactical maneuvers at a training ground in Zhitomir Region. Photo by ATO 
The biggest news today in Ukraine was the granting by the European Union of visa-free travel to the EU, Liga.net reported.
Radio Free Europe/Radio Liberty reported: 
Ukrainian citizens who have biometric passports will be able to enter all EU member states other than Ireland and the United Kingdom without a visa for up to 90 days during any 180-day period. It also applies to four Schengen-area countries that are not in the EU: Norway, Iceland, Liechtenstein, and Switzerland.
President Petro Poroshenko gave a speech widely broadcast on media and social media:
"The words 'back in the USSR' will be heard only listening to The Beatles," Poroshenko said. "We will never return to the Soviet Union because we, a proud and free democratic nation, return to the family of European nations."
Not all media covered the fact that Poroshenko recited some poetry from Mikhail Lermontov in Russian, written in 1841, which is translated by Dmitry Smirnov as follows:
Farewell, farewell, unwashed Russia,
The land of slaves, the land of lords,

And you, blue uniforms of gendarmes,

And you, obedient to them folks.




Perhaps beyond Caucasian mountains

I'll hide myself from your pashas,

From their eyes that are all-seeing,

From their ever hearing ears.
The same poem was recited by American journalist Nicholas Daniloff in 1986 when he was released from prison along with dissident physicist Yuri Orlov and exchanged for Soviet spies.  
On the front line, one Ukrainian soldier was wounded in the previous reporting period, Liga.net reported, citing the ATO [Anti-Terrorist Operation] morning dispatch on Facebook.
The pro-separatist news service DAN-Info reported today that one civilian male, born 1970 in the village of Trudovskiye in the Petrovsky District in western Donetsk was wounded from Ukrainian army shelling. He was taken to hospital No. 14.
For the third day in a row, five districts of Donetsk Region are without water, Liga.net reported. Russia-backed forces shelled the pump station at the Southern Donbass Water Main on June 8. Avdeyevka is also without gas since shelling there, although water was restored June 8.
Meanwhile, the separatist news service DAN-Info said water service had resumed, and blamed the Ukrainian armed forces for its damage. 
There were 71 attacks, including from 120-mm mortar-launchers, an anti-aircraft system and an armed BMP.
On the Maritime line, there was intense shelling of Maryinka as well as Lebedinoye, Shirokono, Chermalyk, Pavlopol, Talakovka, Gnutovo, Starognatovka, Slavnoye, Novotroitskoye and Krasnogorovka. 
Militants focused in particular on Maryinka, attacking the checkpoint there with grenade-throwers and small arms, Liga.net reported, citing the State Border Service. The border guards did not return fire.
On the Donetsk line, Avdeyevka was pounded by mortars, grenades and small arms. Verkhnyetoretskoye, Peski and Opytnoye were also attacked with 82-mm mortars.
On the Lugansk line, near Katerinovka, Novoalkesandrovka, Novotoshkovskoye, Novozvanovka and Troitskoye were also attacked with 82-mm mortar launchers.
Other News
o ATM Explodes in Lviv Region
An explosive went off at an automatic teller machine in Lviv Region, Liga.net reported, citing the Lviv Region National Police.
Stacks of cash totaling 187,000 hryvnia were stolen.
o ATO Soldier Injured in IED Explosion at Home
An ATO soldiers who was home June 9 made an improvised explosive device out of a metal gas canister from an air gun with tubular gunpowder, Liga.net reported. While intoxicated, he set off the IED and suffered loss of two fingers on one hand and a chest wound. He was hospitalized and is now in satisfactory condition.
o Civilians Wounded in Russian Shell-Fire Recovering 
According to Liga.net, two civilians hurt from Russia-backed shelling yesterday, a woman born 1962 and man born 1964 are in fair condition in the hospital in Kurakhovo after suffering injuries during night-time shelling of Krasnogorovka by Russian-backed forces, Vyacheslav Abroskin, head of the Donetsk Region National Police, reported on his Facebook page.
Houses were also damaged an an unexploded tank shell was founded on the roof of one home.
o SBU Detains Two Russian GRU Agents
The Ukrainian State Security Service (SBU) reported the arrest of two agents of the Russian military intelligence (GRU), residents of Lisichansk and Konstantinovka, according to Liga.net.
They were said to have received instruction from Russian handlers who were posing as "law-enforcement agents" in the so-called "Lugansk People's Republic". The two agents mainly gathered information about the movements of the ATO soldiers in Ukrainian-controlled regions, as well as information about fortifications and infrastructure.
The Russian contacts were found on the suspects' phones.
-- Catherine A. Fitzpatrick 
Note: The Interpreter has lost its funding!
Donate to this author to keep news and translations coming.