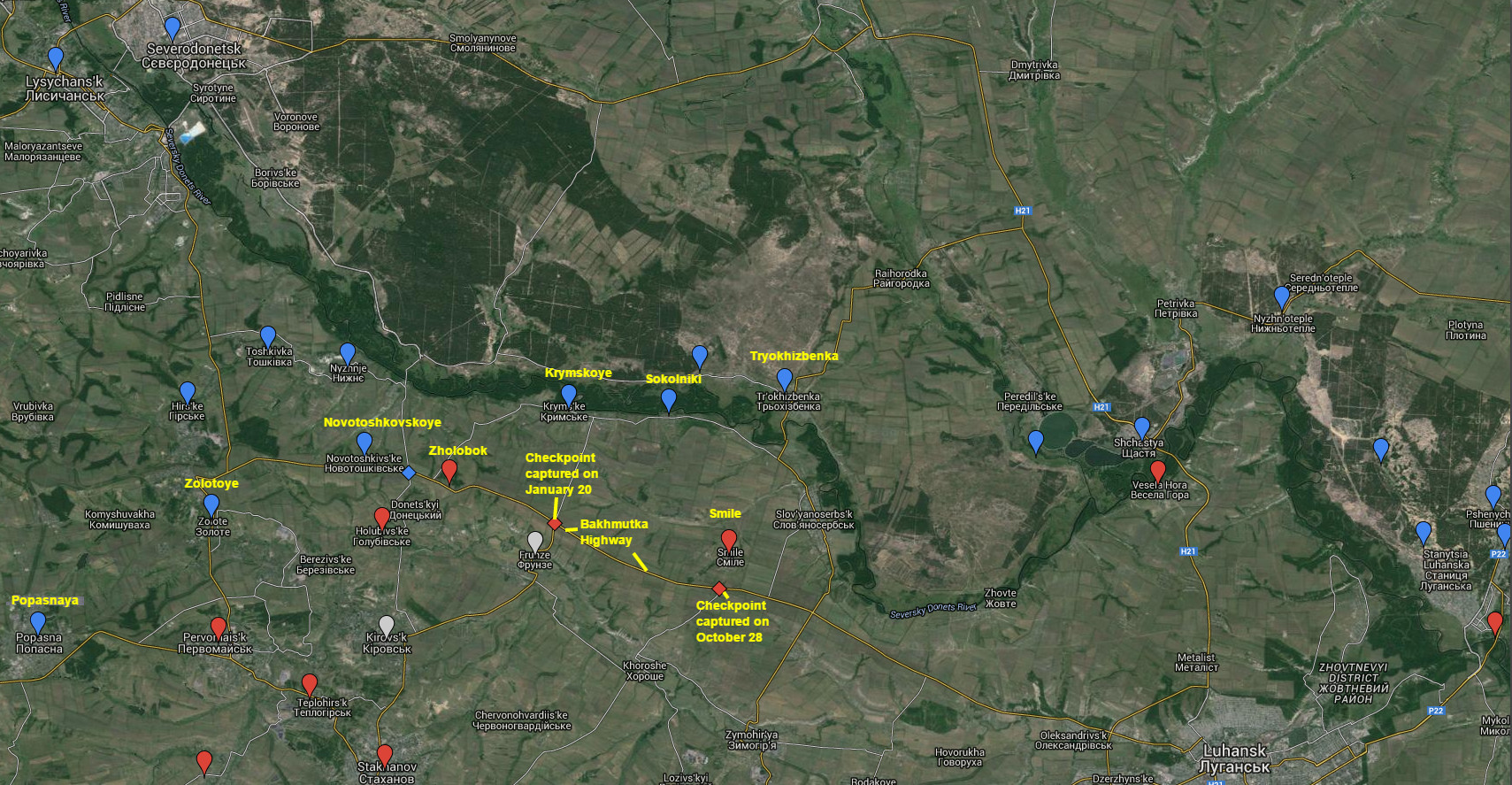 Fierce Fighting Near Zholobok with 2 Ukrainian Soldiers KIA, 11 WIA; Reports of Separatist Casualties
Despite the call for a cease-fire on June 1, and a lull in shelling on some days in the last week, fighting is back up to full scale with 70 attacks on Ukrainian positions in the previous reporting period by Russia-backed forces, including with Grad missiles, Liga.net reported.
There has been some media coverage of a battle on the hills around Zholobok off the Bakhmutka Highway, which runs between separatist-held Lugansk and the Ukrainian-held town of Zolotoye. Russian state media and separatist outlets describe the battle as "an offensive" by the Ukrainian Armed Forces (UAF) into Lugansk Region; on the contrary, Ukrainian media describe the battle as an offensive by the fighters of the self-declared "Lugansk People's Republic" (LNR) and say they are protecting their own land, taking back meter by meter areas which are constantly under encroachment from the Russia-backed militants. 
The Kremlin propaganda arm RT said that Andrei Marochko, representative of the LNR People's Militia said Ukrainian forces "lost 10 men" as they tried to "break through to Zholobok". He said one LNR fighter was seriously wounded.
But Interfax reported that 2 Ukrainian soldiers were killed and 11 wounded, citing the ATO evening dispatch.
Earlier 112.ua reported that one Ukrainian solider had been killed and 7 wounded.
As our colleague Pierre Vaux wrote two years ago, Russia has long had its sites on this area.
As Liga.net reported, Channel 5.ua interviewed villagers who described constant shelling of Novotoshkovskoye and that teachers took children home from school early. A town leader said the situation was "critical". A Ukrainian soldier said they were expecting a separatist offensive.
As 112.ua noted, the ATO reported that it was the LNR forces making an offensive (translation by The Interpreter):
"The intensivity of the firing on Ukrainian positions is increasing with automatic AGS-17 grenade-launchers and stationary SPG-9 grenade-launchers (more than 120 grenades), anti-tank guided missile systems and heavy machine guns and small arms".
In its evening dispatch, the ATO said there had been 34 attacks throughout the day and fighting was especially heavy on the Lugansk line:
"Ukrainian soldiers who hold the defense in the area of the population centers Novotoshkovskoye and Krymskoye were shelled intensively throughout the day by 122-mm and 152-mm artillery and 82-mm and 120-mm mortary launchers, and from time to time by grenade-launchers, heavy machine guns and an armed BMP. Zolotoye and Stanitsa Luganskaya were also struck with grenade-launchers and heavy machine guns were fired near Novoaleksandrovka."
Liga.net reported that the ATO said in a Facebook statement at 22:00 that separatists had tried to seize ATO positions near Zholobok, firing from Frunze, but were repelled, reportedly suffering 11 killed and 14 wounded. This was not confirmed by the LNR, which had only acknowledge one fighter wounded. Eyewitnesses were reported as saying that ambulances were arriving for the wounded and flat-bed trucks for removal of the bodies of those killed.
This was widely reported on Ukrainian social media.
Translation: Within a day, an attack near the village of Zholobok in Lugansk Region, Russian terrorist forces lost 25.
Reports of the battle around Zholobok began to appear even before the military and mainstream media covered it:
Translation: Interesting, the Ukrainian Armed Forces nearly liberated Lugansk, and the Ukrainian news wires are silent. #mystery #ORLO [certain districts. of Lugansk Region).
In this thread started by @666_mancer, both pro-Kiev and pro-Russian users argued about what actually happened, with sometimes colorful insults: 
Translation: Khimik Sibir: The Ukrainian Armed Forces offensive began on the Bakhmutka [Highway], the enemy took the hill at 175.9, is attacking from an elevation of 196.3 to the right of Zholobok, the situation is difficult.
Necro Mancer makes a further response to Wayne Howell:
Translation: UAF as a result of heroic Internet battles valiantly seized its own hill #ORLO
But that's Chervonets. A parasite is a parasite. In short, I got in touch with a colleague from the LNR [Lugansk People's Republic], he says that 175.9 was always under the Ukes. No details for now, but all the info on the net is from people far from the front line. But a skirmish took place, and in fact began yesterday.
Pryadok i Babay replied then: Dyk apparently is up to date on 175.9 and Sabroc drew it for the youngest of children yesterday, you can scroll back and see it. As they say, "well, it's f**ked!"
@666_Mancer then replied: "I saw what he wrote. I think that is a local skirmish typical for recent times which for some reason was blown up into a large-scale offensive".
Then @Arkee10 wrote: "It's clear only that something is going on. Either it's a repeat of the situation with the Almaz, or the orcs  have to be chased out. If they stormed Zholobok, a battalion at a minimum would be on the way.
@666_mancer replied, "Likely the latter."
Another user posted the incident as shown on the pro-Russian Military Maps:
Translation: @666_mancer Military Maps is drawing maps like this.
The separatist news service DAN-News.info described the battle as shelling by the Ukrainian forces from Aleksandrovka to the west of Donetsk on Gorlovka and Kominternova (now called Pikuzy by Ukraine), using 82-mm mortars and grenade-launchers. The DNR also accused the UAF of firing on a pump station in Yasinovataya.
They also reported that personnel at the Donetsk Filtration Center were evacuated.
But there was no mention of any casualties.
Elsewhere on the front line, the ATO reported that on the Maritime line, MRLS were used on Chermalyk and 120-mm mortars on Shirokino; grenade-launchers and small arms were fired on Ukrainian positions at Pavlopol, Vodyanoye and Maryinka.
On the Donetsk line, 122-mm artillery was fired on the suburbs of Avdeyevka and 82-mm mortars and small arms were fired on Luganskoye and Zaytsevo.