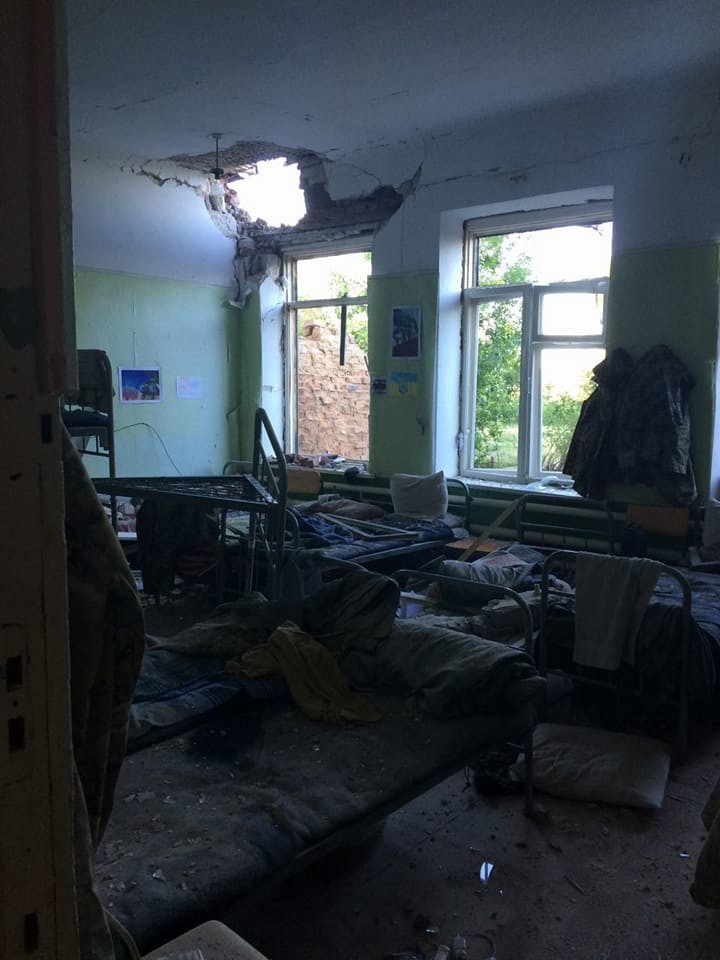 Four Ukrainian Soldiers Wounded in Battle; One Civilian Injured in Shelling by Russia-Backed Forces
A school in Pavlopol damaged by shelling from Russia-backed fighters June 6, 2017. Photo by mediarnbo.org 
Four Ukrainian soldiers were wounded today, and Russia-backed forces attacked all along the front line 46 times, using heavy weaponry including Grad missiles.
Militants fired 122-mm and 152-mm artillery and mortar-launchers at Ukrainian positions at Krymskoye and Novotoshkovskoye, said the ATO. Tryokhizbenka was attacked with 120-mm mortars. Near Novoaleksandrova, militants fired 82-mm mortars, grenade-launchers and small arms. An armed BMP was used on Ukrainian positions at Novozvanovka.
On the Maritime line, fighting continued in Chermalyk, where Grad missiles were fired; Vodyanoye and Gnutovo were also shelled.
A school was severely damaged by shelling in Pavlopol, and gas, electricity and water lines were also damaged,
Col. Motuzyanik reported.
One unexploded shell was defused by sappers.
On the Donetsk line, Avdeyevka was attacked as well as Verknyetoretskoye, Zaytsevo and Troitskoye, the ATO reported.
Col. Motuzanyk said as a result of shelling by militants in Verkhnyetoretskoye, a local resident was injured. He was taken to the hospital in Toretsk.
The Ukrainian side of the Joint Center for Control and Coordination (JCCC) 
reported
that Russia-backed forces fired from a ZU-23-2 anti-aircraft system on homes in Novoluganskoye, destroying a wooden outbuilding on Kosmonavtov Street. On Michurina Street, a shed, garage, fence and roof were damaged. On Sergienko Street, a wall and barn were damaged and livestock killed. There were no casualties.
There was a social media report of shelling in Maryinka.
Translation: Maryinka now.