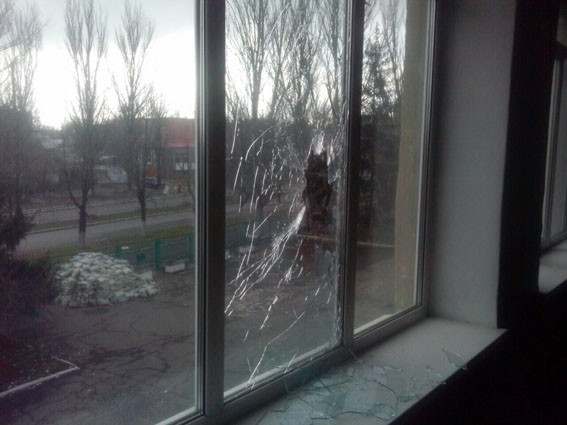 1 Ukrainian Soldier WIA; Russia-Backed Militants Strike School; Tillerson Says Russia Not Likely to Get into G7 Soon
Photo: School window shattered by Russia-backed shelling in Maryinka. Photo by National Police 
Russia-backed forces fired Grad missiles on Avdeyevka again today, damaging 4 homes, Unian.net reported, citing the Donetk Region National Police.
There were no injuries. The residents had already left their homes due to frequent shelling.
The Ukrainian military uploaded a video of the shelling yesterday, May 23, when a civilian was injured.
Unian also said militants struck a school in Maryinka, Pavlo Zhebrivsky, chairman of the Donetsk Region Military and Civilian Administration reported on his Facebook page. There were no injuries. The teachers managed to get the children into a bomb shelter.
On May 19, militants struck an automobile with civilians traveling from Maryinka to Krasnogorovka,
Unian reported
. The car was damaged but the passengers were not harmed.
On the Maritime line, there were 29 attacks including near Shirokino with 120-mm mortars; grenade-launchers and small arms were fired on Talakovka, Gnutovo, Novotroitskoye and Vodyanoye. On the Western outskirts of Donetsk, militants fired 82-mm mortars on the approaches to Maryinka and Krasnogorovka.
On the Donetsk line, there were 13 attacks, including on Avdeyevka with Grads and 120-mm mortars. One civilian was injured as we reported yesterday. There were also attacks with 152-mm artillery and 120-mm mortars were fired on Peski.
On the Lugansk line, 11 attacks were made; near ATO positions at Novoaleksandrovka and Novozvanovka, heavy machine guns were used and grenade-launchers and small arms were used against Krymskoye and Valuysk.
Other News: 
o Ammunition and Armor Delivered for Separatists
Unian reported that according to Information Resistance ammunition for Smerch and Uragan weapons systems have been delivered by truck from the direction of Sorokino (formerly Krasnodon) to Lugagansk.
Also in the area of Styly, trucks were seen traveling from Starobeshevo to Dokuchayevsk to bring armored vehicles.
o Militants Block OSCE
Militants did not allow OSCE Special Monitoring Mission members access to Dokuchayevsk, Unian reported, citing an OSCE SMM report.
A militant said he couldn't guarantee the monitors' safety. The monitors have been attacked a number of times. On April 23, an OSCE SMM vehicle struck a mine, killing an American medic, Joseph Stone and wounding two Europeans.
o Civilian Casualties Up 120% This Year: OSCE 
Martin Saidik, OSCE special representative in the Trilateral Contact Group on the Donbass called on the sides in the conflict to respect human life and follow the Minsk accord, Unian reported.
He said this month has been one of the deadliest in the war for civilians. "The number of civilians who have been killed has increased this year by 120%. This is confirmed by OSCE reports."
Saidik said the deaths were mainly caused by shelling of five particular hot spots, the use of heavy weapons, and delays in the de-mining process. He said 85% of the shelling strikes the towns of Avdeyevka, Yasinovataya, Mariupol and Svetlodarsk.
o Keep Up Morale 
Ukrainian soldiers have a new anti-Putin song.
o Police Sweeps and Arrests Across Ukraine in Anti-Corruption Crackdown
Today 1,700 SBU and police officers along with 500 prosecutors carried out 454 searches today in a massive crackdown on corruption; 23 former regional heads of tax collection agencies were targeted, and at least 11 arrested. 
The sweeps appeared designed to show that Ukraine is tackling corruption, but as Odessa Blogger has pointed out:
Firstly it remains to be seen whether the courts will actually detain those arrested, or grant them bail and the opportunity to disappear leaving only the option of trial (and conviction) in absentia – thus denying the Ukrainian constituency their right to see those responsible for gargantuan theft physically jailed for a long time.

Perhaps much more importantly however, is that this well coordinated nationwide raid relates to events that are historical – and not contemporary.  In short it is action whilst unquestionably rightful that is taken against criminality past, and once again not contemporary and on-going criminality.
o US Secretary of State Tillerson Says Russia to Be Kept out of G7 Until Ukrainian Sovereignty Returned
The Washington Post reported that Rex Tillerson, US Secretary of State said Russian would not be returning to the G7 for a long time due to the war in Ukraine.
Asked by a reporter if he thought it was appropriate to keep Russia on the sidelines of the G7 -- formerly the G8 with Russia, Tillerson responded:
Well, they were eliminated...taken off the group due to the situation in Ukraine. So I think for them to be able to rejoin they would have to address the situation in Ukraine. And we've been pretty clear to them what that means. It means moving forward with the Minsk accords, and implementing those, restoring Ukrainian sovereignty. 

I think until those conditions are met -- or there's some -- some agreement made as to how we want to deal with the Ukrainian situation that is satisfactory to the Ukrainians and satisfactory to all members of the G7, I don't expect them to be joining anytime.
-- Catherine A. Fitzpatrick 
Note: The Interpreter has lost its funding!
Donate to this author to keep news and translations coming.