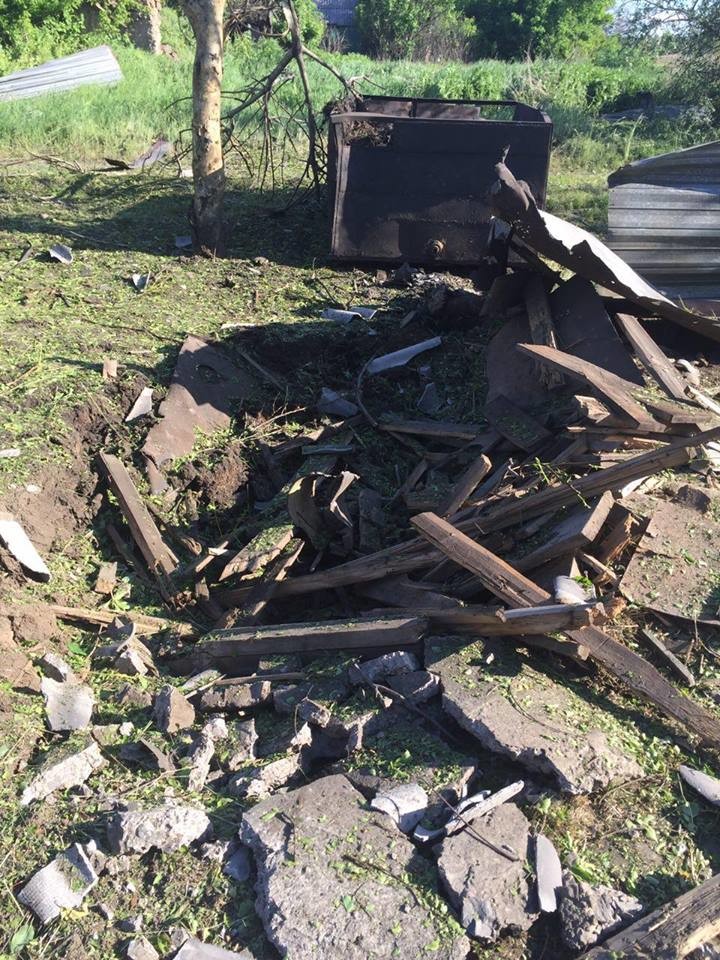 4 Ukrainian Soldiers Wounded in Battle; Russia-Backed Forces Fire Grads on Avdeyevka, Injuring Civilian Severely
Crater in the town of Avdeyevka after Russia-backed forces shelled the area May 23, 2017. Photo by National Police 
Russia-backed forces shelled Avdeyevka today, seriously injuring one civilian in the head and damanging 10 homes in the old section of the town, Unian.net reported, citing a Facebook post by Vyacheslav Abroskin, head of the National Police in Donetsk Region. The civilian man, age 45, lives at Lermonotova Street.
The militants fired 122-mm Grad-P portable rocket launchers at 17:30.
The homes were at Kolosova, 94a and 96; Lermonotova, 44 and 45; Levanevskogo 3, 6, 8, 10, and 16a and Shevchenko, 15. 
Russia-backed forces made 59 attack in total along the front line during the previous reporting period, wounding 4 Ukrainian soldiers, Unian.net reported, citing the ATO [Anti-Terrorist Operation] morning dispatch on Facebook.
The ATO also noted that yesterday, May 22, the militants used multiple rocket launcher systems to attack Opytnoye. The ATO said the attack was accompanied by a disinformation campaign trying to pin the firing of the MRLS on Ukrainian forces. The Ukrainian military denied the accusation.
The situation remains "difficult" with "frequent signs of escalation on certain parts of the line of contact", said the ATO.
On the Maritime line, there were 29 attacks on Ukrainian positions, including 120-mm mortar attacks at Pavlopol and 82-mm mortar attacks on Krasnogorovka. At Shirokino, Taramchuk and to the north at Maryinka, marines' positions were struck by small arms, heavy machine guns and grenade-launcher attacks.
On the Donetsk line, there were 21 attacks,notably on Opytnoye and Avdeyevka, where 82-mm and 120-mm mortars, small arms and grenade-launchers were used. Near Nevelskoye, 120-mm mortars were fired and an armed BMP was used to strike positions at Zaytsevo.
On the Lugansk line, there were 9 attacks, with Ukrainian positions attacked at Malinovoye and small arms used at Valuysk, Stanitsa Luganskaya and Donets.
-- Catherine A. Fitzpatrick