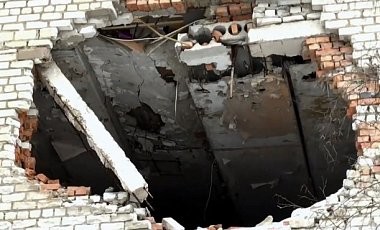 5 Ukrainian Soldiers Wounded in Battle; 2 Civilians Killed, 1 Injured on the Front Line in Krutaya Balka
Photo: Screenshot of video evidently from home damaged in Krutaya Balka. Via Liga.net
A number of incidents came to light today that occurred yesterday. 
Militants from the 11th Separate Motorized Regiment of the self-proclaimed "Donetsk People's Republic" fired on Krutaya Balka, a front-line town controlled by separatists in Donetsk Region, yesterday May 17, killing two civilians and wounding one, Liga.net reported, citing the Facebook page of Ukrainian military intelligence (GUR).
A Russian mercenary deployed with the 9th Separate Assault Motorized Regiment of the marines at Novoazovsk was also reported to have killed a fellow militant said to be a local collaborator during an argument, Ukrainian military intelligence reported.
The GUR also complained that a Russian state camera crew from St. Petersburg's Channel 5 filmed local buildings destroyed in the war in an effort to make a "false and distorted" film to "discredit the ATO". A special fire support group shelled ATO positions to provoke return fire during the filming.
Of these, 21 were on the Maritime line where Shirokino, Pavlopol, Krasnogorovka and Maryinka were attacked, as well as Vodyanoye, Gnutovo, Lebedenskoye, Bogdanovka, Novotroitskoye and Chermalyk; 120-mm mortars were used to attack Pavlopol.
On the Donetsk line, Avdeyevka was attacked by militants with 120-mm mortars and an armed tank. Near Kodem, 122-mm artillery was used.
On the Lugank line, there were 13 attacks, including with 82-mm and 120-mm mortars near Krymskoye; in the evening militants fired 82-mm mortars near Novoaleksandrovka. Novozvanovka was pounded by grenade-launchers and heavy machine guns; grenade-launchers were also fired on Troitskoye and Lobachev.
This evening the ATO reported another incident of Russia-backed militants firing on civilian homes in Berdyanskoye near Mariupol, using heavy artillery banned under the Minsk agreement. Two homes were totally destroyed on Morskaya St. and several other buildings were damaged; almost no building is untouched due to repeated shellings. There were no injuries.
The OSCE Special Monitoring Mission reported that a smoke bomb was thrown at its patrol car near separatist-controlled Dokuchayevks. OSCE says attacks were up 75% in the past week, although the ATO said today they have lessened. 
Other news:
o 73rd Anniversary of Stalin's Deportation of Crimean Tatars 
The Crimean Tatar community marked the 73rd anniversary of Stalin's brutal deportation of their people, in which 230,000 people were uprooted from their homes and sent in train cars to Central Asia, during which 100,000 died. They continued to face persecution in Crimea today under Russian occupation 
Freedom House published a statement outlining the history of the deportation and ongoing violations. Crimean Tatar leaders are one again in exile, now living in mainland Ukraine, and their assembly, the Mejlis, has been outlawed by Russian occupation authorities.
In Bakhchisarai, authorities blocked Crimean Tatars from holding a commemoration ceremony as they have in the past.  In other areas, ceremonies were tolerated but some activists were detained.
o SBU Denies Losing Surveillance Video in Sheremet Case
The SBU reported that contrary to claims by investigative journalists, it had not lost or withheld a surveillance tape of the area where journalist Pavel Sheremet was killed, but had turned it over to investigators, Ukrainska Pravda reported.
o Debate Rages About Ukrainian Blockage of Russian Sites
The decision of President Petro Poroshenko to ban Russian social media and other web sites continues to draw fire. The US State Department said it was studying the issue.
-- Catherine A. Fitzpatrick 
Note: The Interpreter has lost its funding!
Donate to this author to keep news and translations coming.