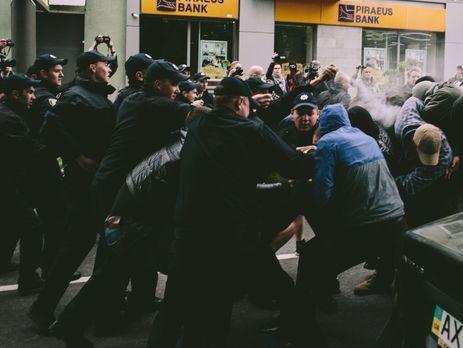 2 Ukrainian Soldiers Wounded in Battle; 30 Attack Gay Protest in Kharkiv; 2 Police Injured
Photo: Police in Kharkiv struggle with attackers of a gay demonstration.
About 7:00 am, the old section of Avdeyevka was struck with 82-mm mortars and also RPGs; three homes on Sportivnaya St. were damaged. 
At about 15:00, Krasnogorovka was hit with 82-mm mortars, and school No. 1 was struck.
Russia-backed forces attacked 43 times. On the Maritime line, militants used a BMP to attack Shirokino an Vodyanoye; near Pavlopol, 82-mm mortars were used. To the north near Maryinka, heavy machine guns were used and 82-mm mortars and anti-tank missiles were fired  on Krasnogorovka.
On the Donetsk like, 120-mm mortars and an armed tank were used to attack Avdeyevka, striking a civilian district. At Verhnyetoretskoye, 82-mm mortars, grenade-launchers and small arms were fired; an armed BM<P attacked Novoluganskoye. Near Mayskoye, 120-mm mortar-launchers were used.
On the Lugansk line, 120-mm mortars were fired on Krymskoye, Tryokhizbenka and Kryakovka; small arms, grenade-launchers and 82-mm mortars were also used. Near Malinovo, Ukrainian positions were struck with firearms.
On the Maritime line, Pavlopol was repeatedly struck with 82-mm and 120-mm mortars, grenade-launchers and small arms. At Shirokino,. militans fired from an armedd BMP and used grenade-launchers at Chermalyk and Novotroitskoye; near Lebedinskoy, they fired heavy machines. To the north near Krasnogorovka, militans pounded Ukrainian positions with 82-mm mortars and hand anti-tank grenades.
On the Donetsk line, Avdeyevka continued to be attacked with 82-mm and 120-mm mortars, small arms and heavy machine guns. Verkhnyetoretskoye was also struck; Kamenka was attacked with mortar-launchers and an armed tank.
On the Lugansk line, Krymskoye was hit with 82-mm and 120-mm mortars and grenade-launchers.
Other news:
o Former SBU Discovered Near Sheremet's Home Following An Unrelated Person 
The former SBU agent discovered to have been surveilling the home of slain journalist Pavel Sheremet was in fact following another person, Gordonua.com reports. Ihor Ustymenko was following someone unrelated to Sheremet, Viktoria Syumar, an MP from the Popular Front announced today, according to a report from Interfax-Ukraine.
She said in three weeks, police will brief the parliament on progress in the murder investigation. 
o Gay Demonstration Attacked in Kharkiv 
LGBT activists in Kharkiv were attacked, Gordonua.com reported.
Thirty young people in masks attacked gays who had previously announced a demonstration at the wedding office; they threw eggs and indelible green disinfectant at them. Two policemen were hurt, and four assailants were detained. 
o Former Presidents Approve of Russian Social Media Ban 
Former Ukrainian presidents Leonid Kuchma and Viktor Yushchenko support President Petro Poroshenko's decision to block Russian social media and other companies, saying it is a forced measure, Gordonua.com reported.
o Ukrainian Prisoner Ends Hunger Strike 
Ukrainian Artur Panov, imprisoned in Russia and charged with "sabotage" has ended his hunger strike, Gordonua.com reported.
-- Catherine A. Fitzpatrick