Human Rights Groups, Media Denounce Ukraine's Ban of Popular Social Media Sites; NATO Expresses Understanding
VKontakte informed its users about the measure so that they could to save their contact lists.
Russia reportedly retaliated with a cyber attack on the presidential web site.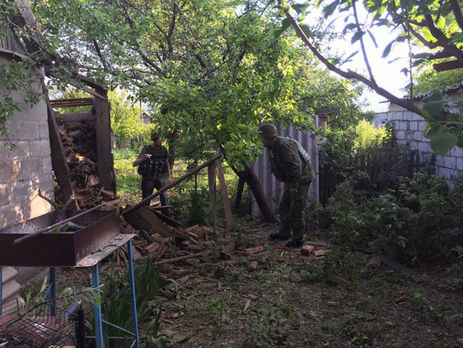 2 Ukrainian Soldiers WIA; UAF Retaliates for Avdeyevka Civilian Deaths, Killing 5 Separatist Fighters
Photo: Soldiers examine a back yard of a home struck by shells fired by Russia-backed fighters in AvdeyevkA. Photo by National Police.
The National Police of Donetsk Region said that Russia-backed fighters had landed a shell in a yard of a private home in the old section of Avdeyevka on Sobornaya St., Gordonua.com reported, citing the police web site. The house windows were broken and shards damaged the walls and roof.
There were no injuries reported.
In its morning dispatch
, the Anti-Terrorist Operation reported that 2 Ukrainian soldiers were wounded in action in the previous reporting period.
While the previous days this week have seen lighter fighting, today's shelling was more intense with 37 attacks recorded on Ukrainian positions along the line of contact.
On the Maritime line, there were 12 attacks: near Shirokino with light arms, near Gnutovo with automatic grenade-launchers.
Near Donetsk, militants attacked with heavy machine guns and grenade-launchers near Krasnogorovka and Novomikhailovka.
On the Donetsk line, Avdeyevka was struck with 82-mm mortars, an armed BMP, grenade launchers and small arms; these weapons were also used on Peski, Verkhnyetoretskoye, Novgorodskoye, Mayorsk and Zaytsevo; 120-mm mortars were also fired on Zaytsevo.
On the Lugansk line, 10 attacks mere made with artillery systems greater than 100-mm; 120-mm mortars were fired near Novozvanovka, Novoaleksandrovka and Troitskoye; near Troitskoye, militants also fired 122-mm artillery as well as grenade-launchers, machine guns and 82-mm mortars.
Gordonua.com reported that in a post on his Facebook page, Yuriy Butusov, a journalist who frequently reports on military issues, said that Ukrainian forces from the 72nd Mechanized Brigade launched an attack on separatist positions near Yasinovataya in retaliation for the killing of 4 civilians and severe wounding of another civilian. According to a blog post from separatist commander Aleksandr Khodakovsky, 5 separatist fighters were killed in battle from the Berkut 1st Army Corps of the self-declared "Donetsk People's Republic".
In its May 14 report, the OSCE Special Monitoring Mission said it had visited the home where the 4 people were killed and 1 wounded and examined the shell craters. The monitors said the mortars were fired from the south. This would make it likely that the mortars were fired from separatist-held Spartak, which is directly south of Avdeyevka. 
On 14 May the SMM followed up on a report by the Joint Centre for Control and Co-ordination (JCCC) about civilian casualties in Avdiivka. At Sapronova Street 53 the SMM saw a fresh impact on the roof, a hole in the south-facing wall, broken windows and door. The SMM assessed the damage as caused by an artillery (122mm) round fired from a southerly direction. The SMM spoke with the police, who told the SMM that out of the five people who had been situated near the impact site on 13 May four had died. At the Avdiivka hospital medical staff told the SMM that four people had died and their bodies were in the morgue of the hospital. Medical staff told the SMM that one person had survived the impact and had been transferred to a hospital in Dnipro.
In this same report, the OSCE SMM visited separatist-held Yasinovataya, where they found a 78-year-old woman who had been hsopitalized with a bullet wound and in Dokuchayevks, saw a man, age about 30, who suffered an injury to his head from a projectile fragment that had been fired from a southwest direction, which could indicate it was fired from Ukrainian-held territory.
In a Facebook dispatch today, the ATO denied reports that DNR fighters had taken up new positions in the "grey zone" near Peski by occupied Donetsk, Gordonua.com reported.