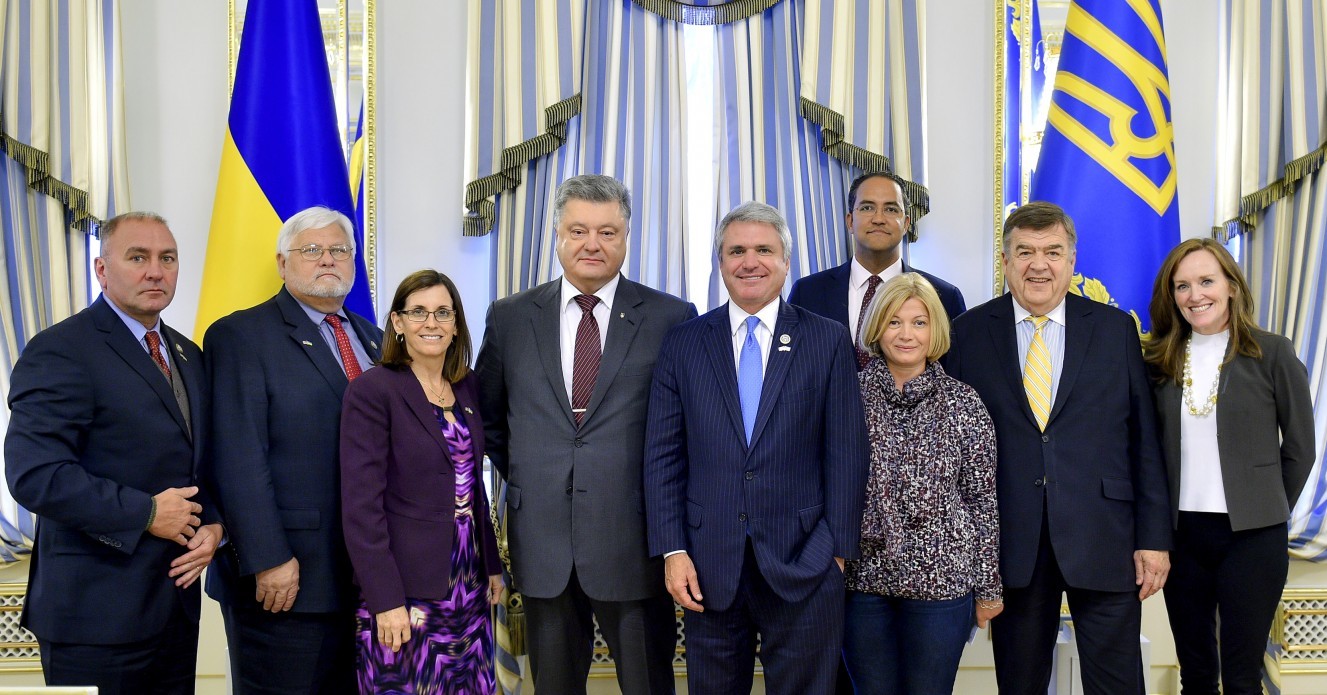 2 Ukrainian Soldiers KIA and 6 WIA; Civilian Woman Wounded in Chermalyk; US Congress Members Visit Kiev
Delegation of US Congress people meet with President Petro Poroshenko May 10, 2017. Photo by Presidential Administration. 
Col. Andriy Lysenko, spokesman on ATO issues for the Ukrainian Defense Ministry said 2 Ukrainian soldiers were killed and 6 wounded in action in the previous reporting period, Liga.net reported.
One of those killed was a sapper who was de-mining an area, and the others were killed by militants' shelling.
A civilian woman from the village of Chermalyk in the Volnovakha District of Donetsk Region suffered leg wounds from gunfire while working in her garden,
Liga.net reported.
Police said she was taken to the hospital in Mariupol.  They said her home was 300 meters from the line of contact and her garden is separated from the militants' position by a river and field.
Most of the firing in the previous day was on Valuyskoye near Stanitsa Luganskaya, he said.
Militants fired mortars on the Svetlodarsk Bulge and the Butovka mine.
Near Gorlovka, they used small arms and armor to attack Ukrainian positions outside the city.
On the Mariupol line, Pavlopol and Shirokino were struck by mortars; Krasnogorovka was hit by heavy arms and later small arms, grenade-launchers and armor.
Militants fired 120-mm mortars and automatic grenade-launchers as well as from a BMP near Krymskoye and Valuyskoye.
o US Congress People in Kiev
Irina Gerashchenko, vice speaker of the Verkhovna Rada and member of the humanitarian sub-committee invited US Congress people to come to the Donbass to see the effects of "Russia's hybrid war," Liga.net reported, citing her Facebook page.
The US legislators
met May 10 with Ukrainian President Petro Poroshenko
, who urged them to increase pressure on Russia to stop the war, and in particular to release POWs. Poroshenko expressed his condolences to the US delegation for the death of American OSCE monitor Joseph Stone from a mine explosion. 
Gerashchenko also raised the issue of sexual harassment by Russia-backed militants against OSCE monitors. 
-- Catherine A. Fitzpatrick 
Note: The Interpreter has lost its funding!
Donate to this author to keep news and translations coming.