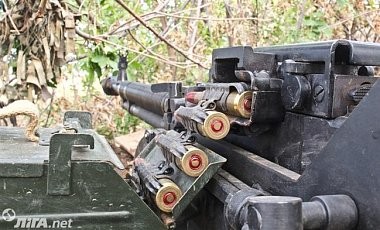 1 Ukrainian Soldier KIA, 2 WIA Today; 2 Killed, 1 Injured from Mine; 1 Dies from Sniper's Shot in April
Photo by Liga.net 
One Ukrainian soldier was killed in action and two were wounded in battle, Col. Andriy Lysenko, Defense Ministry spokesmen said in a briefing today, Liga.net reported.
He also reported that in the past day, one National Guardsman was killed and two were wounded when they stepped on mines. And yet another soldier died of his wound who had been shot in the head by a sniper on April 30.
Lysenko said
Russia-backed forces launched 70 attacks in the last reporting period, with about 130 82-mm and 120-mm mortars and 6 occasions of armor.
Near Avdeyevka, 82-mm, anti-tank grenades, heavy machine guns and small arms were fired.
Militants attacked Ukrainian positions at Troitskoye and Novgorodskoye with 82-mm mortars, and used grenade-launchers near Kamenka.
They fired from a BMP and fired grenade-launchers, heavy machine guns and small arms on ATO positions at Zaytsevo.
Ukrainian positions in Mironovskoye and Luganskoy were struck by automatic grenade-launchers and heavy machines guns.
Near Vodyanoye, militants pounded the Ukrainian marines near Pavlopol and Shirokino with 120-mm mortars and anti-tank grenade-launchers; they fired on Vodyanoye from a tank, 82-mm mortar-launchers, grenade-launchers, heavy machine guns and small arms.
In Lebedinskoye and Novotroitskoye militants fired 120-mm mortars; Maryinka was attacked with mortar-launchers, an armed BMP, anti-tank grenade-launchers and small arms.
Chermalyk and Gnutovo were hit by grenade-launchers, heavy machine guns and small arms and automatic grenade-launchers were used near Starognatovka. Small arms were also used near Granitnoye and Bogdanovka.
Snipers were active in Pavlopol.
On the Lugansk line, 82-mm mortars and heavy machine guns were used to attack positions near Novotoskovka; 82-mm mortars, anti-tank missile systems and heavy machine guns were used near Krymskoye. In 
Novoaleksandrovka, Ukrainian positions were shelled from an anti-aircraft ZU-23-2 and heavy machine guns and grenade-launchers were fired on Novozvanovka along with heavy machine guns and small arms. 
Automatic grenade-launchers were fired near Valuysk and small arms were fired on Stanitsa Luganskaya.
Often Russia-backed fighters shoot down Ukrainian army drones, but the Ukrainian military reported that it had managed to shoot down a militants' drone on May 8 near Yasinovataya.