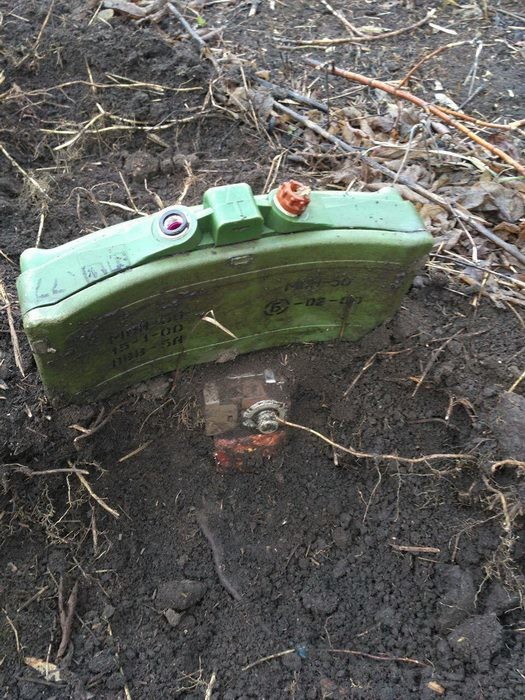 4 Ukrainian Soldiers Killed, 5 Wounded; Russia-Backed Forces Concentrate Attacks on Maritime Sector; OSCE SMM Resumes Patrols
Russian-made mine said to be found by the SBU near Shirokaya Balka. Photo via ATO.
Three Ukrainian soldiers were killed and four wounded in battle, the ATO [Anti-Terrorist Operation] reported in its morning dispatch April 25.
Another Ukrainian soldier was killed and another wounded in battle during the day,
Liga.net reported
, citing
the ATO evening dispatch
, bringing the total to 4 killed and 5 wounded in the previous 24 hours.
Fighting has escalated in recent days. Overnight, Russia-backed forces made 65 attacks on Ukrainian positions, and during the day, 23 attacks were made, bringing the total for this 24-hour period to 88.
Overnight on the Donetsk line, attacks were made with 120-mm mortar-launchers, an armed BTR, anti-tank grenades and heavy machine guns near Peski; 120-mm mortars were fired also on Optynoye and Luganskoye. Militants fired 82-mm mortars on the Butovka mine; an armed BMP, grenade-launchers and heavy machine guns were used on Troitskoye and Zaytsevo, and positions near Novgorodskoye were attacked with machine guns an anti-aircraft ZU-23-2 systems. An armed BMP was used near Verkhnyetoretskoye. Near Avdeyevka and Novgorodskoye snipers were active.
During the day on the Donetsk line, 82-mm mortars and anti-tank grenades were fired by militants in the area of Avdeyevka, where snipers were also active; 82-mm mortars were also used at the Butovka mine. Heavy machine guns were fired near Kamenki and Novgorodskoye.
Overnight on the Maritime line, 120-mm mortars were used as well as automatic grenade-launchers against Ukrainian positions in Novotroitskoye; the marines at Vodyanoye and Gnutovo were attacked with an armed BMP as well as 82-mm mortars, grenade-launchers and heavy machine guns, and near Shirokino and Pavlopol, grenade-launchers and small arms were used. Snipers were active around Novotroitskoye.
During the day, the Maritime line was the greatest hit with attacks from 82-mm mortars, grenade-launchers and small arms used on the Ukrainian marines' positions at Vodyanoye. Grenade-launchers were used on Ukrainian positions at Shirokino and Novotroitskoye and heavy machine guns were fired at Gnutovo. Small arms were fired near Talakovka and near Novotroitskoye a sniper was active.
Overnight on the Lugansk line, 122-mm artillery was fired along with ZU-23-2 systems, an armed BTR and anti-tank grenade-launchers on Novoaleksandrovka; 82-mm mortars were used on Zhyoltoye and grenade launchers were fired on Krymskoye and Popasnyaya.  Heavy machine guns and an armed BTR were used to attack Novozvanovka. Ukrainian forces retruned fire in some cases.
During the day on the Lugansk line, automatic grenade-launchers were fired near Zhyoltoye and small arms were used to attack Valuyskoye.
o Russian-Made Mines Discovered 
The Ukrainian Security Service discovered two MON-50 or ML-8 mines manufactured in Russia in the grey zone near Shirokaya Balka in Donetsk Region,
Liga.net reported.
o Ukrainian Courts Sentence Russia-Backed Militants 
Yesterday, April 24, the Mariupol Ordzhonikidze District Court also under Ukrainian control sentenced to 15 years a militant who fought for the self-proclaimed "Donetsk People's Republic," and blew up an automobile near the Mariupol checkpoint on November 2, 2014.
o OSCE SMM Resumes Patrols 
Following the killing of one American mission member and injuring of two European members April 23 when their vehicle ran over a land mine, OSCE Special Monitoring Mission has resumed its patrols,
Liga.net learned
from the OSCE press center. Said an OSCE SMM spokesman:
"We are taking measures as before to minimize danger, to guarantee the security of our observers. The patrolling will be conducted with some restrictions due to the incident that occurred Sunday".
The OSCE SMM vehicle apparently struck a land mine near Pryshyb. Liga.net learned that the restrictions will not involve clearance of routes for observers.