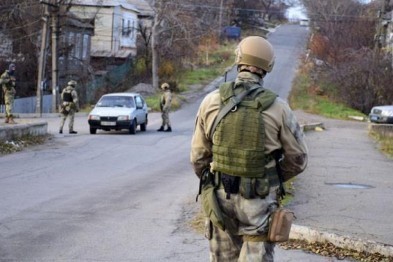 'Ceasefire' Begins: 94 Attacks by Russia-Backed Forces; 14 Ukrainian Soldiers Wounded
Additional police and National Guardsmen were deployed in Mariupol and security measures were stepped up following the assassination of an SBU Colonel Friday. Photo by 0629.ua.com. 
Today a ceasefire negotiated by the Trilateral Contact Group began, but was quickly violated. Liga.net reports that according to the ATO [Anti-Terrorist Operation] morning dispatch, 94 attacks were made on Ukrainian positions and 10 Ukrainian soldiers were wounded. Mainly heavy weaponry banned under the Minsk agreement was used. In its evening dispatch, the ATO reported an additional 4 soldiers wounded, bringing the total for this 24-hour period to 14 WIA.
Most of the attacks were on the Donetsk line. Militants used 122-artillery as well as 82-mm and 120-mm mortar launchers and grenade-launches to fire on Troitskoye; 82-mm and 120-mm mortars were also fired on positions near Verkhnyetoretskoye, Luganskoye and Opytnoye. The Butovka mine was attacked with 120-mm mortar-launchers and an armed BMP. Tanks and 82-mm mortars were used against Avdeyevka and Opytnoye; 82-mm mortar-launchers and grenade-launchers were fired on Zaytsevo. Militants fired 120-mm mortars, grenade launchers and heavy machine guns on Nevelskoye.
Snipers were active near Avdeyevka and Verkhnyetoretskoye.
The Mariupol line was once again the focus of heavy artillery. Grad missiles and 82-mm, 82-mm and 122-mm artillery were fired near Vodyanoye and Gnutovo. Militants used 122-mm artillery and 120-mortars to fire on Shirokino, Pavlopol and Krasnogorovka. A ZU-23-2 anti-aircraft system and BMP were fired on the marines in Shirokino, and grenade-launchers and heavy machine guns were fired on Beryozovaya. An attack on Talakovka involved a 120-mm mortar-launcher.
On the Lugansk line outside Krymskoye, 152-mm artillery, tanks, and 82-mm and 120-mm mortar launchers were used. Opasnyaya and Novoaleksandrovka were pounded with 120-mm mortars and grenade-launchers were used on Katerinovka.
Small arms were fired on the Maryinka checkpoint. The Ukrainian forces returned fire.
On the Donetsk line, 82-mm and 120-mm mortary launchers and an armed BMP as well as small arms were used to attack positions in Luganskoye. Grenade launchers were fired on Verkhnyetoretskoye and heavy machine guns near Avdeyevka. Small arms were fired in civilians areas in Luganskoye, Avdeyevka and Troitskoye. Near Mayorsk, Avdeyevka and Verknyetoretskoy, snipers were active.
On the Mariuopol line, anti-tank systems, grenade-launchers, heavy machine-guns and small arms were used on Vodyanoye; small arts were also fired at marines deployed near Shirokino and Gnutovo.
The least activity was on the Lugansk line, where a sniper was active near Stanitsa Luganskaya. 
Ukrainian forces did not return fire.
o MARIUPOL STEPS UP SECURITY 
All law-enforcement personnel have been employed in Mariupol and Volnovakha District. Vyacheslav Abroskin, head of the National Police of Donetsk Region urged law-enforers not to allow destablization of the situation, to prevent sabotage and preserve law and order in Mariupol and the adjacent region.
More than 500 police as well as 100 National Guardsmen turned out to make foot patrols (some with dogs), auto patrols and rapid-response groups. Security has been tightened at Checkpoint 21 and 17 mobile checkpoints, and citizens' documents as well as their vehicles are being checked for sign of any dangerous freight or suspicious travelers. Soldiers also checked trains and other public transportation.
The Mariupol city site 0629.com.ua reported that 7 homes were damaged in Krasnogorovka as Russia-backed forces shelled the town all night long. The damaged homes were located on Lermonotova, Trsentral'naya, Vostochnaya and 8-ogo Marta streets. At least 7 civilians reported damage to their homes to the authorities. Police are making the rounds to help those affected.
-- Catherine A. Fitzpatrick 
Note: The Interpreter has lost its funding!
Donate to this author to keep news and translations coming.