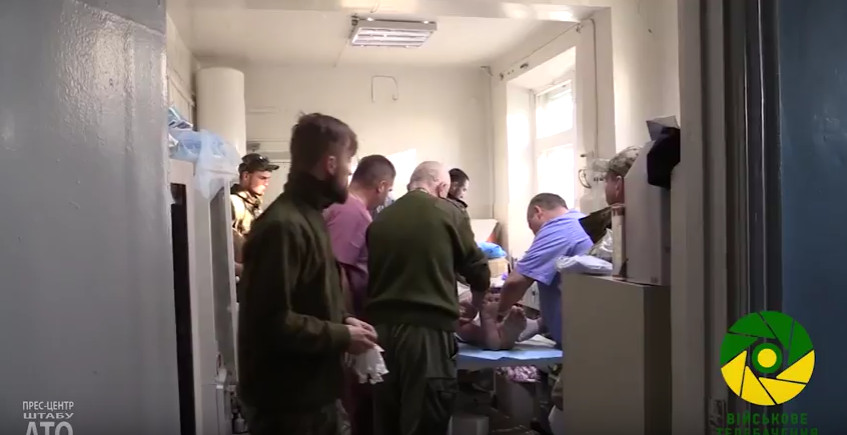 2 Ukrainian Soldiers Killed, 10 Wounded, 4 Concussed; 2 Separatist Fighters Killed, 3 Wounded in Escalated Fighting on Eve of Ceasefire
Ukrainian medics work on a wounded soldiers at the front line. Screen grab from video by Ukrainian Military TV. 
In its morning dispatch
, the ATO reported 69 attacks over night; 2 Ukrainian soldiers were killed, 9 were wounded and 4 suffered concussions. In the evening, the ATO reported another soldier was wounded bringing the total to 10 for March 31.
The attacks were mainly on the Mariupol line, using armor banned under the Minsk agreement.
Ukrainian marines in Shirokino, Gnutovo and Vodyanoye were attacked by Russia-backed forces with 120-mm and 122-mm mortars; 122-mm artillery was fired on Pavlopol. Militants used the ZU-23-2 anti-aicrcraft systems, an armed BMP, heavy machine guns and grenade-launchers to fire on Shirokino. A sniper was active in Novotroitskoye. Militants also used small arms to fire on the Maryinka checkpoint.
On the Donetsk line, 82-mm mortar launchers were fired on Luganskoye, Troitskoye and Zaytsevo.
Militants fired on the Butovka coal mine and Luganskoye from an armed BMP and with heavy machine guns and used grenade-launchers on Ukrainian positions in Avdeyevka and Verknyetoretskoye. Snipers were active near Avdeyevka and Novotroitskoye.
On the Lugansk line, 82-m and 120-m mortars as well as heavy machine-guns were fired on ATO positions in Krymskoye; 120-mm mortars were also fired on Verkhnyetoretskoye.
Ukrainian forces retired fire.
OSCE reported a greater number of attacks in recent days ahead of the ceasefire to begin April 1.
Ukrainian military TV uploaded to YouTube an interview with a young Ukrainian medic who described his difficult work on the front line. While he saved some soldiers wounded in battle, some died in his arms.
Vyacheslav Vlasenko, commander of the Donbas Battalion
said on his Facebook page
that in battle with Russia-backed militants yesterday, March 30, Ukrainian forces killed 7 Russia-backed militants, wounded 10 others and destroyed 4 Kamaz trucks, 1 gasoline truck, and 3 Howitzers. "Pay back for our little dog," he wrote. The location was near Bayrak, a town to the east of Gorlovka
This was not immediately confirmed by the self-proclaimed "Donetsk People's Republic" (DNR), but self-styled deputy commander of the DNR forces Eduard Basurin
said in his briefing today March 31
that over the last week, 2 DNR fighters were killed and 3 wounded, the pro-separatist DAN-News reported.
The DNR human rights ombudsperson
Darya Morozova reported that over the last week
, 6 people were killed and 20 wounded from Ukrainian artillery fire. She did not specify which were combatants and which were civilians. She said since the start of the year, 95 people had been killed and 174 wounded; from the start of the conflict in 2014, she said a total of 4,384 people had died on DNR territory, of which 596 were women, 3,788 were men and 74 were children under the age of 18.
Ukrainian Intelligence Colonel Assassinated in Mariupol; SBU Implicate Russia
A Ukrainian intelligence colonel was assassinated this morning in a car bomb in Mariupol, Gordonua.com reported.
Col. Oleksandr Kharaberyush, an office of the Ukrainian Security Service (SBU), was assassinated in a car bomb at 8:30 this morning in Mariupol, Gordonua.com reported, citing the SBU's Facebook page (translated by The Interpreter):
"The SBU will do everything to find and punish those guilty. We will quickly give back what is due," Vasyl Hrytsak, head of the SBU was quoted as saying.
Lt. Gen. Bohdan said (translation by The Interpreter):
"I would not criticize so harshly our intelligence services; after all, their activity now is aimed precisely at preventing such incidents. At the same time we must keep in mind that we are facing a serious adversary. That is both the FSB [Federal Security Service of Russia] and the Russian Federation Main Intelligenge Director of the General Staff [the GRU]. Their efforts undoubtedly are aimed at organizing such sabotage. As far as I know, operational investigative actions are being taken to find the reasons for the incident. Now it is extremely important to solve this crime; therefore all the circumstances will be clarified: the nuances of the colonel's professional activity, he he communicated with and was in contact with."
He further added:
"This is a murder which is a component of Russia's campaign to destabilize the situation in Ukraine. Moscow is trying to discredit our country by all possible means: with the explosion of the warehouse with ammunition, the attack on the Polish consulate in Lutsk and the murder of ex-deputy Denis Voronenkov."
Voronenkov, a Russian MP who fled to Kiev citing political persecution and was the Ukrainian government's witness in its treason case against deposed president Viktor Yanukovych was gunned down in Kiev last week on his way to meet another former Russian MP living in exile, Ilya Ponomarev.
Col. Kharaberyush is survived by his wife and two children; his daughter is two years old. The SUB said it would provide full support to the family.
-- Catherine A. Fitzpatrick