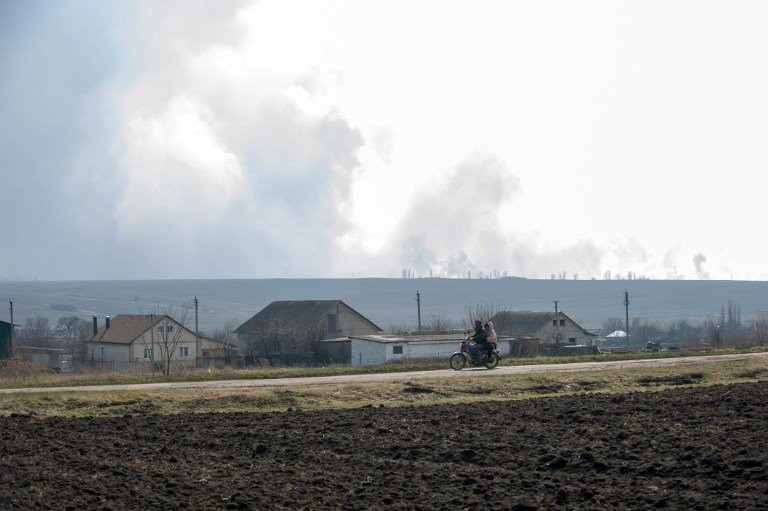 5 Ukrainian Soldiers Killed; 11 Wounded in 24 Hrs; 88 Attacks from Russia-Backed Forces; Soldiers Under 20 Removed from Front Line
Smoke from fires at the ammunition depot in Balakliya.
At 6:00 am, the ATO [Anti-Terrorist Operation] reported 88 attacks during the previous 24 hours, mainly on the Maiurpol line, and said 3 Ukrainian soldiers were killed and 8 wounded. An additional 22 attacks were made during the day.
Two Ukrainian soldiers from a mechanized brigade were killed from an unknown explosive device near Novoluganskoye in Donetsk Region, the ATO reported. It is not clear if they were included in the day's count of casualties.
In its evening dispatch at 18:00, the ATO reported 2 Ukrainian soldiers were killed and 3 wounded, bringing the total for 24 hours to 5 killed and 11 wounded.
Early in the morning,on the Mariupol line, Russia-backed militants fired from 120-mm and 122-mm artillery as well as grenade-launchers and heavy machine guns on Shirokino and Vodyanoye. A tank also fired on Ukrainian marines and snipers were active. Positions in Gnutovo, Pavlopol, Lebedinskoye and Talakovka were attacked with 120-mm mortars; a BMP fired near Novotroitskoye. Grenade-launchers and heavy-machine guns were used to fire on Krasnogorovka and Maryinka.
During the day, 82-mm mortars were fired near Pavlopol and heavy machine guns on Ukrainian positions near Vodyanoye, Novogrigoryevka and Gnutovo. A sniper also attacked Shirokino.
On the Donetsk line, in the morning, militants fired 152-mm artillery and 82-mm and 120-mm mortars on Troitskoye; 120-mm mortars were also fired on Avdeyevka and Luganskoye. Attacks on Kamenki, Verkhnyetoretskoye and Avdeyevka were made with 82-mm mortars. A tank fired on Kamenki and a BMP near Verknyetoretskoye and Peski. Snipers were also active near Troitskoye.
During the day, 120-mm and heavy machine guns were fired on Troitskoye and Luganskoye and 82-mm mortars were fired on Ukrainian positions in Avdeyevka and Peski. Near Luganskoye, a BMP fired and snipers were active near Troitskoye.
On the Lugansk line, militants fired from an anti-tank missile system on Novozvanovka. Grenade-launchers were used to attack Novoaleksandrovka, Katerinovka and Krymskoye. Grads were once again fired on Avdeyevka.
Ukrainian forces returned fire.
There were also reports of firing in the direction of the industrial zone near Avdeyevka.
The Ukrainian army will withdraw soldiers under the age of 20 from the front line.
o Poroshenko Reports Ammunition Depot Fire Clean-Up 
Ukrainian firefighters and emergency personnel have been battling fires at the site of the army ammunition depot in Balakliya in Kharkiv Region where a fire set rockets shooting in all directions. The fires were eventually doused and sappers have been de-mining the area. 
o Third Anniversary of Ukrainian National Guard 
President Petro Poroshenko presided at a ceremony to mark the 3rd anniversary of the formation of the National Guard, the president's web site reported. In his speech, President Poroshenko praised the selflessness and bravery of the soldiers, noting the tragedy of 4 guards killed by extremists at a demonstration in August 2015. He also joked, that the Ukrainian National Guard was "the most frequently mentioned brand on Russian TV" and "seems to be the most popular".
o Reports of Movements of Russian Armor in Crimea