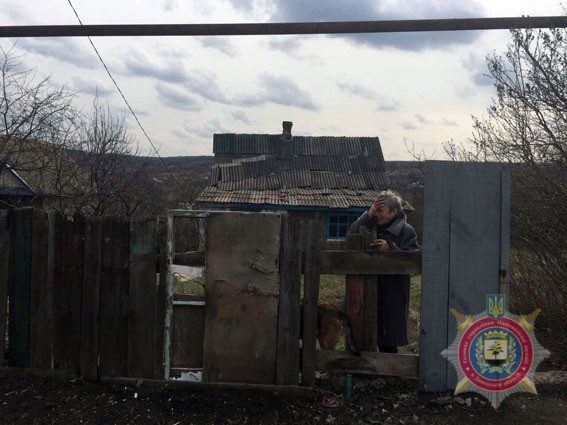 3 Ukrainian Soldiers Killed; 4 Wounded, 4 Concussed in 81 Attacks Russia-Backed Forces; Grads Used in Attacks
A woman stands before her gated cottage near Avdeyevka, damaged in shelling by Russia-backed forces. Photo by Donetsk Region Police.
Russia-backed forces attacked Avdeyevka again today with 120-mm mortars and Grad missiles; according to preliminary information, 3 Ukrainian soldiers were killed, Ukrainska Pravda reported, citing the ATO [Anti-Terrorist Report]. The Donetsk Region Police reported that 18 homes were damaged; they uploaded pictures to their site. 
Elsewhere on the front line, 4 Ukrainian soldiers were wounded and 4 concussed, the ATO reported. 
Translation: Avdeyevka (Avdiivka): Militants shelled the ATO forces' stronghold, 3 soldiers killed.
The ATO Press Center uploaded a video of damaged homes in Avdeyevka.
The ATO said elsewhere on the front line, 82-mm, 122-mm and 152-mm artillery were used along with Grad missiles. 
Shirokino also came under fire again: 
Translation: Militants fired on Shirokino with mortar-launchers and anti-aircraft systems.
Translation: ATO Headquarters: Militants opened fire 81 times on Ukrainian positions; 8 are wounded and concussed.
-- Catherine A. Fitzpatrick 
Note: The Interpreter has lost its funding!
Donate to this author to keep news and translations coming.