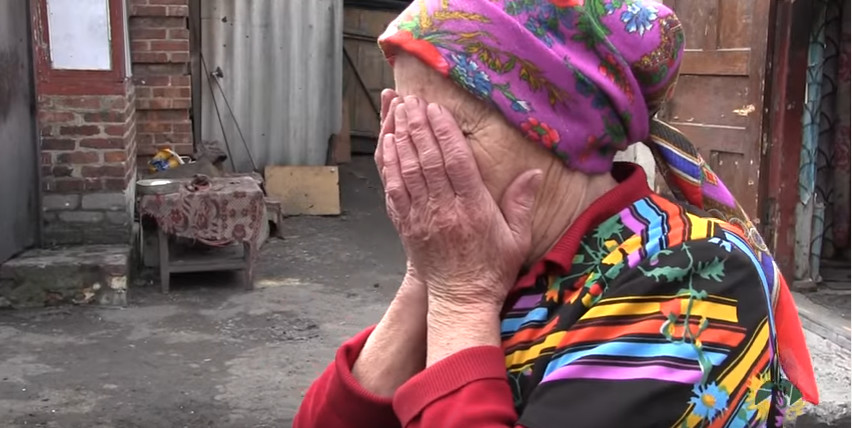 117 Attacks in Past 24 Hours by Russia-Backed Forces; 2 Ukrainian Soldiers KIA, 2 WIA; Medics Operate in Dangerous Case of Unexploded Grenade
A villager named Raisa cries as she shows Ukrainian soldiers the damage from Russia-backed separatist shelling to her cottage and garden in Maryinka. Video by Ukrainian Military TV
The ATO reported
that Ukrainian medics operated on a dangerous case of a sapper from a mechanized unit who was de-mining an area and suffered a shot from an anti-tank grenade to his leg -- that apparently did not fully detonate. Lt. Col. Yaroslav Bylo, head of the medical unit of the Mariupol Operations Tactical Group said the grenade lodged in the soldier's leg, damaging soft tissue and splintering bone in his heel and buttock, and causing widespread lacerations and gunshot wounds to his lower leg. Risking their own lives, medical personnel as well as sappers treated the soldier, who was in a state of shock.  Eventually, they were able to extract the grenade pieces safely, bandage the soldier up and medevac him to Dnepr for further treatment.
In their morning dispatch, the ATO reported 78 attacks in the previous 24-hour period.
On the Donetsk line, Russia-backed militants fired 152-mm artillery on positions near Zaytsev; 120-mm was used on Mayorsk, Avdeyevka, and Verkhnyetoretskoye, and 82-mm mortar was used on Avdeyevka, Troitskoye, the Butovka coal mine, Verkhnyetoretskoye, and Novoselovksa Vtoraya. Grenade-launchers and heavy machine guns were also used on Avdeyevka, Peski, Nevelskoye, and Luganskoye; a tank was also fired on the Butovka mine.
On the Mariupol line, 82-mm and 120-mm mortars were fired on Shirokino and Vodyanoye; grenade-launchers and machine guns were fired near Vodyanoye, Gnutovo, Shirokino and Talakovka. A sniper fired on the marines near Vodyanoye.
On the Lugansk line, 82-mm mortars were fired near Novozvanovka as well as grenade-launchers and machine-guns.
In their dispatch at 18:00 today,
the ATO [Anti-Terrorist Operation" said Russia-backed forces fired an additional 39 times during the day including from heavy artillery banned by the Minsk agreement.
Mariupol was the most attacked area, from a tank, artillery and mortar launchers. Militants fired on Ukrainian marines in Vodyanoye from 122-mm artillery and used 120-mm mortars on Ukrainian positions in Pavlopol, Shirokino and Novotroitskoye. Near Talakova, militants used 82-mm mortar-launchers, and a ZU-23-2 anti-aircraft system was used near Shirokino. Snipers were active near Novotroitskoye, Shirokino and Vodyanoye.
On the Donetsk line, militants fired from 120-mm mortars on Ukrainian positions near Avdeyevka and Novgordskoye; 82-mm mortars were used on positions near Novgorodskoye and Zaytsevo. Grenade-launchers were used on Avdeyevka, Troitskoye and Kamenki and heavy machine guns were used near Luganskoye.
Ukrainian forces returned fire in certain cases to stop the militants' attacks, the ATO reported.
Ukrainian military TV uploaded a video today showing Ukrainian marines returning fire in Vodyanoye (Vodyane), which is daily pounded by Russia-backed forces.
Yesterday Ukrainian Military TV uploaded a video of interviews with soldiers on the front line in Maryinka, another town regularly attacked by separatists. A soldier said Russia-backed forces, which were 100-150 meters away from ruined buildings where he stood, were targeting civilians homes. He said there was less fighting in the winter but now with the warmer weather there are more attacks.
The soldiers are shown speaking with Raisa Yukhimivna, an elderly villager, who showed where the rooms and roof of her cottage and out buildings around her kitchen plot were damaged, then burst into tears.