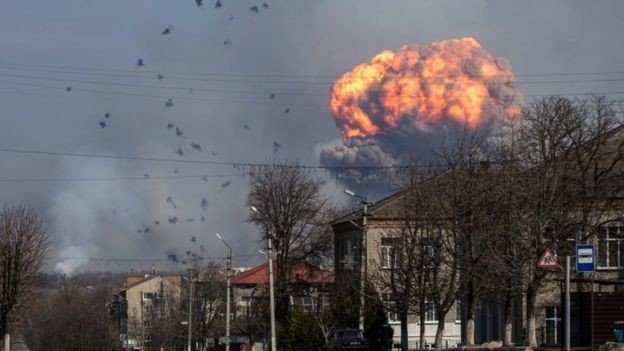 1 Ukrainian Soldier Killed; 3 Ukrainian Soldiers Wounded in Battle; Ammunition Depot Explosion in Balakliya
Plume of smoke at the army base visible from the town of Balakliya. Photo by EPA 
One Ukrainian soldier was killed and 3 Ukrainian soldiers were wounded on the front line today, Liga.net reported, citing the ATO [Anti-Terrorist Operation] dispatch.
Russia-backed forces attacked Ukrainian positions 84 times in the previous 24-hour period and 43 times during the day today.
On the Mariupol line, overnight and during the day, the worst fighting was around Shirokino where militiants fired heavy machine guns, grenade-launchers and anti-aircraft systems on Ukrainian positions as well as 82-mm and 120-mm mortary launchers and a BMP, then switched to using Grad missiles and tanks. An 82-mm mortar-launcher as well as 122-mm and
later Grads
were used near Vodyanoe; grenade-launchers and heavy machine guns were used near Krasnogorovka and Gnutovo as well as Pavlopol, Lebedinskoye, and Chermalyk. A sniper was active around Maryinka.
On the Donetsk line, Avdeyevka was most under attack from mortar-launchers, grenade-launchers, machine guns and anti-tank missile systems. Near Zaytsevo, 152-mm artillery was used
Explosion at Ammunitions Depot on Military Base in Kharkiv Region
An ammunitions depot has exploded on a military base at Balakliya (Balakleya) in Kharkiv Region early in the morning of March 23,
TSN.ua
and
Unian.net
reported. There were no injuries reported.
Translation: Balakliya from above.
Fire broke out over night and ammunition and shells began exploding, continuing to fly around the area for hours. Authorities evacuated about 20,000 people from the town, Liga.net reported.
Military advisor Yuriy Biryukov
said on his Facebook page
that contrary to news reports, there was far less than 125,000 tons of ammunition at the site. Most of the ammunition stored were components removed from weapons and dismantled. While the cement bunkers on the site still stand, all the other buildings have burned down.
More than 360 firefighters from around Ukraine rushed to the area, bringing 55 water tanks to douse the flames.
Ukrainian Defense Minister Stepan Poltorak and Military Prosecutor Anatoliy Matios have called the explosion "an extention of Russia's hybrid war" in Ukraine, which makes use of overt warfare as well as covert sabotage operations and disinformation.
But unofficially, law-enforcers say ordinary negligence could have been to blame, and there may have been an effort to blow up the depot deliberately to disguise the theft of weapons sold on the black market, TSN reported.
A video uploaded by TV 112 shows a man describing the explosion and how he rescued his cat. Other townspeople can be seen leaving the area with baggage.