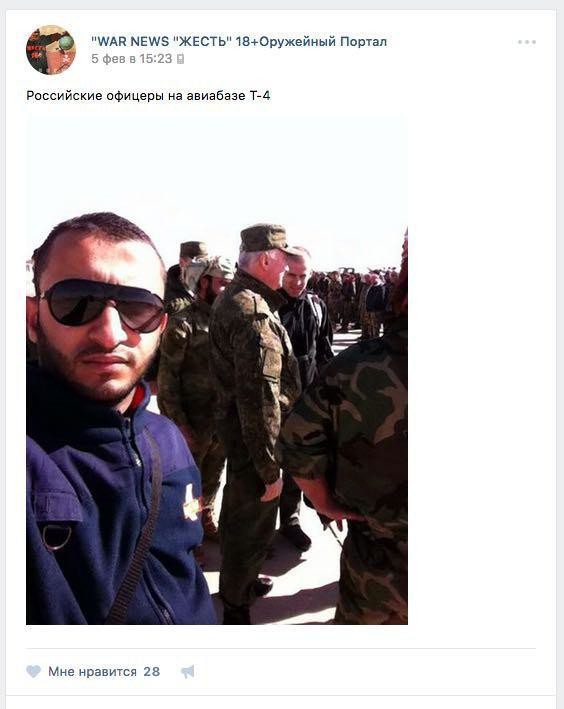 Russian General Reported Seriously Wounded in Syria
Generals spotted at the front line. Photo via Fontanka. 
Maj. Gen. Pyotr Milyukhin reportedly lost both his legs and an eye in an explosion a week ago during a battle to re-take Palmyra. He was immediately treated at the Hmeemeem air base in Syria but when his condition didn't improve, he was evacuated to Moscow and placed in the Burdenko Military Hospital, sources said.
The Russian military has not confirmed the report.
Infox.ru said it had confirmed the report with two sources in the Defense Ministry and also called the hospital.
"He is in the 56th ward in intensive car, doctors are doing everything to stabilize his condition. We are not allowed to provide other details," a hospital employee in reception told Infox.ru yesterday, March 2.
"He is with us. We are not allowed to say more," a hospital employee in the 56th ward told Fontanka today, March 3.
He is the first general to have been reported wounded in the war in Syria.
Russia proclaimed it had occupied Palmyra along with its allied forces last year, and even staged a concert there and invited foreign journalists to see the supposed victory,
as we reported.
But by December, Russia lost control of the city and there has been fighting there since. A new offensive was launched on Palmyra in mid-January and then renewed on February 6. Yesterday, March 2, Russian Defense Minister Sergei Shoigu reported to Putin that Palmyra had been re-taken. Engineers are now conducting reconnaissance and de-mining the area.
Pyotr Ilyich Milyukhin was given the rank of major general in a decree by President Vladimir Putin on December 11, 2015. He is subordinate to Col. Gen. Andrei Kartapolov who commands the Russian group of forces in Syria. Milyukhin was responsible for planning and executing combat missions. He was seen together with Kartapolov in early February on the front line in Palmyra,
Fontanka reported at the time.
-- Catherine A. Fitzpatrick