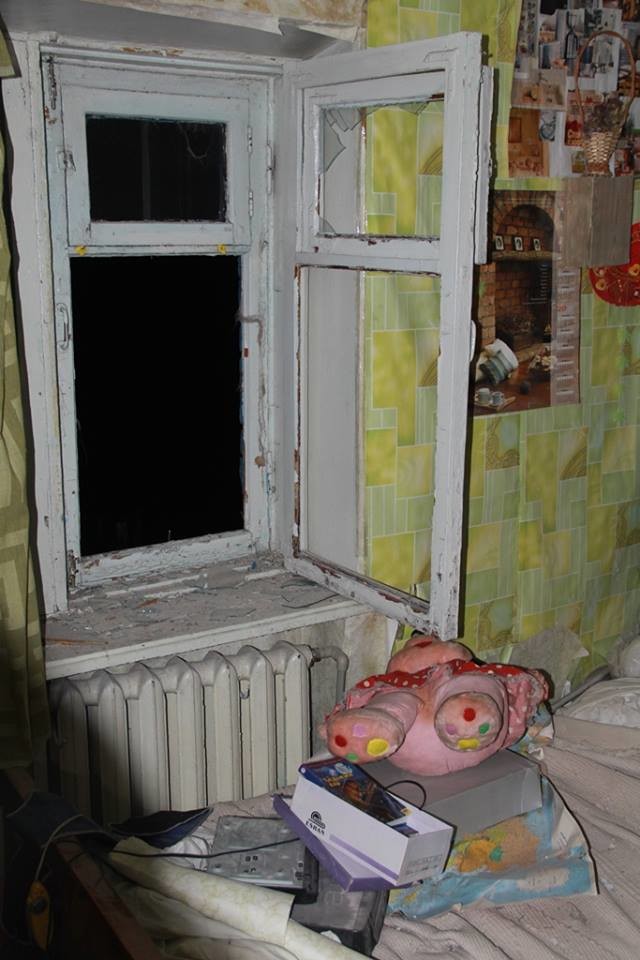 1 Ukrainian Soldier Killed, 9 Wounded, 1 Civilian Wounded; ICRC Delivers Water to Avdeyevka
A home damaged by shelling near the front line. Photo by ATO
Russia-backed militants made 78 attacks on Ukrainian positions, and fired Grad missiles on Vodyanoye near Mariupol as well as artillery.
One Ukrainian soldier was killed and nine were wounded in the past day, LiveMap reported. Yesterday's report was updated to two soldiers killed and four wounded.
Homes in Maryinka and Krasnogorovka (Krasnohorivka) and a schoolyard in Avdeyevka (Avdiivka) were damaged.
Civilians in Avdeyevka uploaded a video in which repeated shelling can be heard, sometimes shaking their building.
Interactive live map of conflict news - Ukraine Latest News - liveuamap.com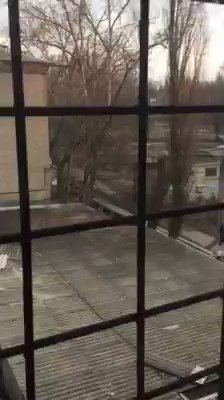 Shelling in Avdiivka today
Ukraine Interactive map. Russia war on Ukraine in Donbas and Crimea. Russian military agression against Free World
View full page →
On the Mariupol line, in addition to the Grad missiles, mortars were fired on Gnutovo and Vodyanoye and grenade-launhers and small arms were used on Shirokino, Starognatovka, Lebedinskoye, Maryinka
On the Lugansk line, militants fired 152-mm artillery on Novozvanovka and mortars on Novoaleksandrovka, Novozvanovka, Katerinovka, Krymskoye and Malinovoye.
On the Donetsk like a tank and 82-mm and 120-mm mortars were used to attack avdeyevka and the Butovka mine. Optynoye, Peski, and Kamenka were attacked with grenade-launchers; a BMP fired on Luganskoye and small arms on Nevelskoye.
A sniper fired on Kamenka and Novgorodskoye; anti-aircraft systems were used on Troitskoye and Avdeyevka.
The International Committee of the Red Cross (ICRC) delivered 18 tons of water to Avdeyevka today to address shortages brought on by intense shelling,
Liga.net reported
, citing
the Facebook page
of the ministry for issues of the temporarily-occupied territories and internally-displaced persons.
Other foreign relief groups People in Need and the Adventist Agency for Relief and Development will bring more water tomorrow, the ministry reported. About 50 tons of bottled water are expected to be delivered from other Ukrainian cities as well.
Avdeyevka has about 2,800 cubic meters of water left mainly in the old part of the city where stores are located.
The ministry also reported that the Donetsk Filtration Station
has been de-mined,
and now chlorine is being brought in to purify the water.
The Russian delegation to the JCCC provided written guarantees that a "quiet regime" would be maintained in the area of the station to enable the de-mining.
-- Catherine A. Fitzpatrick
11 Ukrainian Miners Killed, At Least 14 Injured in Mine Explosion in Lviv Region
Eight Ukrainian miners were killed in a cave-in at the Stepnaya Mine No. 10 owned by Lvovugol in the village of Glukhov, Sokal District in Lviv Region, Unian reported.
Meanwhile, Mihaylo Volinets, head of the Independent Miners' Union confirmed that 11 had been killed. 
Fourteen miners were hospitalized in the Chervonohrad Central City Hospital; two are in critical condition in the ER, 11 are in surgery and one in the trauma unit.
Law-enforcers
have opened a criminal case,
and a special commission has been formed to investigate the accident, which was believed to have started with a methane explosion.
The accident comes at a time when a "state of emergency" has been declared in Ukraine's energy sector in connection with a blockade of deliveries of coal and other raw materials needed for Ukraine's manufacturing. While the Ukrainian government opposes the blockade, it has persisted even in the face of physical attacks.
-- Catherine A. Fitzpatrick