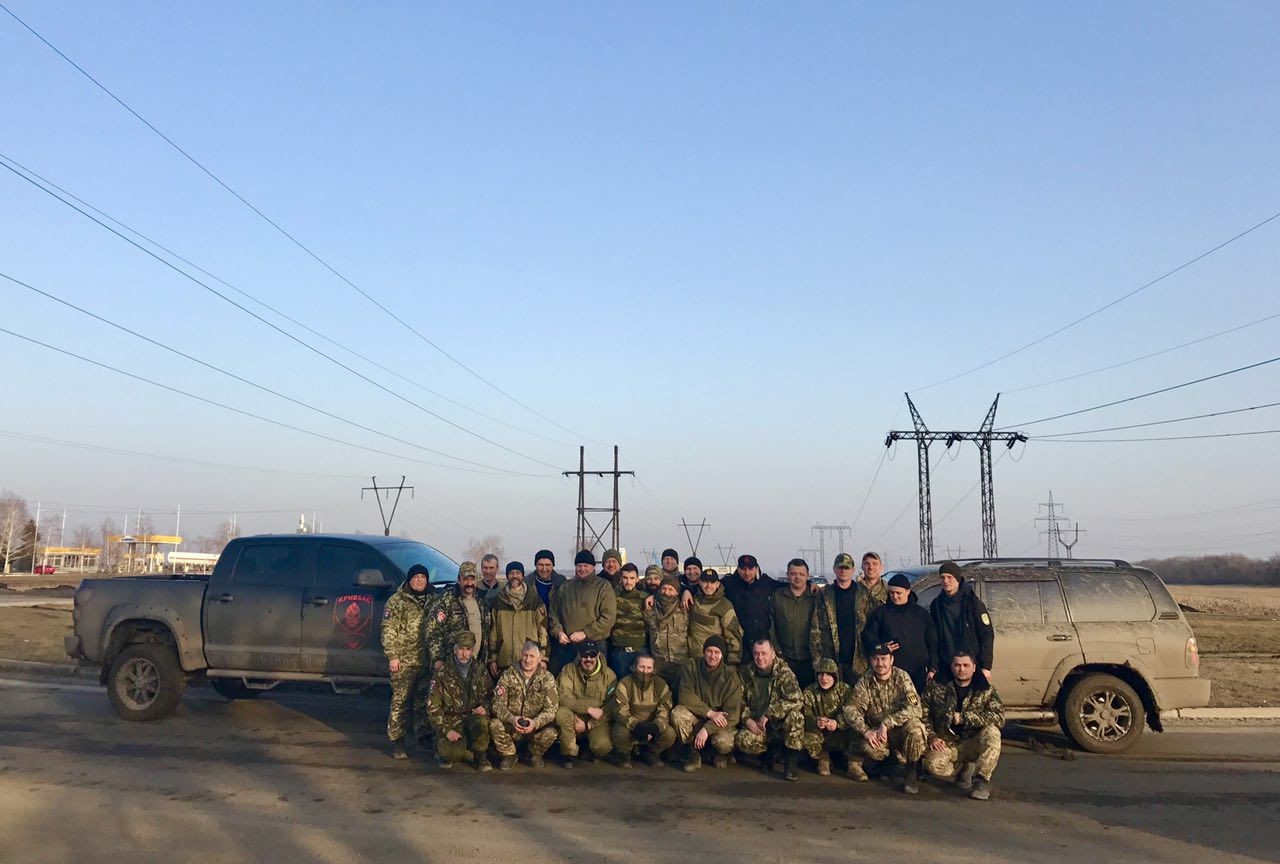 Separatist Leader Threatens 'Ukraine Won't Exist in 60 Days'; Activists Create Mobile Blockade
Activists taking part in a mobile blockade on the Kurakhovo-Maryinka Highway. March 1, 2017. Photo by Headquarters of the Blockade of Trade with Occupiers
Fighting escalated further today with Russia-backed forces firing 117 times on Ukrainian positions. Two Ukrainian soldiers were killed and two were wounded in action in the last day, Unian.info reported.
A civilian woman of pension age also suffered a shrapnel wound in Krasnogorovka in the evening, Ukrainska Pravda reported, citing the Donetsk Region Police.
She was sitting in her home on 1 Maya St. when a shell flew in the window at 20:10.
At 18:00, the Anti-Terrorist Operation reported on its Facebook page:
On the Mariupol line, militants used 122-mm artillery on Vodyanoye and mortar-launchers on Gnutovo, Shirokino, and Vodyanoye as well as grenade-launchers, heavy machine guns and small arms on Talakovka, Pavlopol, and Gnutovo. A sniper was active around Shirokino and Novotroitskoye.
On the Donetsk line, a tank fired on the Butovka mine. Russia-backed forces fired on Zaytsevo, Verkhnyetoretskoye, Nevelske, Bogdanovka, Avdeyevka and Luganskoye with grenade-launchers, heavy machine guns and small arms.
On the Lugansk line, 152-mm artillery was fired on Krymskoye and small arms were fired on Stanitsa Luganskaya and Novoaleksandrovka.
Separatist Leader Announces 'Nationalization' of Ukrainian Factories 
Aleksandr Zakharchenko, self-styled prime minister of the self-declared Donetsk People's Republic said that his forces were "nationalizing" Ukrainian factories in separatist-held territory and would "destroy Ukraine," in retaliation for a blockade maintained by activists of railroad deliveries of coal and other goods needed for manufacturing, Gordonua.com reported.
On February 27, Zakharchenko and Igor Plotnitsky, the self-styled leader of the self-declared "Lugansk People's Republic" announced that they would put Ukrainian plants "under external management" (translation by The Interpreter):
"The count starts now. Every day is a nail driven in the coffin lid of a country which used to call itself Ukraine. A maximum of 60 days and the state will practically cease to exist."
Zakharchenko also announced that he expected Ukrainian military actions would also step up in the Donbass.
"I wish it would start faster so that it would finisher faster. So that later we are not accused that we started it first. That's the main reason why we aren't doing it."
In fact as battle reports indicate, Russia-backed forces have already been escalating attacks in recent weeks.
Blockade Activists Mount Mobile Post on Highway 
Ukrainian Prime Minister Vladimir Groysman said in an interview with Currenttime TV that the blockade of the Donbass was in fact forcing Ukrainian factories to buy coal from Russia, Ukrainska Pravda reported.
Activists including ATO veterans and Aidar fighters have refused to negotiate with the Ukrainian government about the blockade since they began stopping deliveries of metal, coal, lumber, alcohol and cigarettes from the separatist territories on December 26.
Authorities have opened a criminal case against the blockaders The lack of deliveries has led to shortages and a declaration of a state of emergency in the energy sector.
Yesterday as we reported, masked men attacked the blockaders at the rail crossing in Krivoy Torets and the Interior Minister called on the activists to cease their disruption.
Undeterred, today the blockaders opened a mobile post at the Kurakhovo-Maryinka Highway on the Mariupol line, Ukrainska Pravda reported.
-- Catherine A. Fitzpatrick