Russia Update: February 27, 2017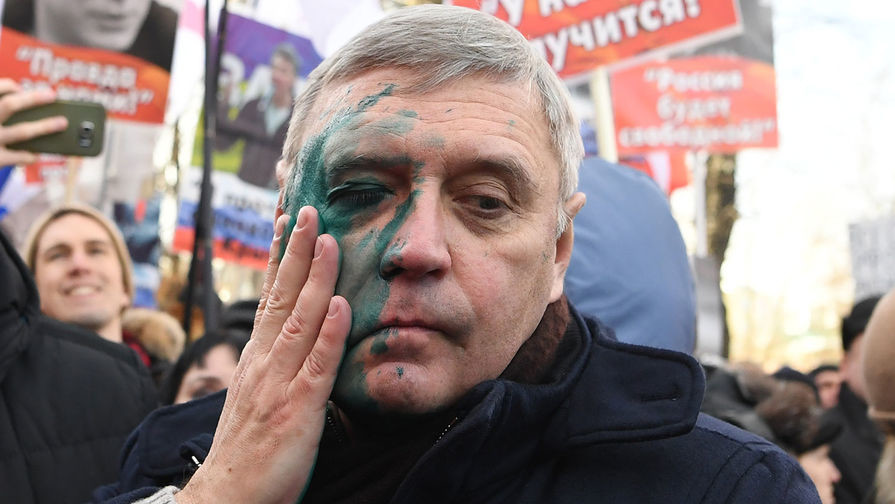 15,000 Russians March in Memory of Slain Opposition Leader Boris Nemtsov; Some Attacks, Detentions, Seizing of Banners.
Opposition leader Mikhail Kasyanov after being doused with zelyonka, an indelible disinfectant, during a march in memory of Boris Nemtsov. Photo by Ilya Pitalev/RIA Novosti.
Yesterday, February 26, the Russian opposition conducted a march in memory of Boris Nemtsov, the former first vice premier and opposition leader assassinated on February 27, 2015 on the Bolshoi Moskovretsky Bridge just a few meters from the Kremlin. Nemtsov, who was stalked by his killers for months, was killed just a few days before he was due to lead a protest called "Spring" against the war in Ukraine and economic hardships.
TV Rain reported that while Moscow police said only 5,000 people took part in the march, the metal detectors registered 15,200 people passing through.
While blogger Michael Schulmann was running live coverage of the march outside of his window which was used by TV Rain, police broke in the door, OVD-Info reported.  Police then claimed the door was open, did not attempt to stop the live broadcast and made no arrests, Schulmann reported on his Facebook page.
Photojournalist Ilya Varlamov covered the march and collected some of the tweets about it.
Varlamov
Марш памяти Бориса Немцова. Трансляция окончена
27 февраля 2015 года на Большом Москворецком мосту был убит Борис Немцов. Сегодня москвичи в очередной раз выйдут почтить его память. Марш памяти Бориса Немцова пройдет от Страстного бульвара по бульварному кольцу, затем по проспекту Академика Сахарова почти до пересечения с Садовым кольцом. Его участники начнут собираться в 13:00, а движение колонны начнется в 14:00.
View full page →
'Putin is War' Signs Banned 
The march got off to a late start as some participants who had arrived with banners saying "Putin is War" were stopped by police as their signs were deemed "illegal".
 Translation: "Putin is War".
Opposition member Vladimir Milov, former deputy energy minister and president of the Institute of Energy Policy, commented on the march on his Facebook page:
Translation: Our activists confirm: the posters mentioning Putin were confiscated today by police. It is forbidden to discuss who brought Russia to the breaking point in 17 years.
Other signs were let through.
Translation: Russia will be free!
Translation: Flowers.
Kasyanov Attacked by Ultraright Activist 
An activist with NOD, the far-right National Liberation Movement, threw zelyonka, an indelible green disinfected often used in Russia and Ukraine to attack and shame dissidents, on Mikhail Kasyanov, head of the opposition Parnas party.  He was identified from photographs.
Translation: the violator who poured zelyonka on Kasyanov turned out to be a NOD activist. He is Sergei Tetyuyev, age 33.
A Few Detentions, Including St. Petersburg Solidarity Leader 
Konstanin Yershov, chairman of the St. Petersburg branch of the Solidarity movement was detained, OVD-Info, the police monitoring group reported.
Yershov had been handing out copies of an opposition newspaper, Vestnik narodnoy svobody [Herald of People's Freedom], to the marchers when members of the ultraright group NOD began to insult him, grabbing his arms and seizing his newspapers. NOD -- which is headed by Yevgeny Fyodorov, a member of the State Duma from the United Russia party -- frequently come to liberal demonstrations and heckle the participants. Even so, police detained Yershov, the victim, not the NOD attackers.
Yershov was then released several hours later from the Tverskaya Police Station after police informed him that a NOD member had filed a report against him, claiming that his newspaper contained "insults of Putin" and "calls for overthrowing the existing state order."
Recently, parliamentarians have discussed passing a law criminalizing the insult of Putin, but it is not yet on the books; meanwhile any sort of critiism can be interpreted as a call for overthrowing the government. The police admitted that "neither they nor the NOD member were experts" on this sort of content, OVD-Info reported.
Pyotr Trofimov, detained at the Nemtsov memorial march in St. Petersburg, was released several hours later.
OVD-Info reported today that Valentin Murzayev, organizer of a Nemtsov memorial march in the Urals city of Perm was fined 1,000 rubles (US $17) for "public demonstration of Nazi symbolism," according to a supporter's Facebook post, a charge that stemmed from a protest in October 2014.
Police took the opportunity to detain Murzayev as he had refused to answer summons.
Memorial 'Watch' Activists Detained, But Return 
After the march, a number of supporters of Nemtsov went to the Bolshoi Moskvoretsky Bridge in Moscow, the site of Nemtsov's murder, to lay flowers and candles. A group of his friends have been trying to maintain the unofficial memorial since his death, but it has been repeatedly cleared away either by police or by ultraright activists.
On the night of February 26-27, six people standing watch over the memorial were detained by police: Timofey Nikonov, Lyubov Sergeyeva, Valery Kuzmenkov, Vyacheslav Zakharov, Denis Yudin and Fyodor Khodkov. Four police cars were involved in the detention, and seven vehicles from GorMost, which is responsible for bridge maintenance arrived to clear away the numerous flowers and portraits of Nemtsov. The detainees were taken to the Kitai Gorod Police Station and held for several hours for questioning and then released without charges.
Photojournalist Philipp Kireev reported that activists returned to re-create the memorial once again.
Translation: It was almost empty in the morning, but now people are bringing flowers.
A Disunited Opposition and Public Unite Around Memory of Nemtsov 
The online news site Gazeta ran an editorial condemning those who threw the zelyonka on Kasyanov and who kept disrupting the Nemtsov memorial, saying the commemoration of Nemtsov was about the only issue that could turn so many people out on the streets in such large numbers, given that they disagree among themselves. Other protests, such as the demonstrations over the return of St. Isaac's Cathedral in St. Petersburg are "local" issues. But about 30 marches in memory of Nemtsov were held around Russia as a "national" issue, said Gazeta.
The reason so many could turn out is because a permit was granted -- and the event was not overtly political. A movie of Nemtsov, titled "The Man Who Was Too Free" has been shown in various Russian cities, usually without incident, says Gazeta, although we note that Vladimir Kara-Murza, Jr., after returning from showing the film in Tver, suffered a second poisoning and was hospitalized in critical condition. Last week he left Russia for further treatment.
Something of a concession has been given to the opposition lately, in that Ildar Dadin, the first protester to be sentenced under a new law penalizing multiple pickets, was finally released from a labor colony after the Russian Supreme Court ruled that he should not have been sentenced. Tatyana Moskalkova, the human rights ombudsperson, has proposed removing the article under which he was sentenced from the criminal code, and presidential spokesman Dmitry Peskov has announced that her initiative "will be reviewed carefully by various agencies."
Dadin testified that he was tortured while in confinement and his case became a cause celebre at home and abroad. The President Human Rights Council, whose members met with Putin earlier this year, raised his case repeatedly. While the resolution of one case is a victory, it fails to address the systematic torture in places of imprisonment in Russia, which is likely to worsen as a new law permitting further physical force to be used against prisoners was passed.
Putin may wish to leave at least a little slack to the opposition to demonstrate and take part in campaign activities so that he can give himself the semblance of democracy in the run-up to the 2018 presidential elections. But no authentic actions have been taken to tolerate dissent, as parties like that of Alexey Navalany, the leading anti-corruption campaigner, have not been registered. While Dadin was released, Navalny's brother, Oleg, jailed under charges widely believed to be fabricated to pressure Alexey, remains imprisoned and has been repeatedly punished recently for such infractions as "leaving crumbs on the table".
Officials Criticize Ultrarightists 
Interestingly, Gazeta also reported that top Kremlin propagandist Dmitry Kiselyev criticized NOD leader Fyodorov on his state TV show this week -- not because his group members disrupted the march and attacked Kasyanov, but for his lack of support for US President Donald Trump and his characterization of Kisilyev as a "lackey of America." According to NOD's central conspiracy theory, the Kremlin has already been infiltrated by CIA operatives who also run people like Navalny.
Another unusual criticism of NOD -- which has been tacitly allowed to function for years without restriction -- came from Kristina Potupchik, now a member of the Russian Civic Chamber and previously a youth official who worked for Vladislav Surkov in the Kremlin. In a blog post on Ekho Moskvy, Potupchik said that the "idiots" who threw zelyonka on Kasyanov were a much greater threat to the government than Kasyanov himself. Regarding the "atmosphere of hatred" against the opposition which some credit for enabling Nemtsov's murder, she wrote: "From zelyonka to a shot on the bridge or tires on the square is a straight path."
The reference to tires relates to Ukraine's Maidan movement.
Critics of Potupchik pointed out that she herself was credited with starting a hate campaign against Nemtsov and others back in 2010, when she nailed to tree trunks at the Seliger youth camp portraits of Nemtsov and other opposition leaders altered to make it appear they were wearing fascist caps.
Says Gazeta (translation by The Interpreter):
"The natural question arises: why can't the government decide at all how to react to the 'patriotic' hooligans with the zelyonka or urine in their hands (and we can't be sure their arsenal is restricted only to those). The scandalous actions of the NOD activists, the Anti-Maidan movement and the Officers of Russia are a vivid indicator of the lack of moral rectitude in Russian politics. Who needs such a reaction to a march in memory of a person who is no longer alive, who definitely will never do anything to the hooligan activists nor to the Russian government nor to Russia?

On the other hand, Nemtsov, judging from the march in Moscow and memorial rallies in other cities, and also the reaction to them (including the telling silence in the state media) remains a quite alive politicians. He continues to touch something very important and painful in Russian political life.

Therefore, is there is something to unite the opposition in the absence of a minimal human and political unit, leaders and a coherent agenda, then it is precisely the sense of moral rectitude and intolerance to the usual barbarianism of the "zelyonka throwers" that today is trying to set the tone.

The memory of Boris Nemtsovs teachs both the government and the opposition that there are things more important than politics. Conscience, for example. Respect for the right, writtenin Russian laws among others, of people to peaceful street actions. And finally, human life."
-- Catherine A. Fitzpatrick