Day 1104: February 25, 2017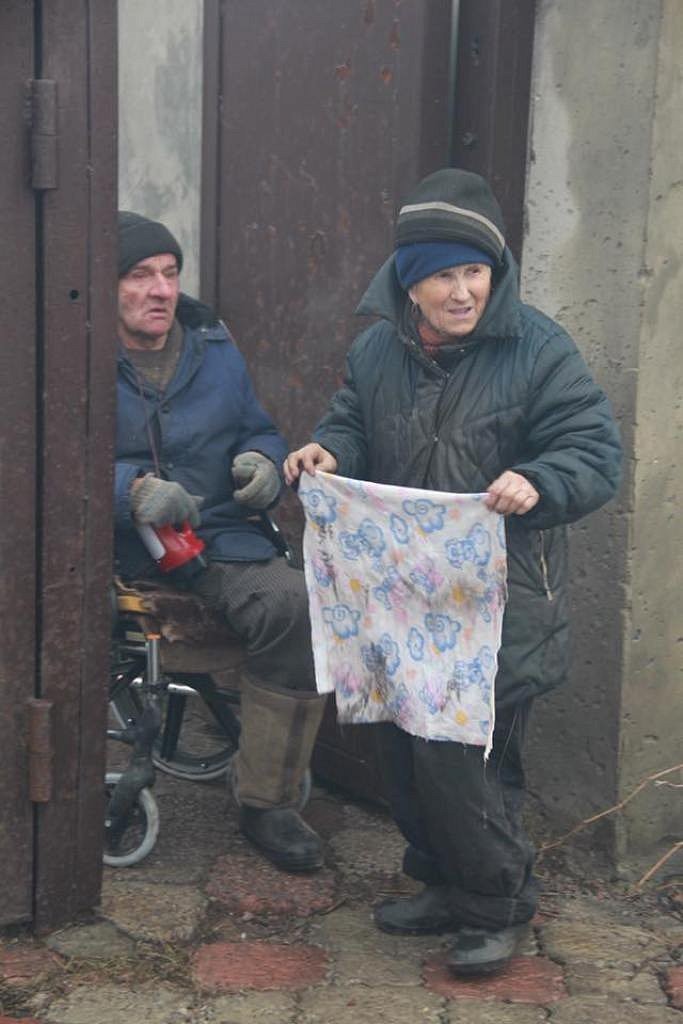 18 Ukrainian Soldiers Suffer Injuries or Concussions; Heavy Fighting Continues Around Avdeyevka; Power Out
Residents of Avdeyevka who remained after an evacuation earlier this month cope with the damage of their home by Russia-backed shelling. Photo by ATO. 
Sixteen Ukrainian soldiers were wounded or suffered concussions in heavy shelling north of Donetsk and other areas in the previous 24 hours, Ukrainian military reported and two more were wounded later, Liga.net and the ATO [Anti-Terrorist Operation] reported.
It was apparently the largest number of Ukrainian soldiers to be wounded since last August.
At his briefing today, Col. Andriy Lysenko said on the Lugansk line, there was a total of 44 attacks today.
There was mortar fire only on Ukrainian positions in Popasnyanskaya.
On the Donetsk line, the escalation around Avdeyevka (Avdiivka) continued; yesterday there was fighting for 14 hours. Militants fired about 150 mortars and several dozen artillery and tank shells, said Col. Lysenko.
Electricity and water were out in Avdeyevka, and repair crews were at work,
Liga.net reported.
Authorities said if the power did not come back on by 14:00 they would turn on generators. Internet and cable service was also affected.
Liga.net published
photos posted by the ATO and Iryna Gerashchenko, vice first speaker of the Ukrainian parliament, showing destroyed homes.
Most of the firing came from an easterly direction (Yasinovataya) but there was also shelling from the south (Spartak) and southeast (Mineralnoye).
There was also firing on the industrial zone and near Kamenki from mortar-launchers and tanks.
He said at other areas of the front (Svetlodarsk Bulge, the Gorlovka perimeter and the Donetsk Airport) there was medium-intensity fighting with the use of heavy weapons by militants, who grew more active at night. Said Lysenko (translation by The Interpreter):
"This is connected to the effort of the enemy command to divide up the attention of the ATO headquarters and distract it from the main region of battle, the Avdeyevka industrial zone."
On the Mariupol line, there was artillery fire on Pavlopol, Gnutovo, Vodyanoye, and Shirokino. Heavy arms were also used on Krasnogorovka and Novotroitskoye.
At 18:00,
the ATO reported
32 attacks throughout the day: 120-mm artillery was fired on Lebedinskoye and grenade-launchers and small arms were used on Pavlopol, Chermalik, Shirokino, Vodyanoye and Gnutovo.
On the Donetsk line, there was shelling of Peski, the Butovka coal mine, and Kamenki. Grenade-launhers were also fired on Avdeyevka, Zaytsevo, Luganskoye, Troitskoye and the coal mine. Grenade-launchers and small arms were used on Novgorodskoye, Irovo and Zaytsevo.
On the Lugansk line, 120-mm artillery was used to fire on Troitskoye.
-- Catherine A. Fitzpatrick