Day 1094: February 15, 2017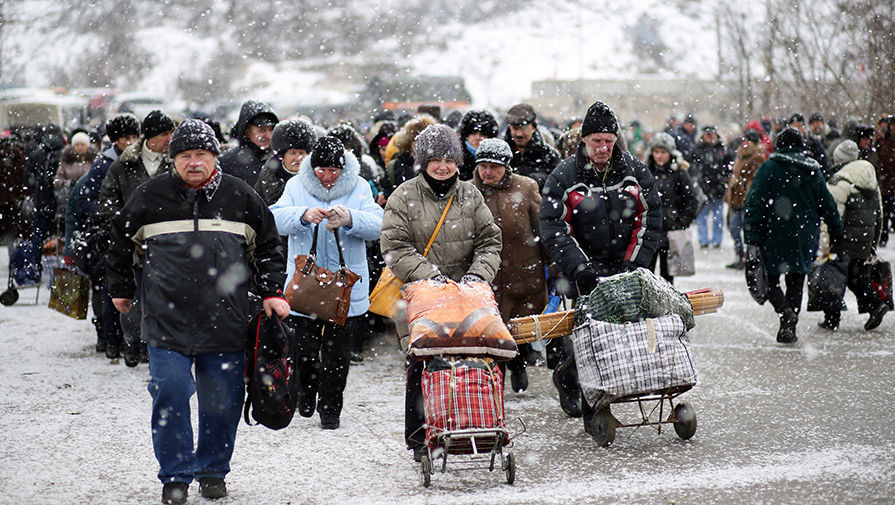 Russia-Backed Forces Make 52 Attacks on Ukrainian Positions; No Casualties; LNR Says Ukrainian Scouts Likely Killed
Civilians cross the LNR-controlled checkpoint at Stanitsya Luganskaya in January 2017. Photo by TASS
The Ukrainian military reported 52 attacks by Russia-backed forces, Liga.net reported. There were no casualties today.
On the Donetsk line, mortars were fired at Kamenka, Troitskoye, Novoselovka Vtoraya, Nevelskoye, Peski and Avdeyevka, where a BMP was also used. Firearms were used on Zaytsevo, Peski, Optynoye and Novgorodskoye
On the Mariupol line, 120-mm mortars were fired on Vodyanoye. Grenade-launchers, heavy-machine guns and small arms were fired on Pavlopol, Chermalik, Lebedinskoye, Gnutovo and Shirokino. A BMP also fired on Shirokino and Vodyanoye and there was a sniper in Novotroitskoye.
On the Lugansk line, heavy machine guns and small arms were used on Novoaleksandrovka and Novozvanovka.
In its evening dispatch, the ATO reported on further shelling, Liga.net reported.
On the Mariupol line, mortar-launchers and a BMP were used to fire on Vodyanoye. Heavy machine guns and small arms were fired on Shirokino, Gnutovo, Vodyanoye, and Pavlopol.
On the Donetsk line, 120-mm mortar launchers were fired on Avdeyevka and grenade-launchers were fired on Zaytsevo and Peski.
On the Lugansk Line, a sniper fired on ATO position snear Lobachev.
Ukrainian Prosecutor General Yury Lutsenko said 28 Russian citizens and 13 fighters in the LNR and DNR had been prosecuted for war crimes in Ukraine.
According to Ukrainian military intelligence, the explosion at the Donetsk State Chemical Products Factory (DKZKhI) which
we reported yesterday
occurred when Russia-backed separatists were collecting scrap metal and occurred because they were careless with explosives.
o LNR Says Missing Ukrainian Scouts Likely Killed
The self-declared "Lugansk People's Republic" (LNR) said today that two Ukrainian scouts who went missing in LNR territory earlier this week may be dead, Interfax reported.
The LNR border guard service said that when such "illegal penetrations" are made into LNR-controlled territory, they are usually get a "sharp rebuff.
The two Ukrainian soldiers on a reconnaissance mission behind enemy lines have not responded to efforts to contact them.
o Former Ukrainian Representative in the Minsk Contact Group Criticizes OSCE Special Monitoring Mission
Roman Bessmertny, former representative of Ukraine in the Minsk Contact Group had some critical words for the OSCE's Special Monitoring Mission: 
"It's obvious that OSCE is not copying with the issue of security on the European continent. And here the dialogue of Ukraine with the Austrian representation is very important, with certain initiatives on what changes in the security system of OSCE are needed in order to make the organization viable."
Bessmertny complained that OSCE never says who begins shooting first in the Donbass when it monitors the situation.
Austria is the current chair-in-office of the OSCE.
Yesterday, OSCE SMM reported on several tanks in LNR territory in violation of the Minsk agreement.
o Ukraine Declares Energy State of Emergency
Ukrainian Prime Minister Volodymyr Groysman has declared a state of emergency in the energy sector, Liga.net reported.
He said the government would do all in its power not to allow shut-downs of power and to minimize negative efffects of them if they occur. "Shut-downs will be made only in extreme situations," he said -- and Ukraine is not in that situation yet.
o Russia Steps Up Cyber Attacks on Ukraine
Oleksandr Tkachuk, chief of staff of the Ukrainian Security Service (SBU) said at a briefing today that Russia has stepped up cyber attacks on critical infrastructure and also psychological warfare through disinformation, Liga.net reported.
He said the EU and NATO have made similar findings. Said Tkachuk:
"We have received operational information that not only the cadre officers of Russian intelligence are involved in these attacks, but private IT companies and hackers who operate on Russian Federation territory."
Tkachuk said Ukrainian specialists had detected and neutralized a number of malicious programs found at state facilities, including a new mechanism for distance management of viruses developed to infect critical infrastructure, which has been dubbed "telebots". He said that analysis determined that this malicious code was made by the same coders who developed BlackEnergy.
- Catherine A. Fitzpatrick